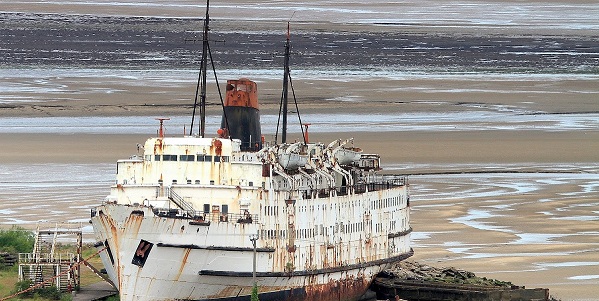 The hype has started.
Though some of this is "damning with faint praise," especially this first one… "This event had a lot of information" hardly falls into the "monumental milestone, best ever in the history of evers" we have come to expect.
"Had a lot of information" would describe an out loud reading of the owner's manual of a new car…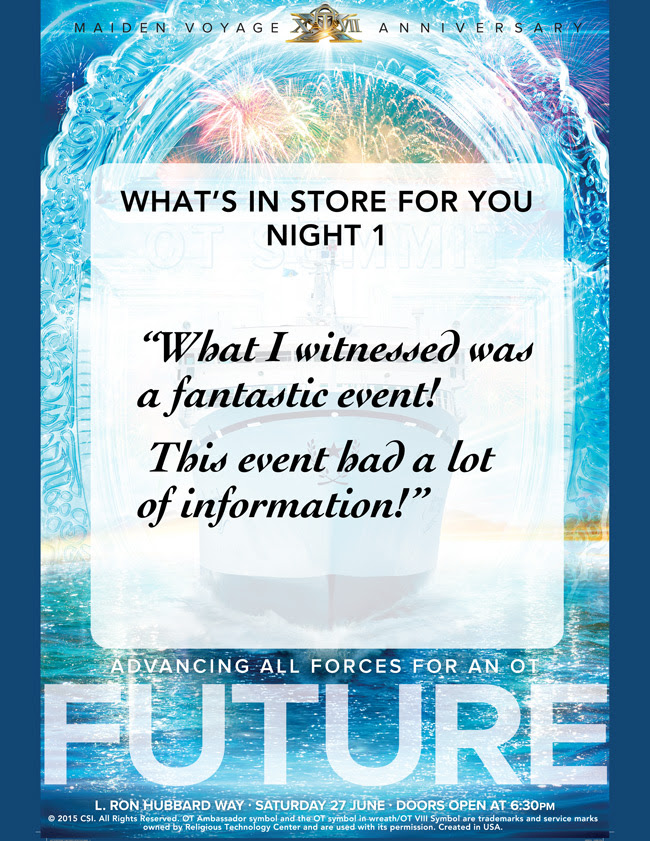 And then we have this — a report about the funny haha joking and degrading "I'm laughing at you, not with you" that David Miscavige traditionally engages in on the first evening of MV. He loves to poke fun at the "OT Ambassadors" who dress up in crazy costumes like contestants on "Let's Make A Deal" to see if they can get a mention.
I bet it was a real riot…
Hey guys– the first Maiden Voyage event of 2015 is happening in just one week.  And it will have you LAUGHING!  Enjoy this feedback from some folks who witnessed the event live on the ship just a few days ago:
As always the overview was great, but the key are the achievements on the continents created by the shenanigans of the OT Ambassadors and how they will cast aside any amount of personal pride or dignity to get their purpose achieved.  The event gave a broad overview of what is happening in the different areas which was great.  It rehabbed my involvement in outreach activities and made me want to do more.  It really revitalized my purpose and pride of being part of this select group of OTs.

For me this is the first MV.  I have never been so close to COB in an event!  I love his smiles and sense of humor!  It is very personal.  The Ship is doing great and the orgs are doing great and I am glad to see more openings to come!  It was funny to see how he finds the ways to present the OTCs!  The animation summarizing the continents is also very amusing!  It is really a spirit of play.  I always love to hear the non-Scientologists talk about us.  It gives you a sense of pride of what we have and who we are.
Fantastic event. What I find most hilarious is how COB talks about the event fun from the orgs. I see how much create is going on and what still has to happen. I was in Basel for the opening and the speakers were great. On the Freewinds portion of the event, the Freewinds is the center for everything. The Freewinds stats are not new to me – they are great. It is really wonderful to be here. It's like the American Thanksgiving celebration – it's a family gathering on board!
I hope to see you here next Saturday, June 27th!  This event starts at 5pm at the Battle Creek org.
Much love,
Tim Jones
And one of those participants was SOOO excited that they had never been so close to COB before. Lucky he or she wasn't too close. They might have ended up with a black eye.
The spirit of play is always the description of the sanctioned joking and degrading that emanates from the official church. But see how your joking and degrading goes if it isn't "authorized."
And then finally, I HELP weighs in.
Big news, COB is hanging around on the Moneywinds to get in a little extra scuba diving time so he can attend the opening of the Bogota ideal org on 5 July.  What amazing news this is – the second ideal org in a year. What incredible expansion! Oh, I love COB even more….
And he is doubling down on Narconon. No doubt he is rolling out the real "Narconon program" because the whole thing has been squirrel and that explains the deaths and lawsuits and investigations. So COB is going to save the day by getting it "on Source" and "just as LRH intended" (wonder how long he is going to be able to keep pulling this — HE has been "keeping Narconon on Source" now for 30 years as head of RTC).
And the news from the Moneywinds is just amaaaazing. They have "civilized" Curacao at last.
Dear I HELP member,
The Freewinds has now set sail on her Maiden Voyage 27th Anniversary with Opening Night Event held.  While you will soon hear all the latest news on what is being announced (such as new Ideal Orgs and the entire roll out of the Narconon program), the truth is nothing will come close to the OT Summit Events themselves. 
Excerpts of the FEEDBACK is included below!!! 
Again the events are:
    MV 1: Advancing All Forces for an OT Future – 27 June
    MV 2: Preserving our technology for all Eternity – 4 July
    MV 3: Guaranteeing Mankind's Future – 11 July
    MV 4: Accelerating our Drive for Planetary Clearing – 18 July
Exciting news!!! After the Maiden Voyage Opening Night Event, it was announced that the grand opening of Bogota Ideal Org will be held on 5 July at 1pm!!! Everyone is welcome in Colombia to see the opening of the first South American Ideal Org!
ml,
Melodie Davie
CO I HELP INT
FEEDBACK
"This was a spectacular event and there would not be a better way to open this MV!   To see across the world that everyone is driving in the same direction and for the same product to get Scientology known and applied is great.  
COB is amazing and every time I love him even more.
He just continues to expand Scientology like never before.  I am very proud to be a part of the Freewinds.  When you hear all of the accomplishments in a summarized briefing like this you see how far above any vessel this ship is – they are the standard to follow and it is unbelievable.  The OT Committee presentations cracked me up laughing and it is kept so uptone and funny.  I am proud of my own OT Comittee team!"
___
"This was very impressive – what the Freewinds does on PR.  And everything that was done in just one year! That was really amazing!  I even turned to my husband and said, 'Wow, all in one year?  We need to
get busy!'  Being part of the OT Committee and the Ideal Org strategy is so rewarding.  And to see so many things happening with buildings being found, planning done, documents done – it's very impressive.  I admire COB so much!  What he has accomplished is so amazing! 
 It's great to know that Scientology is in such great hands!"
___
"The only thing I am going to say is that **** rules!! (laughing)  **** for me was the biggest moment, with all Ideal Org buildings in hand.  And that personal comm line to COB you don't get that anywhere else, it's priceless.  And of course they are already our wins,  but this is just very special.I really, really enjoy that.  For me this is the beginning of Maiden Voyage, I just can't wait for the rest.  **** is very important, I was very impressed to see how far we've gone there, including with staff and everything.  And ****, in the middle of suppression, they built an
Ideal Org and they said, should I use a bad word (shows a finger), to the SPs.  They did.  It's just going and rolling and rolling and it's wonderful to see.  And that wittiness of the crew at fundraisers, it's very funny and how they come up with all those ideas, it's amazing.  And the Freewinds is just an amazingly unique thing in itself.   What's actually being done from the bottom to the top of the Bridge is just brilliant."
____
"The first thing I want to say is that the Freewinds has made a difference wherever it goes – in fact wherever it goes peace comes, it spreads peace.  What we saw in Curacao is a perfect example.  I have been to these islands before but now it's different, it's more civilized.  I was very happy to see that all **** have Ideal Org buildings and that all **** have existing Ideal Orgs that are doing well.  It takes many steps throughout the year to get these buildings. These Ideal Orgs will change the planet.  **** opening up was like an effective blow to the enemy.  It's amazing that they are already Day and Foundation, I am sure they will expand even more.  I have no words to express how amazing the expansion is all over the world, it's in Power!
All these Ideal Orgs opening up and doing so well is really an Ideal Scene.  Thank you!"
____
"I was impressed at how the Freewinds is making the difference in this part of the world and also by educating people from all over the  world.  The Ship is the stable datum in the islands – every time I hear the officials speak about the Freewinds, I am touched.  I like the progress that we are making on the Ideal Orgs.  I loved the way the OT Committee videos were done this year – they were different in how they showed what the OTCs are doing.  I am operating on the message that COB gave us.  And every time I hear that lecture from LRH, it touches my heart and makes me want to do more."
___
"The life of the Ideal Org strategy is SO amazing, it's SO alive and exciting.  And what is so amazing about this is to have all these like-minded, dedicated people in the same room – those who are really going to clear the planet.  It is so inspirational – so much havingness!  
I have been very much involved in the Ideal Org strategy and will continue to work on it very much.  The section on the Freewinds blew me way.  There is nothing like what the Freewinds does on PR.  Having COB here during Maiden Voyage is spectacular!  We would do anything for COB.  And having so many OLs and leaders together who would do anything for COB is incredible!  Thank you, Sir!"
____
"What I liked most about tonight's event was to see the important number of Ideal Orgs which are going to open.  My lasting impression was a feeling of power which grow and gets bigger each year.  It started to get real to me that the island is becoming a sea.  I so enjoy MV!"
That COB is a leader of leaders.
We would do anything for COB.
This is NOT a cult of personality. It is just honest admiration for a truly great humanitarian. Absolutely NO different than the statements put out by the official North Korean News Agency about their great humanitarian leader.
PS:
Apparently, news of the amazing internet seminar hadn't reached the powers that be until it appeared here and it was very promptly canceled.
Don't want any of the natives thinking they don't need to be afraid of the internet. Can you imagine what might ensue?