Just getting around to this — things have been pretty hectic in the last few weeks and this one took a bit more work.
A Special Correspondent attended the March 13th event in LA and reported some entertaining first-hand observations which serve as an introduction to some key points from the International Scientology News  March 13 "Birthday Game" edition.
First,  the on-the-ground report from the Dolby Theater in LA.
A grey, barely marked, Church of Scientology mini-bus pulled up to the curb and discharged 4 or 5 people into the crowd that makes Hollywood & Highland a nightly spectacle. The lack of a full load confirmed my suspicion that there was no teeming crowd back at the Pacifica Base eager to squeeze into the free transportation to get to the LRH Birthday Celebration at the Dolby Theater in Hollywood.
The decision to have it at the Dolby Theater which seats 3,000, rather than the Shrine which seats 6,000, was a welcome change since now I could choose to watch the DVD presentation at Pasadena, Valley (not Ideal) or Inglewood instead of being forced to drive downtown to the Shrine. I love the freedom of choice that Scientology affords me.
The sign-in tables were eager to pass out tickets to those who had not gone on-line to register for a ticket that might have been mailed to them. I had wondered if that website was clever enough to record a person's unique TCP/IP number and associate it with their name & address to help track down who is active on the naughty bits of the Internet. They were so thankful to hand out another ticket that they barely looked at the data on my sign-in card. I had the urge to cycle around to a different table and write "Marc Headley" or "Wolfgang Keller" in the name blank of another sign-in card just to see if they would notice. But controlling that urge has kept me "Under The Radar," so I proceeded to the Theater door with my random paper ticket. It scanned successfully and I was in.
Immediately, a small gift bag was pressed into my hand. How nice. I discovered it had a fancy boxed cupcake which I liberated and devoured on the spot as I had not eaten dinner. Only later did I discover that was my ration of "LRH Birthday cake" for the night. In spite of it only occupying a tenth of the box's volume, it was high quality, perhaps provided Wolfgang Puck's catering service which has a monopoly at the venue.
A prominent sign on a tripod surrounded by a crowd of gift bags at-the-ready warned the audience that no photos or videos were allowed. I thought that only applied to those who would leak them on the Internet, but I did not see anyone take out a camera during the event.
In the gift bag, aside from the cupcake, there was a little program with the schedule, verifying that 20 minutes before the video presentation was to begin at 7 pm, "Open Seating" would start. Meaning that everyone was to ignore the assigned seat on their ticket, and sit wherever they wanted. You can go down front and sit with the celebrity. (Ann Archer was the only one I recognized.) Or you can go up to the highest balcony and sit in the last row so you count the empty seats. (about a quarter to a third) The closer to the front, the more exercise you get from standing up and clapping.
The DVD Video came on reasonably (or unreasonably) soon after 7 pm.
With machine gun precision, we were whisked through a virtual plethora of outstandingly true facts to support the theme that LRH was everywhere. A total of 5,127 awards including 100 in the last year from such places as Iran and Ukraine. 160 million people reached by CofS ads on TV. (Unclear if those in the bathroom at the moment of the commercial counted.)
Even the venerable Smithsonian Magazine included LRH in their top 100 most significant Americans. That seemed very impressive until I discovered later via the Internet that this data was published on Nov 17, 2014 and that the choices were made applying an algorithmic method to the 840,000 pages of Wikipedia, etc. The list also included mobsters like John Dillinger, Lucky Luciano and Al Capone, as well as fellow cult leader and murderer Charles Manson and the racehorse Secretariat. The list was really more of a top 10 in each of 10 categories. LRH scored his place in the "Religious Figures" division along with such immediately recognizable names as Roger Williams, Anne Hutchinson, Jonathan Edwards, Ellen G. White and Cotton Mather. (Huh?)
You can do your own research at: http://www.smithsonianmag.com/smithsonianmag/meet-100-most-significant-americans-all-time-180953341/#0P5wfKpFWSwrwvB4.99
Back to the video spew of acceptable truths. There was a series of re-enacted short LRH stories which were so short and disjointed that they cluttered my mind with phrases like Marines, Guantanamo Bay, Cuba, White Horse Tavern in Greenwich Village, Walnut Lodge, St. Joseph's Asylum, and Matrimonial Service while giving me the impression that LRH was "in fights", "in nut houses" and "in-solvable". The extreme irony took me by surprise when I discovered (again on Wikipedia) that the White Horse Tavern in Greenwich Village is associated with the beginnings of the Village Voice newspaper whose one-time editor-in-chief, Tony Ortega, runs a blog concerning the CofS.
I think there were some stats shown, but there was no mention of recent Ideal org openings and no news of Narconon successes. I think he said we were going to "Synchronize with Eternity", but my Bullshit Detector was buzzing so loudly in my ear bud that I could not be sure I heard him correctly.
Finally, what we were all on the edge of seats for, the announcement of the Birthday Game winners. Ms. Erin Banks from the International PR office (who was much easier on the eyes and ears than the usual French guy) took the podium.
At the end when the lights came up, about 80% of the audience had already left so only 20% heard that we were going complete the funding of the Scientology Media Productions project that night. Really?
Food was served outside while Body Routers did their best to get bodies and Regges face-to-face. Strange, but at that point, no one seemed to care who won last year's Birthday Game.
Synthesizng this report and the ISN I came up with the following.
TOP STORIES:
Executive Director International Is Officially No More:
Guillaume Lesevre has been sent to the glue factory, joining Heber Jentzsch, Ray Mithoff and numerous others who will never be seen in public again. David "Let Him Die" Miscavige had maintained a pretense that Guillaume was "on post" as ED Int by trotting him out to present the phony birthday game awards each year. He was escorted to Flag (usually by Kevin Caetano, his designated security guard) and appeared on stage for 20 minutes or so to hand out trophies to the "winners" (a TOTALLY stage managed affair — more on that later) and was then escorted back to the "Int Base" to do some more MEST work and gorge ona  steady diet of rice and beans.  This way it saves having to let him go outside for a couple of weeks and eat normal food before the event so he didnt look like a concentration camp victim (as I did on BBC Panorama). But even that pretense is now dead and buried. The latest Miscavige pet and flavor of the month, Erin Banks, presented the "awards." It's a strange choice — she has never had ANYTHING to do with managing orgs. She is simply scientology's Vanna White. Eye candy.  Of course, this is the last holdout of something Miscavige will NOT do on stage. Handing out these awards is beneath D"LHD"M — he only does big IAS donors and "Freedom Medal Winners." The orgs and mission birthday game is beneath him.
The Shermanator's LRH Hagiography Is Being Obscured:
The original Shermanspeaker took the stage under the heavy weight of his resplendent but thinning mullet and delivered his usual incomprehensible web of half-truths, lies, adjectives, adverbs and gobbledygook. But unlike previous years, his amazing presentation is NOT contained in the magazine. You can only see it at "your Ideal Org." Those without ideal orgs just have to suck it up. Probably a smart idea not to broadly print any more lies about L. Ron Hubbard in the current climate. They will just be shot down on the internet and in the media around the world. They are retreating ever further into their bubble. But I must say, the shot of the Mullet King — full page no less — was very nice.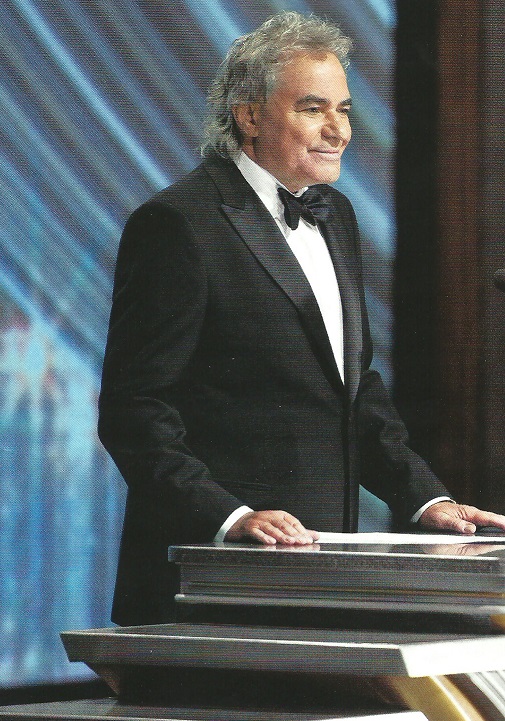 I guess DLHDM reads this blog because a major change in this edition: he only featured in two full page (and a third) shots. The Sherminator and even Candy Banks got a full page shot. Previously there were about 10 full page shots of "COB" and none of anyone else. Just goes to show how influential the unemployed burger flipping apostates on the fringes of the internet can be. Even modifying "mag policy."
The Birthday Game Is Totally Rigged:
The "World Champion" mission is Belleair — the new "ideal Mission" staffed by Flag public and staff rejects and delivering exclusively to Flag public and rejects. But it is "ideal." And even though it gets NO new public onto the bridge, which is the PURPOSE of missions, it won only because it is "ideal" (whatever that means).
Every org that won in EVERY Continent is an "ideal org." Coincidence? To give you some idea, the winner and therefore the most flourishing, prospering and expanding org in the WUS is Portland. We have documented the state of Portland many times at this blog.
The "ideal" AOLA of course won the SO Org game.
And the "ideal" CLO EU won for the Continents.
But here is the rub. The Continental game consists of the CUMULATIVE statistics of ALL ORGS in their continent. Europe, in spite of having an "ideal CLO" has the SMALLEST percentage of "ideal orgs" of any continent in the world. If the "ideal orgs" are all expanding so rapidly, it is impossible for EU to win the cumulative continental game. But it is the only one designated an "ideal" CLO so therefore it is the only one that can win.
Of course, everyone who has ever been around the birthday game awards knows it is totally rigged. But this year even a blind man could see it.
LA Org Is A Fail:
Though an enormous amount of time and effort was devoted to demonstrating how wonderful LA Org is and how astonishing their expansion has been — and they had their OWN presentation of "Model Ideal St Hill Size Org" that DLHDM presented hisself — they sort of slipped up.  One of the stats they touted as a huge win, and remember they injected TWO HUNDRED SEA ORG members into this org and turned into a "Sea Org Class V Org" as a model that cannot be duplicated anywhere: Since September 2014 they have had 5131 "through the public information center."  That is NOT "started on a service", this is the total number they have managed to body route into the "display area." This 7 months. 28 weeks.  A grand total of 183 per week or 26 a day. They may get ONE start on a course from this (of course they don't give that figure). Every single tourist wandering by on Hollywood  Blvd they persuade to come inside for a free video or personality test counts on this stat (and virtually 100% of those people are NOT their public — they will be back home in Japan or North Dakota in a day or a week).
It is clear that the ONLY increase in stats they have created is by having more auditors and calling in old public. They are getting nowhere on reaching NEW public. Their decline is inevitable — it has already begun.
Not A Single NEW "Ideal Org":
This is the biggest, most important program in scientology. Not even a third of the orgs are done after 12 years. March 13 is the "org event" and traditionally is the time for big "org" announcements. And not one ribbon yanking ceremony for DLHDM to show. Unprecedented, straight down and vertical NONexpansion. A milestone.
The Stats Become More Meaningless With Each Event:
Here is a "graphic" from the ISN: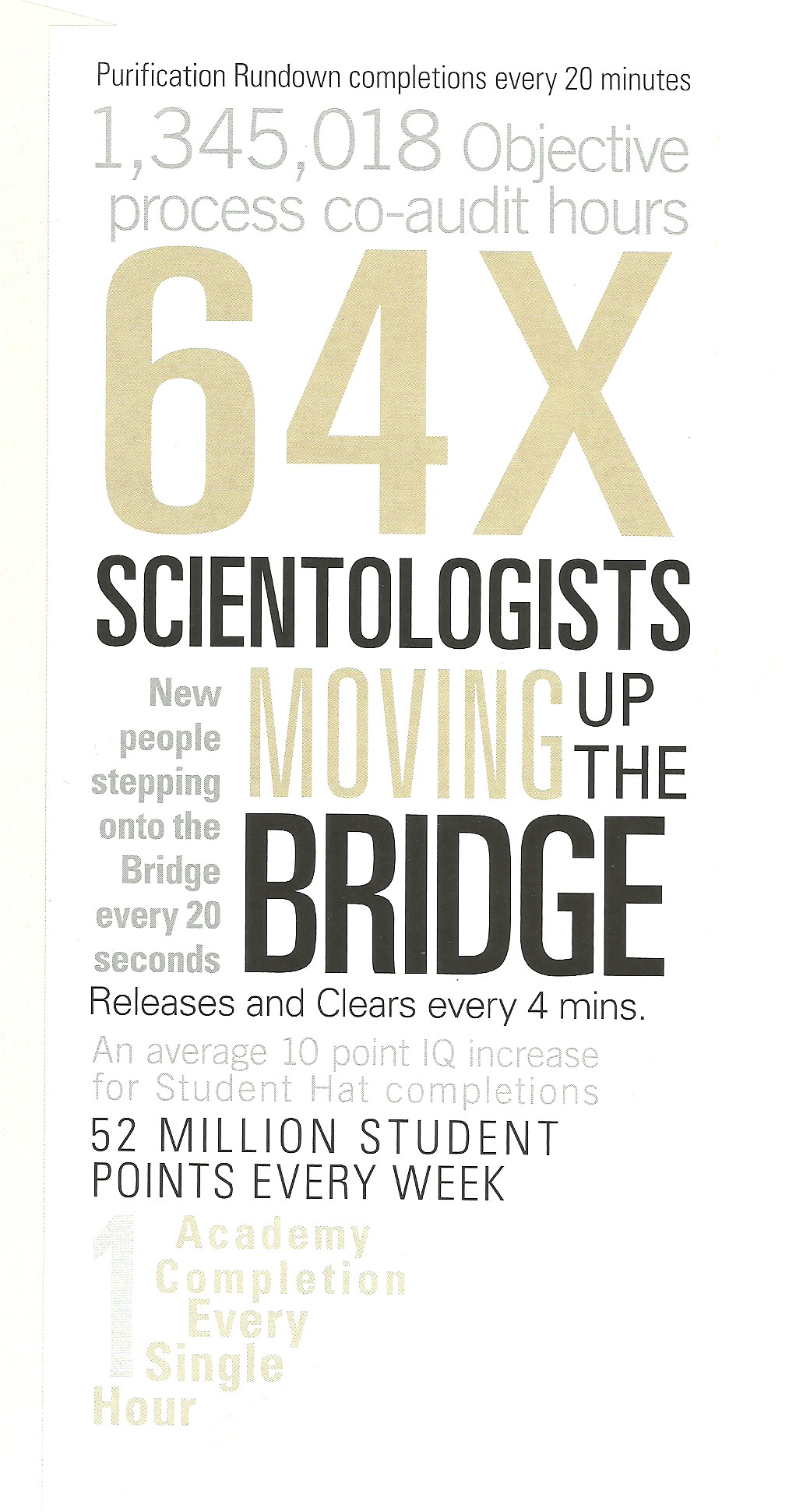 A Purif Completion every 20 minutes. Remember, every scientologist on earth, even OT VIIIs are being made to re-do the Purif. Even if you counted this as 3 per hour, 24 hours a day (and they don't, they count it as 3 per hour for the 14 hours a day an org is open) — this is only 500 per week. Divided by 150+ orgs and it averages 3 per week. Not even making a dent in "planetary clearing." There are more triplets born in the world each week than this. (There are 13,000 triplets born in the US each year).
1,345,018 co-audit hours is an average of 172 per org per week. At 25 hours per co-audit this is 7 per org per week. And again, ALL scientologists are supposed to be redoing their Objectives. This is assuming the figure is for a year, and not "since GAT II" — which is probably more likely as it doesn't specifically say. In which case, it is an average of 5 people per org per week.
64X scientologists moving up the bridge. Just ridiculous nonsense that has NO basis in anything. Maybe they are counting BTs awakened or something.
New people stepping onto the bridge every 20 seconds. No idea what this means, likely includes everyone who comes into an org and anyone who goes on an internet site. Could be ANYTHING. But if you do the math, it is only a bit more than 100 of them per week per org, whatever they are.
Releases and Clears every 4 minutes. This is an average of 10 per week per org. And a release counts for ANY auditing service completion from Life Repair to Clear. IF they actually had any volume of Clears made, this would have been featured. They don't. Planetary Clearing is going backwards faster than Wile E Coyote falling off a cliff with an anvil tied to his neck.
And average 10 point IQ increase for Student Hat completions. This is just funny.
1 Academy Completion every single hour. This is a lot less than ONE PER ORG PER WEEK. Including all the "ideal" orgs with "academies that seat 200 students in perfect chairs with ideal demo kits available and brand new clay still in it's package."
More Gibberish Per Minute Than At Any Time In Recorded History:
Here is some classic Shermanspeak. Utterly incomprehensible. Another milestone.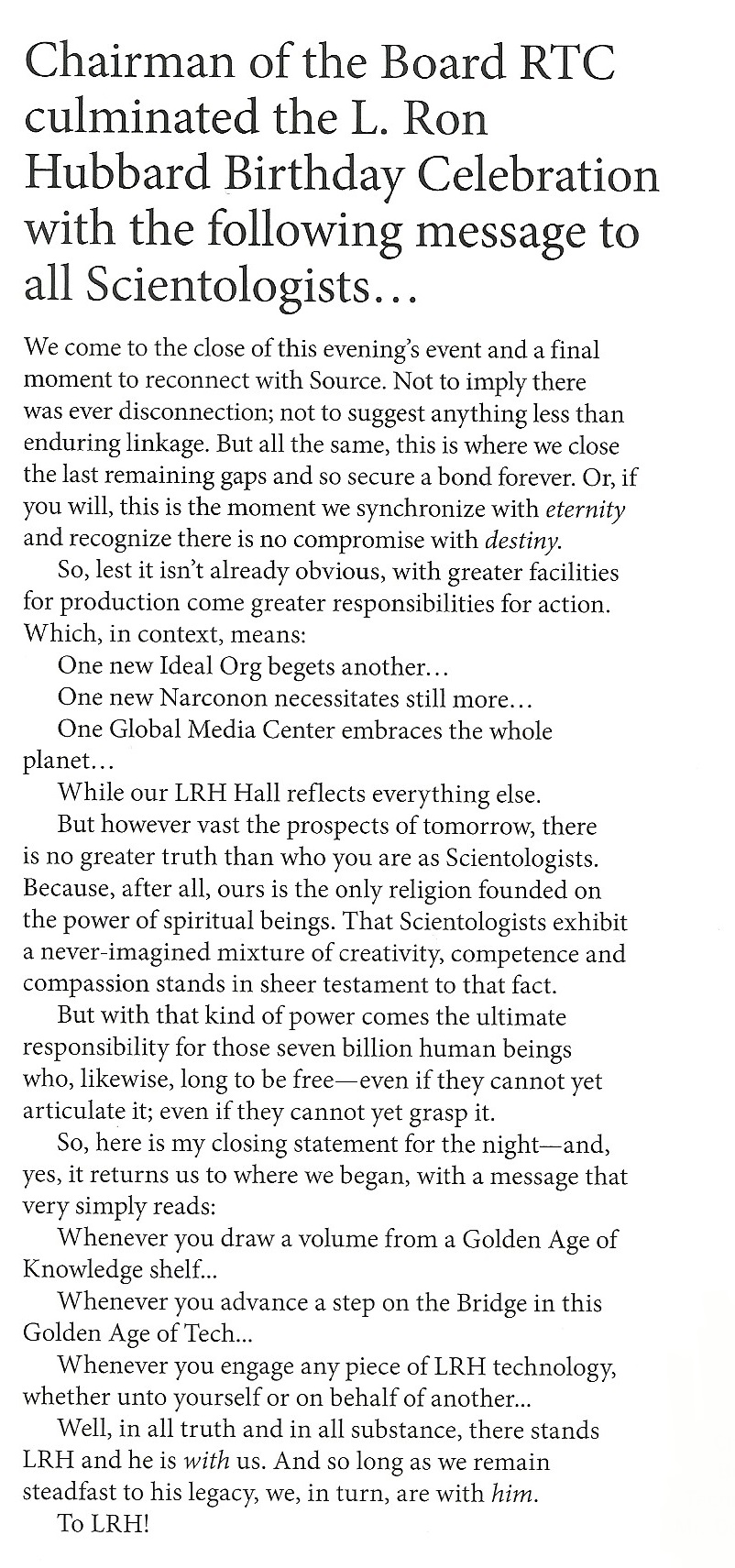 But the last word in wackiness is this: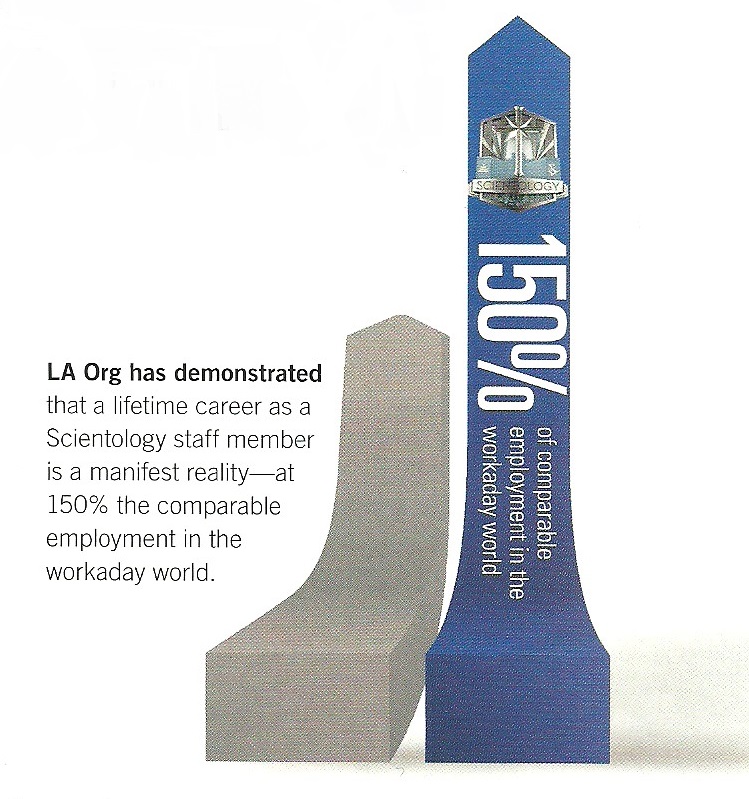 Anyone who can decipher what this means wins a weekend seminar with Michael Chan aboard the Freewinds.
Because if you CAN make sense out of this, you would probably get a kick out of Michael Chan.