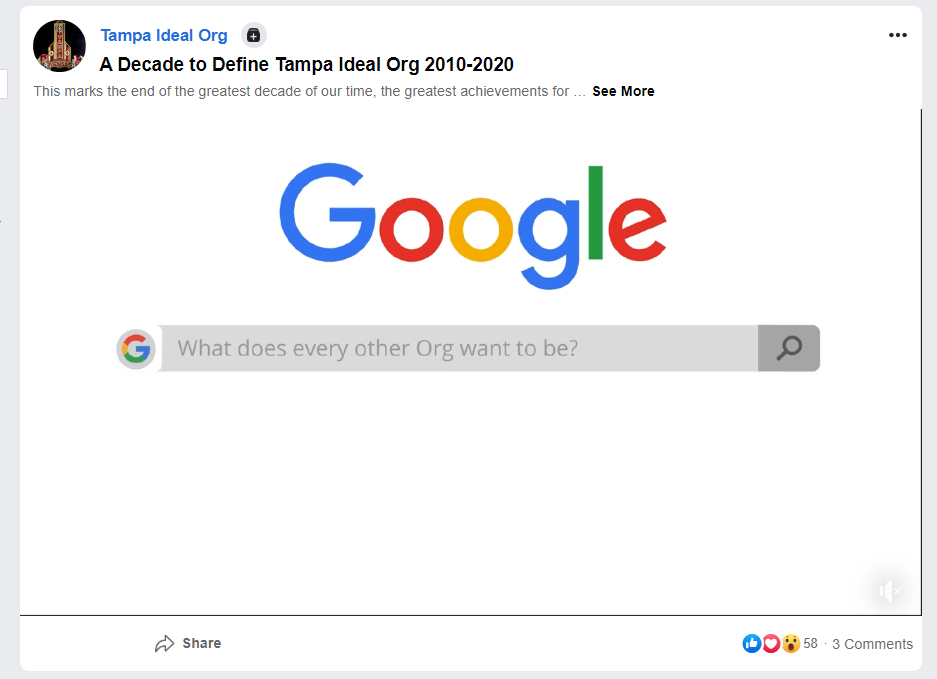 Here is a new video from Tampa Org (with 58 likes and 3 comments). They promote themselves as both "Ideal" AND "SH Size" — in fact they promote themselves as the FIRST ideal and FIRST SH size org.
They even start out with the humble assertion "What does every other Org want to be?"
Well, let's take a look at what every org on earth aspires to. Because Tampa has given us a wonderful glimpse of just how much they actually accomplish. They kindly provided statistics for the last decade as significant accomplishments that everyone else should be jealous of. It is a good measure of the unreality inside the bubble.
Tampa is as good as it gets in scientology — the biggest, baddest, bestest org on earth with the "largest Flag trained Tech Team" (and the benefit of all the Flag public rejects and people who cannot afford the prices at Flag). Nowhere else on earth even approaches this level of accomplishment.
Here are the stats:
Intro Services Completions — 64,539
6454 per year or 124 per week. Sounds almost impressive until you compare it to First Service Starts at 6,901.
Intro services are anything from a lecture to a film play to anything else they can manage to squeeze under the definition. The real indicator of how many new people have started on the Bridge is First Service Starts, and that is a less than impressive 13 per week. The stat they do NOT include is Public Reg Paid Starts — those who actually COMPLETE a First Service and then go on to their next service. You can bet this is about 10% of the number who start a First Service. Or 1 or 2 a week.
WDAH — 290, 231
A SH Size org is supposed to deliver 1000 auditing hours a week. This is an average of 560 hours a week. What happened?
Clears and NED Comps — 425
Here is where the rubber really meets the road. How many people are they making to Clear (or nearly)? 42.5 per year is not even 1 per week. That also tells you that a majority of their WDAH's consists of Objectives and Purif because 500 hours to get someone through the Grades and NED to Clear is absurd and would be indicative of terrible "out tech". You are supposed to make it to Clear in 100 or 200 hours. Not 500.
Tampa, the model Ideal, SH Size org is not coming anywhere NEAR "clearing it's zone". Tampa is growing by about 50,000 people per year. So in fact the Mighty Tampa org is going backwards in the effort to Clear Tampa… The Tampa Bay area is becoming LESS "Clear" as each week passes. Every year they are falling another 100 years behind.
And this is the best there is in scientology.
Hubbard used to love to say "We are going up while the world is going down." It seems he had it dead wrong.