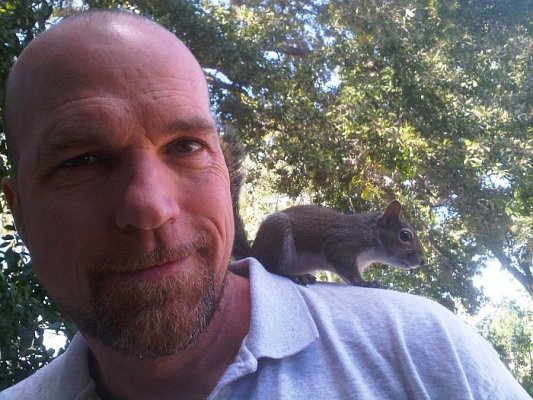 Following is a posting sent in to me by Mike Wreggitt. It falls into the category of some of the earlier postings I called "Life Is Good." Things have been a bit frantic with "hard news", so this is a nice change of pace.
Hey, I wanted to introduce myself to the independent Scientology community.
My name is Mike Wreggitt. I've made a few posts a year or so ago on Marty's blog, under my own name, but other than that I haven't been too vocal. Also, I'm #140 on the Indie 500 list.
What I have been doing is I've been on course, at The Courseroom in Georgia, on my Solo 1, under the course supervisor-ship of John Aaron Williams.
Frankly, I didn't want to 'come out' in a big way as an indie until I got through OT-III. I wanted to know for myself, with certainty, the validity of the OT levels. Since getting out of the church, I figure the whole "What's true for you…" thing might be worth a little more diligent application.
Why the change of heart?
First, I'm close to completing my "5 times through" on the meter drills, and I've been having such tremendous wins, that, for me, have been validating the effectiveness of the tech. And second, certain events have transpired that I wanted to make my opinion known about. More on this in a minute.
There's not much to tell, but first I should probably say a little about myself. I got into Scientology as a young man in 1986 (Jan 24 to be exact.) I had always had an interest in things spiritual and metaphysical (though not religious,) but in particular I was always interested in application. I'd jump in with both feet and would see if it worked. I read Dianetics and it definitely appealed to this practical side of me. I had to check out this subject. On the other hand I had heard some pretty crazy things about Scientology, so I definitely approached it with a skeptical eye. I was there to do Dianetics, but didn't want much to do with this Scientology stuff.
After a couple months on course, and having had some big wins, I did the Purif, which had an amazing effect on undoing the results of a ill-spent youth.
I was hooked at that point. I knew the tech worked. I was recruited for staff and spent 18 months as a book one auditor. And so I started the long, slow process of ignoring and justifying outpoints and degrading my integrity.
I'll keep this short. I was on staff on 3 separate occasions, for a total of 5 ½ years. I was out-qualed for the SO, so thankfully I avoided that route.
I had a bad study bug so I focused my efforts on handling this. I did my KTL in Phoenix, then the LOC at Flag (in '95, wasn't too impressed.) Also I did the Student Booster R/D while there, then finally completed my student hat. I find the study tech tremendous. Without question I have certainty on the validity of this.
Also I've had amazing wins with confessional auditing. I never got hammered too badly in this area, so it didn't spoil my love of getting an effectively delivered confessional.
Around 2005 I was getting screwed around in routing off staff and decided I'd had enough. I wrote a letter of disconnection and said I'd go to the 3 major newspapers in Denver if anyone tried to "recover" me. I had this notarized and Fed-Exed it to the DSA. It worked!
I actually got my copy of my declare about 6 months later. I spent about 5 years away from Scientology, and then got a call out of the blue from a friend in the church who tipped me off to the independent field. I went to the Freezone convention in Washington State a month later. That was fun and interesting and it was definitely a change of viewpoint from 5 years previously.
My point of view on the Freezone and independent Scientology is that it is "free-market Scientology". You can choose your poison.
After a few months, and consulting some trusted friends, I decided I wanted a more strictly standard application of Scientology. I flew to LA and got 15 hours of auditing with Ingrid Smith. This was great, and it was a definitely a relief to get in session and get some BPC handled. Ingrid is a fantastic auditor. (Thanks, Ingrid!)
As I was mid Solo 1 from back in the church, she recommended I hook up with John Aaron Williams at The Courseroom in Georgia. I started making plans and moved to Georgia at the end of the year.
I've been on lines at The Courseroom since the beginning of 2012.
At this point I want to give John Aaron and Candace Williams a tremendous amount of validation for establishing and keeping The Courseroom going. I've been able to observe the intention it has taken
John on a daily basis, and the obstacles they have had to overcome to keep The Courseroom established and expanding. John's purpose very clearly has been to deliver standard Scientology, and he has been successful in that purpose.
What I've gained from being on course to this point is certainty on the application of correct TRs and metering. I've observed that the meter, in itself, does nothing. But it measures the response of the PC to the quality and effectiveness of your communication. When you get the communication correct, the PC responds…You have the PC "in session"…and the meter will show these responses. It is brilliant in its simplicity, but does take drilling and practice to achieve. This has been a big win for me. Training does give one a certainty that does not exist as a PC.
I also very much wish to validate Gayle Smith.
Gayle was the Senior C/S at Philly org for plus 15 years, and in the face of continual and covert suppression built a team that 4x'd her org.
Concurrent with my being on course Gayle is auditing me on my grades. It's come to my attention that Gayle has a detractor in the independent field. I wanted to give my 2 cents about Gayle as a technical terminal, from my direct observation.
I first met her when she and her boyfriend Kirk came up to meet John and Candy early in2012. She helped out in the course room. I was immediately impressed with her ability as a course supervisor and a metering coach. She was tough as nails, but my metering skill was increasing by the minute.
Subsequently when she took me on as a PC (Pre-OT), what very much impressed me about her, aside from her obvious skill in metering, her TRs and ability in assessing prepared lists, was her great care and intention in keeping the auditing session as real as possible. She would answer every question I had and made sure I understood exactly what we were doing. The result of this was I was always "in session". She always demonstrated professionalism, intention and a very high level of care.
I think it has been an absolute coup for John to have Gayle's agreement to be the senior tech terminal for The Courseroom. It has blown my mind on more than one occasion to interact with Gayle, whether as a course supervisor, metering coach or auditor.
I consider Gayle and Kirk, as well as John and Candy, to be very good friends and am very grateful to know them.