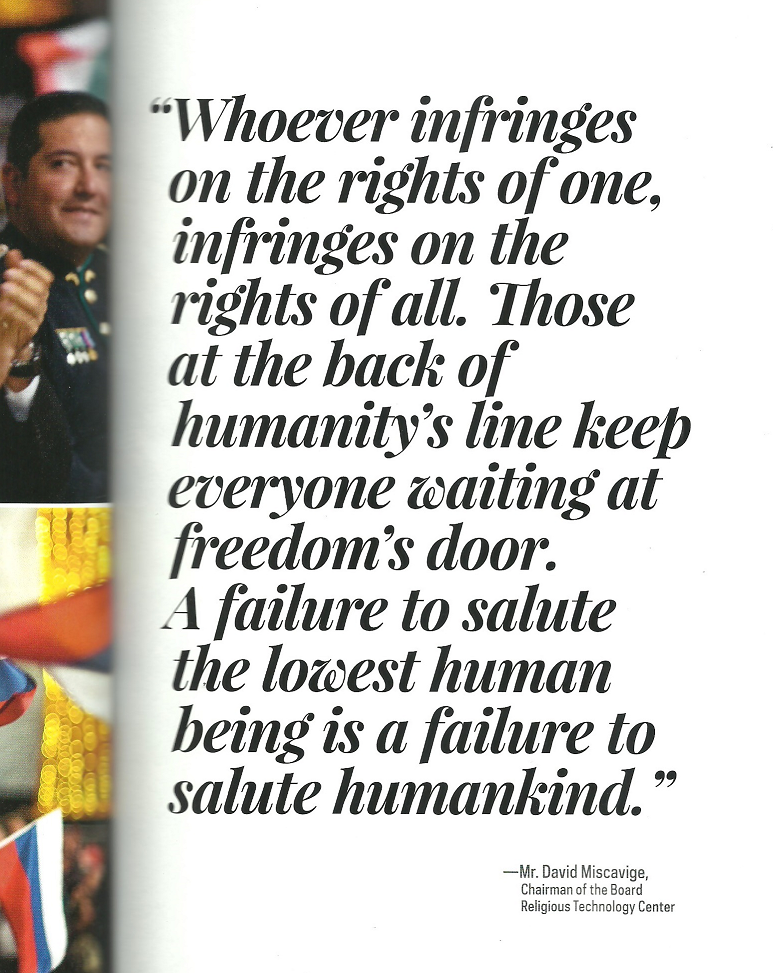 This drivel is a full page in the latest edition of Impact magazine – the IAS propaganda organ.
You sort of get the idea what he is trying to say. The strange metaphors that are Shermanspeak specialties make it difficult to fathom, sort of like the front porch of eternity or whatever that idiocy was. The great Mr. David Miscavige is trying very hard to portray himself as some sort of humanitarian. Such hypocrisy.
Not only does he personally infringe on people's rights with reckless abandon, he oversees an organization that abides by articles of faith to:
Destroy its enemies by any means possible – not just deny them the right to speak, destroy them
Deny the right of freedom of religion to anyone who chooses to no longer be a scientologist – they must feel like they have been "hit like a Mack truck (and I don't mean figuratively)"
Lock people up, keep them under 24/7 guard, take away their passports – deny them their freedom of movement
Split up families – destroy the relationships of anyone who dares question scientology as the ONLY answer for mankind's salvation
Discourage higher education – it's all a waste of time, learning information that is unimportant compared to scientology
Eradicate/obliterate psychiatry – psychs have absolutely no rights at all for they are "whole track implanters and SPs", the scientology boogiemen who take the place of Hitler's jews.
He likes to sound important and try to position himself as above the fray – never to be soiled by the trench warfare and mudslinging his minions are so infamous for. The reality is he is a vindictive little man who never forgives or forgets a joke, a slight or a criticism. He uses the vast wealth and resources at his disposal to get even and he micromanages every attack, scheme and payback.
He is a classic bully.
Bully –meet Leah Remini. She does not take kindly to bullies.
Watch the first episode tonight on A&E at 10pm EST/9 CST.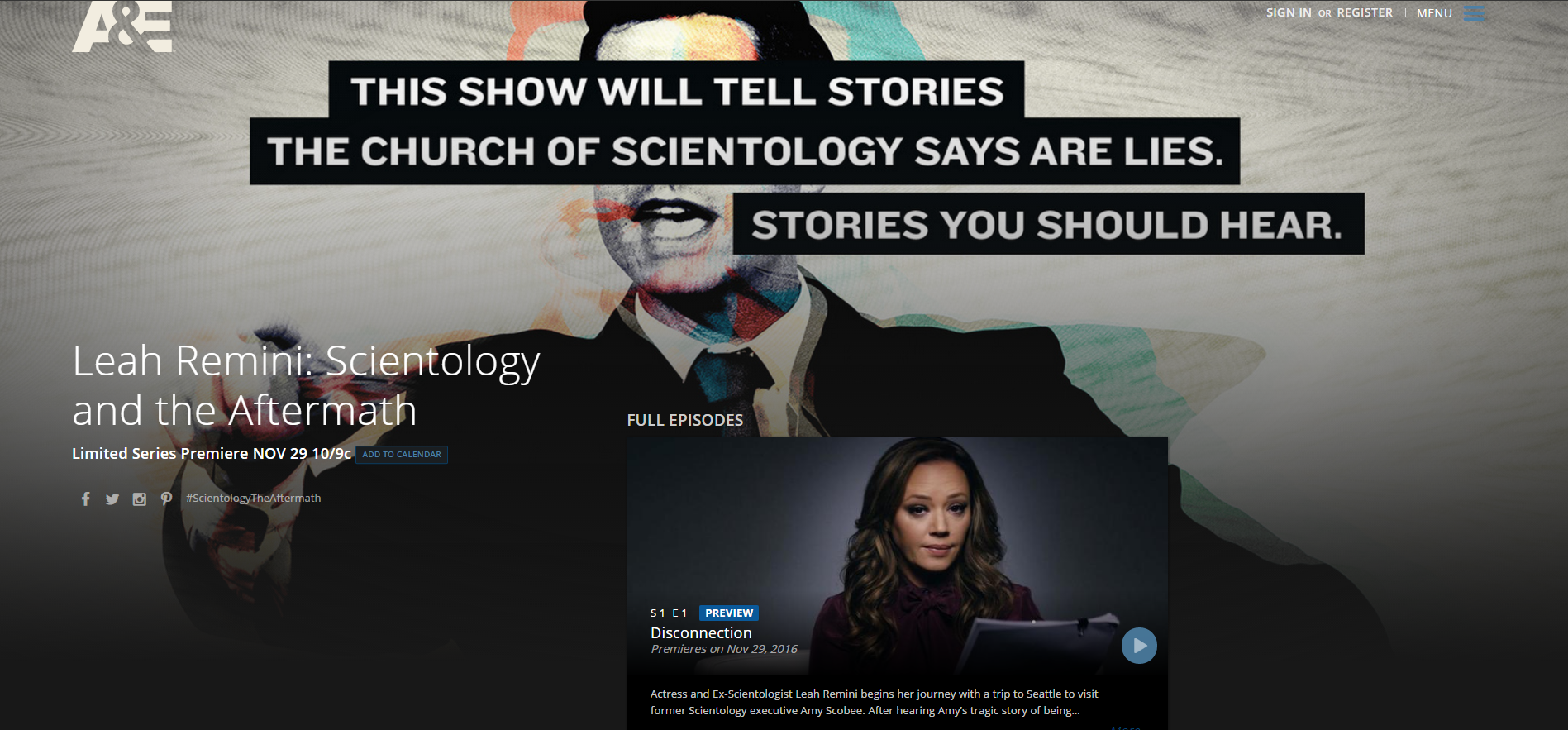 On the subject of Miscavige mutterings: his latest effort to "dead agent" Leah's show is to announce it is a "scripted, rehearsed, acted and dramatized work of fiction."
Of course, he has not SEEN it and neither has anyone else in the church. But he "knows" and thinks this sounds good to convince the sheeple "there is nothing to see here folks."
Watch the show and make up your own mind. I can assure you nobody was scripted or rehearsed, acting or dramatizing fiction other than the footage from the church.  I am sure that will be obvious to every viewer – keep in mind this ridiculous statement as you are watching.
Programming Note:
Leah will be on 3 Sirius XM Radio shows this morning between 9:10 and 10:15EST (not sure precisely what time for each…)
105 Entertainment Weekly Larry Flick
121 Stand Up with Pete Dominick
109 Jenny McCarthy
Update:  sorry if you have been listening the first show (EW) is airing later in day – the other two will be coming shortly
Update 2: Full page that is in today's NY Post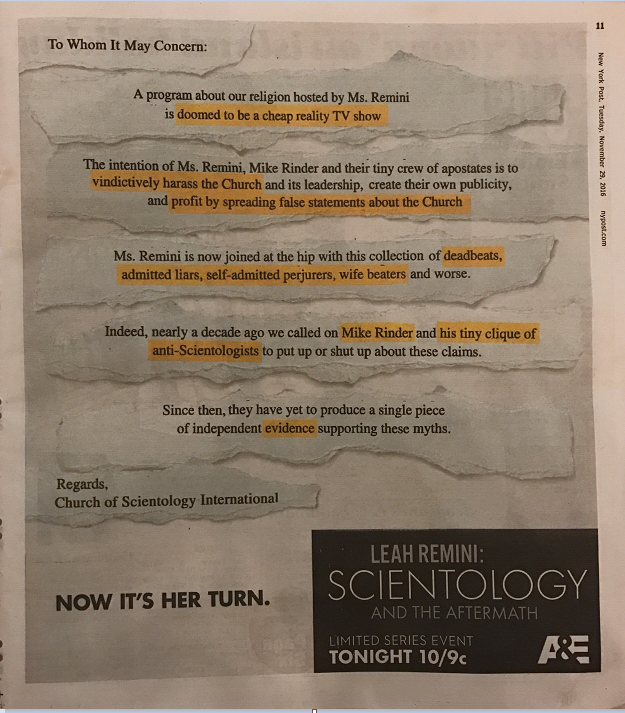 FIRST EPISODE WILL BE AVAILABLE ON A&E TV WEBSITE AROUND 2AM FOR THOSE WHO DO NOT HAVE CABLE.