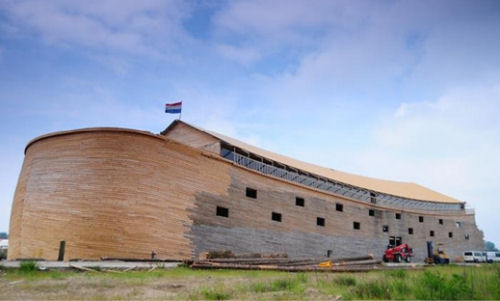 Here is the text of Dear Leader's speech for the grand re-ribbon cutting in PAC. You will understand the Noah's Ark image when you have read the speech.
I have included a few comments throughout in square brackets. I have a feeling Mr. Miscavige may be "too busy" to show up at the March 13th event on Friday at Ruth Eckerd Hall and this video will be shown to the adoring masses in his place (there will be another post about March 13 event coming soon).
For those who had heard the report that this was a 3 minute speech, that is incorrect. It is about 12 minutes long. It begins with an introduction by Erin Banks, describing how many sups and auditors there are in ASHO and AOLA. It is quite jarring to hear Shermanspeak come out of the mouth of someone who sounds like she drove straight from the Glendale Galleria….
Funny, with the President CSI Office right there on Hollywood Blvd that Heber was not asked to be the Master of Ceremonies to introduce the great man. Not really funny, we all know why that is, he is in "semi-retirement" (as Warren McShane put it) at Int. But what IS funny is that if they had promoted that Heber Jentzsch was going to speak, or even attend the ribbon pulling, they would have had a larger crowd. Without doubt.
Of course, no ED Int either for this most important day ever in the history of PAC.  Even though he is just 90 miles away. And no celebs.
Dear Leader is losing his attraction.
Here is the end of the "intro" by Erin Banks, followed by the words of the great man himself.
…For all I've thus far cited, there is one more element that makes this day momentous [momentous?].
Consequently, it is indeed my honor to introduce a special guest for this historic occasion.  While international events of late have all taken place at Flag, let it not be thought by anyone that LA would miss out on the action.
For it is now… the moment culminates with this, [gibberish is not corrected, this is an accurate transcription of what was said]
Ladies and gentlemen, Chairman of the Board Religious Technology Center, Mr. David Miscavige.
[Much clapping and whistling was heard, everyone knew they were being filmed and did not want to be caught on camera being less than overly enthusiastic for Dear Leader]
Thankyou. Thank you very much. Alright, thankyou. Thankyou.
Well, thank you very much. It's truly my honor to join you for this spectacular grand opening, on this street on this day, because yes it's momentous and it's certainly one for the history books. Of course take in the grand scope of Scientology today, and never has so much significant history been in play.  And by that I refer to ideal orgs rising in pivotal points across the planet, dozens in all and most recently at a gateway to the east in Taiwan.
Next I refer to the golden age of knowledge wherein every Scientologist can literally walk in LRH's footsteps and travel his path of research and discovery.
Then again I refer to the Golden Age of Tech phase 2  wherein progress up the bridge, both sides, can only be described as a whole new world.
And finally let's not forget the opening of our 21st-century cathedral at Flag, signaling the release and delivery of LRHs long-awaited Cause Resurgence and Superpower rundowns.     
So no, in recent history we are certainly not lacking in milestone advances to talk about.  Yet nonetheless and make no mistake, today's opening signifies yet another milestone.  A milestone which in years hence will be looked back on as the one responsible for turning the islands into the sea. [Seriously?]
Moreover [first time], take all you've seen with Golden Age of Knowledge, Golden Age of Tech phase 2, Flag — you name it. Well here's the "Done Sir" on the LRH vision and target that pre-dates them all. [Like LA Org, ASHO and AO have not been there for the last 40 years?]
For while Flag will always remain the ultimate destination for personal freedom and immortality LRH charged this "Pacifica Bridge" with a purpose no less significant as regards planetary clearing. Namely to create a single location with organizations that paralleled the bridge itself. And not just any organizations but rather model organizations to be emulated by all others on earth and thus to generate the standard required — for training auditors and making clears in every city planet wide. [He just makes this stuff up as he dreams up stuff to say that makes it appear he is "on Source"] 
All which returns us to the historical location that is today. As in, the first time in history we can now say we have fulfilled LRHs intention. From a test center on Hollywood Boulevard, to a Class Five LA org on Sunset Boulevard, yes an American St. Hill to an Advanced Organization Los Angeles, on a street called L Ron Hubbard way and all of them model ideal and all for his birthday 2014. [Again, where have you been, these orgs, and even the test center – until it was demolished – have been there for decades]
So, let there be no doubt, when those ribbons fall and you enter the new ASHO and AOLA, what you will witness is the next phase of ideal.
Yes, both orgs were utterly transformed, and yes, each is magnificent. As for the greater significance of why they are so important, and indeed, crucial to planetary expansion, the answer is twofold:
First, there is what the Golden Age of Tech phase 2 has now triggered in propelling Scientologists up the bridge. Yes, on the training side of the bridge, one can now move from Student Hat to Class V auditor in a matter of months, 100% standard tech guaranteed. And yes, on the processing side of the bridge, one can now move from Purif through the Survival Rundown and straight on through Expanded Grades and New Era Dianetics, likewise in a matter of months, 100% standard tech guaranteed.
But don't forget, it's all in the name of what LRH wrote in his executive directive From Clear To Eternity. Namely, one's ascent from Clear to the top of the Bridge. Hence, with Central Orgs, particularly ideal orgs, now possessing the capability of relentlessly moving multitudes to Clear and the level of Class V auditor, well, that alone makes it imperative that our Sea Org service Orgs – Saint Hills and Advanced Organizations themselves become ideal to accommodate the floods about to cross the threshold to Dukes of the Auditor Elite and Operating Thetan. [This is all about the floods that "are coming" – he is starting to sound like Noah, in a flurry of frantic construction for the coming flood]
But then again, since this is America – hell, since this is Los Angeles – well, nowhere on earth will that flood to the top prove greater than right here. [Would have been ironic if he had delivered these lines during the rainstorm last week]
That's why ASHO and AOLA were reconfigured, to maximize quantity of delivery, inclusive of a second ASHO HGC, the addition of a third HGC in Solo Tech Division in AOLA, new dedicated Golden Age of Knowledge courserooms in both ASHO and AOLA for preclears between sessions, expanded ASHO courserooms for the greatest SHSBC capacity on earth, not to mention a new Class 7 courseroom for the training of Power auditors, expanded AOLA courserooms likewise for the greatest Solo auditor training capacity on earth, not to mention a new Class 8 courseroom and a brand new Mark 8 electronic internship system.
But why go on? [Well, there is no reason, especially as you have listed every single thing you could think of and apart from the "Mark 8 electronic internship" there is NOTHING new]
This is the Pacifica Bridge and suffice it to say, you've now got the biggest and the best Saint Hill and Advanced Organization on earth.
But now let me return to the greater significance of these model service organizations and the second reason they are so crucial for planetary expansion. Because the fact is, we aren't just making our existing Advanced Orgs and St Hills ideal, although on that count, we did just inaugurate the ideal AOSH Europe in Copenhagen, Denmark, barely 3 weeks ago. All while final plans are now rolling off the line for AOSHUK in England.
However, my real point concerns the all-new Advanced Organizations now at the top of the priority board. Because its not just America, England, Europe and Australia where Scientologists are now flying up the Grade Chart. So that's why a Sea Org Advanced Organization and St Hill is now a necessity for all continental locations.
In Africa, where final plans are completing for Kyalami Castle. In Mexico City for an AOSH to service Scientologists from Latin and South America. And in Canada, the same again for our northern neighbors. [This is the grand re-re-ribbon pulling of PAC and he is talking to them about opening new AO's that are going to take some of their business away? It's one of the reasons I think this speech was not for PAC but exclusively for the March 13 audience]
Now yes, it is true the technical personnel who will deliver the OT levels as custodians of the upper bridge, meaning Class Auditors and Case Supervisors, well, they're all trained at Flag. In fact, we already have hundreds of Sea Org auditors in the special tech training corps at Flag and they're all slated for the tech hierarchy of these new AOSHes.
But now we come to the unique global responsibility of this Pacifica Bridge. To that extent, the reason why LRH called for all the Pacific orgs to be a model. [Note the careful wording — NOT "ideal" – LRH DID talk about using LA Org for internships for executives when the OEC was moved from Flag]. First there is LA Org. If you have been on services any time a new ideal org is on the runway for opening, you will have seen that org's executives moving through their final apprenticeship here at LA Org.
And in fact, LA Org will now be able to fulfill her entire mission. I am specifically referring to the completion of the Hollywood Inn, now housing a model ideal Test Center. What with a multi-billion dollar development now underway at Hollywood Blvd, our timing couldn't be better. That new Test Center not only includes the full array of public division displays, but it further includes introductory film rooms, the full testing line, a bookstore for all beginning books and classic lectures, a personal efficiency seminar room, a Dianetics seminar room, a Life Improvement Course room and the course room for Success Through Communication. [What, no mention of the urinals and number of square feet of imported Lithuanian tiles laid by skilled artisans brought in from the RPF?] So, yes, tourists on the Walk of Fame won't just find out about Dianetics and Scientology, they can actually take their first steps on the bridge. [Oh, THAT was the "grand opening" of the Test Center… Guess they couldn't get permits once they blew their original date, and probably could not get approval to put up trees to block anyone without an ID card from seeing Noah rambling on about his ark]
But now let's return to LA Org's role as the international model ideal org [now it's a model "ideal" org]. Yes, they can now apprentice Public Division executives from every org in that center.
Moreover [2nd time] , its also where LRH intended graduating auditors from LA Org and ASHO to get their final apprenticeship before planting new flags as groups and mission holders in the field. So yes, with Hollywood Model Ideal Test Center, Los Angeles Org is now indeed a model complete, and yes, the first org on the Pacifica Bridge — Done!
But of course, if we have now extended the parameters for a Class V model org of Los Angeles, the fact is we inaugurate with a model St Hill and Advanced org something entirely new altogether. [Not]
So, lest you imagine ASHO and AOLA exclusively preserved for us "yanks" then prepare yourselves for the canucks, latinos and Afrikaans [he really DID say this and it was not at all amusing, he sounded like the racist he is] who will soon traverse the Pacifica Bridge enroute to new horizons — the establishment of new threshholds to OT in distant lands.
Moreover [3rd time], with the completion of this model ideal St Hill and model ideal Advanced Org, it is now possible for me to say – Model Ideal Pacifica Bridge — Done!
But before we pull down those ribbons, let me once again return to you and the city of Los Angeles as the greatest concentration of Scientologists on earth [and what a pathetic showing this was in light of that]. Because if the news in our world last year was expansion at Flag, well then this year mark the year as unprecedented expansion in every continental zone. And nowhere more so than right here in LA.
First, there's what remains in this Cedars complex, because now that ASHO and AOLA have moved out of their "temporary" spaces, we can now renovate what remains in the bowels of this building. Namely a new central auditorium for local events – combined PAC graduations – and the construction of a new cafeteria extending across the full wing of the building just behind me.
Moreover [4th time], its all targeted for completion by year end. [Hopefully in time for the flood…]
Then there are the out of town Scientologists who come for the Briefing Course at ASHO and OT levels at AOLA. Well, we want their journey to be as distraction free as possible, most particularly free of MEST universe concerns, and that's why we finally acquired that Fountain apartment building right at the end of this block. And all designs and construction documents were just completed [construction documents – oh wow what amazing news from COB RTC] to transform those apartments into ideal public accommodations [ideal?] replete with ideal solo auditing rooms [wonder if they will have "ideal" toilets and "ideal" mattresses], and yes, that's also targeted for completion this year.
Next, for out of towners staying for the longer haul, or simply desirous of more spacious accommodations, there's the Golden Crest building just behind the Manor. Designs and construction documents are also now complete for those apartments, and yes, the Golden Crest is likewise targeted for opening this year. [I guess the flood is expected at the end of the year sometime]
And finally, if that's all to service this Pacifica Bridge, don't think I've forgotten what else makes Los Angeles unique in all of Scientology. And an org that is a virtual pillar of the bridge all unto itself — Celebrity Center International. And once again, all designs and all construction documents to transform CC Int to ideal are also now in hand. [In hand? Oh sir, you are so amazing]
Moreover [5th time], when you see the animation we preview just before construction begins, well hold your lids tight lest your eyeballs pop. And that too launches in 2014. [And this is relevant to the ribbon yanking of the Pacifica Bridge because?]
But to place the whole of Los Angeles into complete perspective, you have to consider the whole global view, meaning, where were all Golden Age of Tech phase 2 materials produced? Bridge Publications here in Los Angeles. [Huh?]
And from where came all promotional items, information kits etc? Well, that's our international dissemination and distribution center, also located here in Los Angeles. [Huh again]
So yes, this so called city of dreams, is indeed a global emanation point, and its about to become all the more so, proliferating dreams across this planet. [Popping eyes at CC was starting to move into hyperspace, now the dreams across the planet is really going off the theetie-weetie diving board into an empty pool]
Because also on Sunset Blvd, just around the corner from where we now assemble, will stand something we've never had. Specifically, our own global media center. A Scientology television station, a Scientology radio station, not to mention [why do you keep saying that as you mention things?] production facilities of every type of media from print publications to cutting edge internet media. It's a 5 acre studio lot replete with two sound stages and 150,000 square feet of production facilities [way smaller than Gold, but never mind, Gold are all out ethics SP's so they have been relegated to redoing the titanium plates that CST are supposed to do]. It's the former home of the public broadcasting station KCET. Not to mention Hollywood's oldest continuously running studio lot. And even that hardly says it all. Because it is also the very address LRH himself wrote motion picture serials, such as the Secret of Treasure Island in the 1930's. So, yes, it's a place that's long been waiting for us. [Come on, this is SOOOO lame – LRH wrote fiction scripts there so we are going to do Scientology media] And in 2014 we will formally inaugurate her as Scientology Media Productions to effectively tell this whole world who we are.
[Somehow in all this discussion about the future of LA, Valley got no mention. But they are going to put more money into CC Int to pop everyone's eyes out]
But if I have now previewed the future [because there is nothing to say about accomplishments of the past other than vague generalities about GAG II], then let's turn to the present, because we have now arrived at the moment we formally open those doors and arrive at the last bastions [?] of the model ideal Pacifica Bridge. It completes a physical bridge on this most important street on earth. Thus becomes the living symbol of all who walk here to higher states. It also completes the fact that an LRH dream has indeed come to pass, a dream that is written in the very stone where we now stand and yes, a dream that spells freedom.
It is now my honor to pull down those ribbons, and in so doing, this new model ideal American St Hill Organization and this new model ideal Advanced Organization of Los Angeles and this model ideal Pacifica Bridge complete – are all now dedicated to the spirit of eternity and in the name of L. Ron Hubbard.
Please stand and join me.
[And with that, he yanked his ribbon, balloons shot skyward, everyone cheered and in they filed to "tour" the buildings they have been in for 40 years and have been in even while they were being repainted transformed into "ideal." Though exactly what it was that makes these orgs now "ideal" he never explained]