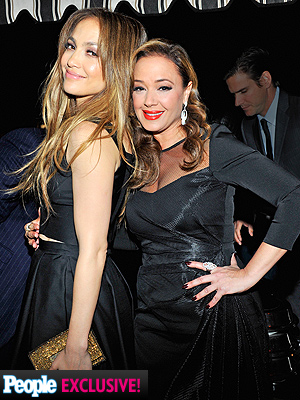 Now that Leah Remini is officially a Special Person (see Tony Ortega's blog this morning), the big question becomes whether Miscavige is going to attempt to enforce the oft-employed disconnection card with Jennifer Lopez.
Everyone knows JLo and Leah are BFFs. They were hanging at JLo's party last nite and featured on the People Mag site (and everywhere else).
It is also common knowledge that JLo's father is a Scientologist.
So, what is the guy who proclaims to be the enforcer of "standard tech" to do? Would eh dare risk trying to force J Lo to choose between her dad and Leah?  She IS after all, connected to an officially declared Special Person and publicly supporting her. That makes her guilty of a "Suppressive Act".  And thus her father should be getting the same treatment as the peons are subjected to: "Get your daughter to disconnect from the SP or you will be declared guilty of a Suppressive Act and be declared too."
This EXACT scenario has happened with HUNDREDS of people in just the last year.
But I would guess the "Tom Cruise Syndrome" is going to come into play. No action will be taken. It will be treated as a "special circumstance" because it would create a media frenzy and "black PR."  It's why no disconnection is enforced for Tom from Kate or Nicole…
Amazing how the "deeply held religious beliefs" and "upholding of standard tech" melts in the face of media scrutiny. Those lives and families of the "nobodies" that are destroyed mean nothing because they don't get media attention. 
It's a sickening double standard.
PS: Welcome Leah to the ranks of Special Persons — goldenrod is the new black. 🙂