Here is why David Miscavige is so terrified of his "International Events" being seen by anyone outside the bubble. (You would think He would want all that good news disseminated far and wide?)
But the problem is that when what he says gets out into the real world, there are people who actually check the Shermanspeak(r) bs he spouts against FACTS. Pesky things them facts….
The New Years video went onto the internet yesterday and already it has hit the media in Ireland, because one of the "featured" videos concerned the Dublin Mission (which was a very sad little place when I went to visit it 2 years ago). 
It's funny, as I was watching the first part of the event it struck me how condescending He is towards the people and places He is "salvaging." Sherman tries to be "clever" in his descriptions to make nothingness into somethingness, but what is said is often highly offensive to those being talked about.  The Irish media noted this in his description of their country — a country and city neither Sherman nor Miscavige have ever even visited.
It struck me hardest in another section I watched about a guy who is getting study tech implemented in Malaysia. The speech makes it seem like Malaysia is some sort of third-world jungle backwater and the video pontificates that by getting study tech into 104 companies (probably not even true) that "the entire heart and soul of Malaysia's industrial work force suddenly comes to know the power of clearing MU's" — how conceited is this? Only to be outdone by the climax of this self-gratification-fest "…thereby ushering Malaysia into the 21st century." I bet they really get a kick out of that in Malayasia… If either of these two clowns had ever been to Kuala Lumpur I don't think they would be talking about this country as though they were dragging it kicking and screaming into the modern world.
But back to Ireland. An article in today's Irish Mirror comments on the over-the-top claims made by Dear Leader in his New Year's address.
Controversial Scientology leader hails Irish branch in New Year's message to followers

David Miscavige, in an address to the faithful, praised the work carried out in the cult's Irish mission.  

The leader of the controversial cult of Scientology has praised its Irish mission in a New Year's address to the faithful.
In a presentation that highlighted the best of 2013 in the church of Scientology at a complex in Clearwater, Florida on New Year's Eve, David Miscavige pointed to Ireland as an example of the excellent work that the organisation was carrying out.

Seven minutes into the video above, he describes Ireland as a home "to one of the finest literary traditions of the western world" and a "land of both enduring beauty and beautiful sadness".

In an address that lasted a total of over two hours, he says that the people here would tell you that "Ireland is not immune to the decaying values of this 21st century".

After running through the services provided by Scientology's Dublin home on Abbey St, including 'Personal Efficiency' and 'Life Improvement', Miscavige goes on to describe the work being done by the following in Ireland.

He says: "Where this mission of Dublin begins to assume a distinctly Irish profile is with a grassroots campaign to meet the LRH (L. Ron Hubbard, Scientology founder) target by capturing one percent of the reading public with LRH based books."

We are shown shots of Dublin Scientology's 'book van' rolling out onto Talbot St, Moore St and more, while leaflets and pamphlets are shown being handed out at numerous landmark shops and streets throughout the capital.

The organisation claims that over 110,000 leaflets have been distributed so far, with 270,000 people reached through radio and other media.

It then claims that the mission of Dublin "accomplished an 85% drop in drug-related crime" and cites an unnamed county councillor who states: "You set a shining example. You have effective solutions and are dedicated to improve the lives of others."

See the video above, about seven minutes in.

Internet activist group Anonymous Ireland has planned a protest outside the office of the Irish mission of Scientology on Abbey St in Dublin this month.

It will take place from 11am to 5pm on January 25.
The tongue in check nature of this  article speaks volumes as to how the ridiculous claims (reducing drug related crime by 85%?) are treated. They don't even have to express outrage. They simply quote the statements and let the readers draw their own conclusions. What a bunch of fools.
One of the activists mentioned at the end of the article, Pete Griffiths, contacted the radio station (Ocean FM) shown in the video. Here is how they responded to him:
Just checked that video, Pete, and it's hilarious…that is not the Ocean FM studio, nor does the 'presenter' work here !! Totally made up, it's a good yarn, and we'd love to cover it tomorrow.
Now Ocean FM have put story this up on their website:
OCEAN FM AMAZED AT INCLUSION IN SCIENTOLOGY VIDEO!

Added: 14-01-2014

 

Management of Ocean FM Ireland have reacted with amazement after a bogus video purporting to show a Scientology broadcast from its studios was shown to a major Scientology Conference in Florida.

The video, played live to a huge audience at the New Year's Eve Scientology event in Clearwater, Florida, includes a clip of an 'interview' being conducted with a Scientologist in the Ocean FM studios.

However, the studio is NOT that of Ocean FM, and the 'presenter' conducting the interview is not known to anyone at Ocean.

Ocean FM was alerted to the matter by a listener, who suggested that it was unfortunate that Ocean would be involved in such a video.

Management at the radio station is now investigating the matter.

SCREENSHOT OF ALLEGED SCIENTOLOGY INTERVIEW ON OCEAN FM (11 minutes in)
And other media are now picking up on this as a new story.
It sucks to be Miscavige. Really. He can't say anything any more without people making fun of him.
 UPDATE:
Some of those hard working Irishmen took the time to transcribe what was said about their city in the video. This is a perfect example of Shermanspeak bs. It's all made to sound "grand" and "poetic" and its got nothing to do with reality. Sherman probably took these places from a map and a tourist guide for Dublin and figured they sounded good. But the ultimate proof of how much bs this all is — SMI planting their flag and all — is below the transcript.
An exemplary emphasis of how missions take root in cultural soil. Let us open with a tale from a land where the soil is exceedingly rich. In point of fact it is home to one of the finest literary traditions of the Western world, and a body of poetry extending back ten centuries. Well, if only for that extra touch of enchantment, let us call it a land of both enduring beauty and beautiful sadness. For this is the emerald Island and the Irish capital at Dublin. Notwithstanding a renown of gregarious wit and pride of identity, they will tell you that Ireland is not immune to decaying values of the 21st century. But that is precisely where enters Ger Collins and his Mission of Dublin. It's stands just off O'Connell street in a primary thoroughfare drenched in Irish history, and hence it's at the crossroads of working class Irish. As such it provides testing services for the mainstay of Dublin society, including housewives, shopkeepers, entrepreneurs, and professionals of every description. It also provides personal efficiency, originally piloted by LRH in Dublin through the mid-1950′s, and now assuming a second life among Ireland's new salt of the earth. There's still more with life improvement courses for everyone else across Dublin's demographic pie-chart. But where this Mission of Dublin begins to assume a distinctly Irish profile is with a grassroots campaign to meet the LRH target by capturing 1% of the reading public with LRH basic books. Hence on any given weekend across any high-traffic zone out rolls the mission's 'Basics Books' van. Onto Talbot street, once submerged in Irish nationalism and now a North-end shopping district. Onto Moore street, likewise at the North and filled with fresh produce market stalls. And at the Epicurean Hall filled with food courts and thus another kind of Dublin crossroads. Then back at O'Connell street rolls out a full-blown bookathon, a place where once a rose, a terrible beauty of Irish independence, and where now a new generation finds its feet. There is still more again on Henry street, off the main thoroughfare where Irish history likewise lives on. At which point all loops back to the General Post Office, where Irish political freedom was born and no emerges a new Ireland. And that, in a nutshell, is how this Mission of Dublin placed LRH books into the hands of not one, not two, but a full 3% of the Dublin reading public.
But there is another vector entirely along which Dublin advances in the name of clearing their zone, and it includes every one of our forth-dynamic salvage campaigns across an Ireland unravelling in this 21st century. It begins with The Way To Happiness along Parnell street comprising Dublin's melting pot. It continues with the 21 precepts, yet again, at Grafton street amidst perennial leprechauns, and then over the Ha'penny bridge where flows so much Dublin tradition, and out along Gardiner street where booklets parallel the river Liffey. There's another vein entirely along which flows human rights. This one follows an artistic trail across Dublin's new cultural quarter, at which point again it winds back to the O'Connell bridge where young people affix signatures to human rights' petitions. And finally, comes Truth About Drugs applied to new generation usage. It infuses Dublin from the Donegal Farmers' market where booklets sprout from produce stands and so establishing a delivery pattern that replicates all over Ireland's social arteries. At the health shop, the tea shop, the internet cafe, and local pubs. There's still more again at the barbers' shops, the butchers', and wherever else streams Dublin's lifeblood there advances truth about drugs even into Donegal's county police stations until the Mission of Dublin placed no less than 110,000 booklets into Irish hands. But still that's not the end of it because with Truth About Drugs' spokesmen hitting national airwaves from Ocean FM to BBC Radio and thereby impacting no less than 270,000 listeners all while newspaper headlines reinforce the message. Well, that's how this Mission of Dublin accomplished an 85% drop in drug related crime, while through it all they have now introduced more than 42,000 people to Dianetics and Scientology. And, yes, that's Scientology Missions International planting their flag into the bedrock of a nation.
They photoshopped the Mission in the video. They gave it a sign that doesnt exist and removed the shop that is the storefront as this sad little mission, hanging on by its fingernails, is a couple of rooms on the second floor in a backstyreet of Dublin (see how Sherman describes it above):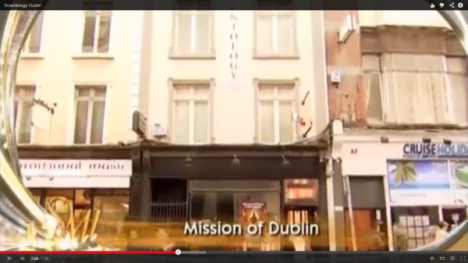 And here is how it really looks: