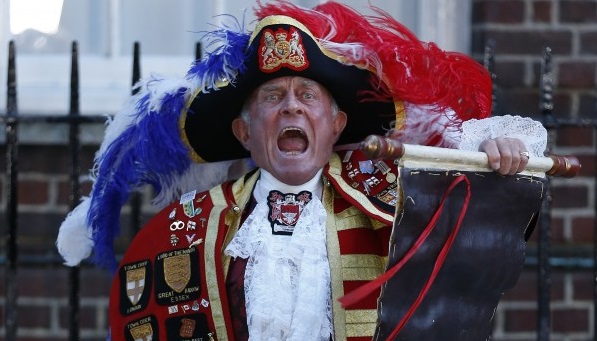 Some more stats from our good friend Jeff Mintz. And as always he announces these as "Good News" but frankly, they tell a sad tale.
2700 Cornerstone members (see Bruce Roger email at end of post) and after nearly a year, only a third of those that ante'd up tens or hundreds of thousands for the privilege of being "first in line" have actually showed up to take the service…
If you break down these Super Power stats, it is clear this is a financial disaster.
If 75% of the Super Power delivery is to previously paid Cornerstone members (which is probably a conservative estimate), at $400/ hour Super Power is bringing in less than $300,000 per week in income to the FSO. While this is a huge amount of money, it is miniscule compared the the average GI of the FSO that used to sit around $2 million per week. Another big problem of Super Power is that there is nothing to resign completions onto.  It is not a "step on the Bridge", so there is nowhere that is a natural "next step".  Thus, it is not a good generator of more income.  Especially as most of the people who are doing it have already done virtually everything possible.  Probably the only other service they can hit these people up for is L Rundowns (the ones that Miscavige has been nattering about for at least 15 years as being "squirrel" but only HE can fix them and he has "not had the time.") Probably why there is an increase is L Rundown comps. But no matter how you slice it, $300Gs a week for the "big news" service, eagerly awaited for decades and delivered in $150+ million building is very poor return.
55 Clears in a month is also big news.  "Highest Ever." When the vast majority of orgs on earth cannot take anyone to Clear, and thus most public are scooped up by Flag for their "clear cycle," in fact this is a tiny speck of nothing in the sea of humanity on planet earth. When the bleats go out about how "GAG II is making planetary clearing a reality" it is a total joke. At this rate, they will clear HALF of Clearwater in 100 YEARS. And HALF of Tampa Bay in 4000 YEARS. And half of the world in NEVER.
And funny, I guess the big push on OT VII Completions dried up — they get no mention this week. No surprise — this IS "good news" after all. No need to clutter it up with downstats.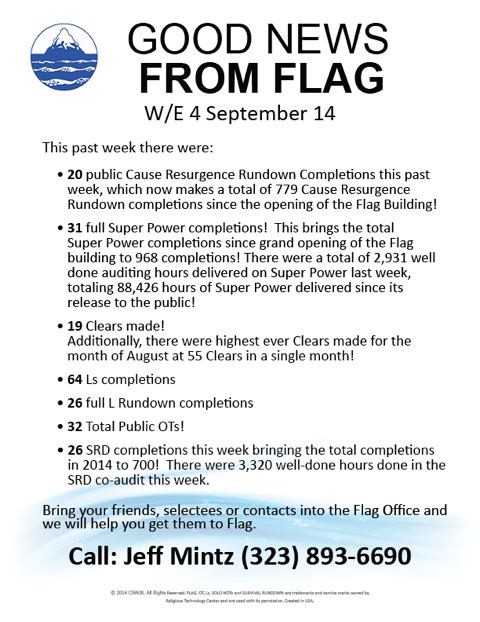 Here is another one from a couple of weeks ago.
You will notice the figures for Super Power hours completed last week and total since release are identical to the figures he sends out two weeks later. Tells you how accurate this stuff is. Numbers plucked out of the sky and sent out "with authority".
Compared to the earlier posts, this is how the stats look (these figures are earliest weeks first, these latest reports added to the end, see earlier posting on Flag Stats here). It is strange to watch the selection of stats. One can assume the stats that are NR (No Report) are not good, otherwise they would be included:
Super Power: 21  24  23  21  20  10  15  23  25  31
Cause Resurgence: 8  9  6  9  11 9  6  22  24  20
L's: 27  29  NR  22 21  17  7  18  23  26
Clears: 8  9  6  9  11  9  6  11  NR  19
OT VIIs: 9  7  6  11  7  6  10  7  11  NR
Objectives: NR  28  22  18  20  21  NR  NR  NR  26
Purif: NR  18  11  21  15  NR  NR NR  NR  NR (Apparently given up on reporting this — must have been a problem getting uniforms from China so nobody could start)
I will sooner or later get to the long promised posting about the L. Ron Hubbard Hall boondoggle. But I must comment on two sentences of Bruce Rogers' email that are absolute classics:
In attendance were some of Scientology's very own most notable and famous personalities. Beings that became famous for foraging a path to the release of LRH's miraculous technology of Super Power by making possible the construction of our new Cathedral in downtown Clearwater.
"Most notable and famous personalities"?  Duggan, Bayback and Pollack. And what are they "famous" for? Foraging [sic] a path to the release of LRH's miraculous technology of Super Power. Foraging? Not butt-kissing? But one thing IS true — what makes you a notable and famous personality in Scientology is ONLY dependant on how much money you fork over. Also note, L. Ron Hubbard didn't think anyone needed to help him forage around to build a path for the release of Super Power — he said it would be delivered at the St Hills in 6 weeks.
Date: Tue, 15 Apr 2014 18:25:21 
From: Bruce Roger <bruceroger@cos.flag.org>
To:
Subject: Explorers Club Awards Dinner!

Dear Xxxxx,

Today I just returned back to Flag after a fantastic weekend in New York City where we just held our 1st L. Ron Hubbard Hall Awards Dinner & Event at the world renown Explorer's Club.

In attendance were some of Scientology's very own most notable and famous personalities. Beings that became famous for foraging a path to the release of LRH's miraculous technology of Super Power by making possible the construction of our new Cathedral in downtown Clearwater.

Such famous names in attendance were Duggan, Baybak and Pollack just to name a few.

See my attached photos!

The evening began with a tour of the Explorer's Club conducted by none other than the Executive Director of the Explorer's Club himself, Mr. Will Roseman and while he stated "Ladies and gentleman though you have had the privilege and honor of studying Dianetics and Scientology, I would like to point out to you that it is right here where Scientology all began!! Right here at the Explorer's Club!"

Mr. Will Roseman then proceeded to show us the EXACT table where LRH sat and wrote the words of an article entitled "Terra Incognita"

In this article LRH takes you on the most daring adventure into the mystery of the Mind.

Mr. Will Roseman then explained that It was the Explorer's Club that first published Terra Incognita to the public and thus paved the way for LRH's next publication – Dianetics!

The evening was studded with personal LRH stories of his miraculous accomplishments and culminated with an awards presentation from the In-Charge of the Church Of Scientology Religious Trust, Mr Lauri Webster, whereby she described the role and importance of the L. Ron Hubbard Hall and the need to bring it into rapid existence so that we can use the L Ron Hubbard Hall to create the next leap forward in Scientology's next phase of monumental expansion!!

All in attendance dedicated themselves to the purpose of bringing the L Ron Hubbard Hall into existence.

And now in a new unit of time I ask you as a highly dedicated supporter of the past Super Power Project to re-dedicate your commitment and efforts to making this a better World and become a L Ron Hubbard Hall contributor.

Our new game is for each of our 2,700 Cornerstone Members to become L. Ron Hubbard Hall Members with a gift of 25,000, so as to accomplish the full funding for the L. Ron Hubbard Hall. As COB stated when he saluted the Cornerstone Members at their Gala Ball, during the week of the opening; "Thank you for galvanizing a movement and so bringing the power of thousands to bear for the benefit of eternity itself."

So as you can see it is this galvanized team that we are counting on to get the job done, I am therefore asking you to rapidly complete y our L. Ron Hubbard Hall status and join the ranks of all those who have already lead the way in the creation of the L. Ron Hubbard Hall.

I await your reply.


Much love,

Bruce