While we await the season finale episode tonight, which I hope you will find to be one of the best, I wanted to further address the smears leveled at Chantal and Sherry. (BTW there are 3 more specials coming too…)
As has been my practice, I generally put some sort of response to the smears scientology publishes on the contributors to The Aftermath.
Following last week's episode featuring Chantal Dodson and Sherry Ollins, I did just that, after scientology posted their bs before the episode even aired. I responded with the information I knew at the time (i.e. that everything scientology ever says about their victims is a lie, or carefully worded to distort the truth).
Chantal and Sherry subsequently provided additional information that sheds a whole new light on the bs operation of the scientology smear machine.  The depth of their deceit is breathtaking.
Let's set the stage.  Remember, scientology refers to EVERY SINGLE CONTRIBUTOR to The Aftermath as "UNVETTED." This has become their catchphrase — Aftermath is a show with Leah Remini's "unvetted" liars (they claim it was a "bombshell" that Leah said she didn't "vet" contributors on the show even though obviously legal does — it's not her job to do so)…
Now, let's take a look at scientology's supposedly "well-vetted" sources.
Chantal Dodson:
First up to bat for team scientology is Michael Graves. He appears in a POW style video, identified by scientology as "Chantal's cousin"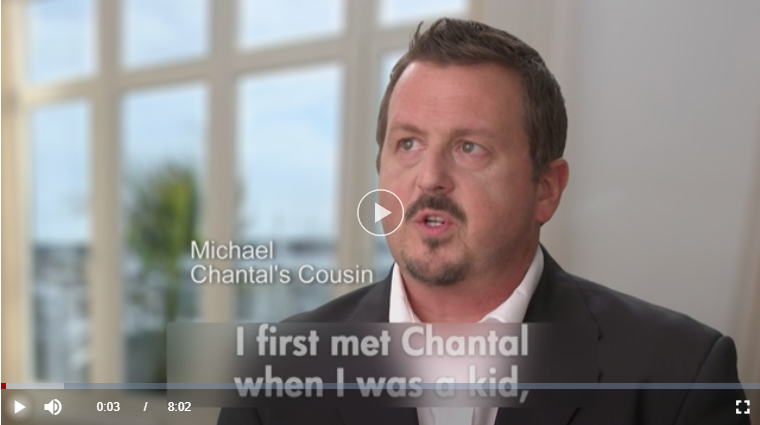 In fact, Michael Graves is Chantal's step-cousin and she has not seen him in 23 years.
But he did reach out to Chantal to disconnect from her. Fortunately Chantal kept screenshots of his messages a couple of years ago. He claims she was happy in the Sea Org and never complained about anything (yeah, right…)
Well Michael, let's see what the Ethics Officer thinks when they see this message. As you said, you are "well aware of all kinds of shit that went down," and "I am absolutely positive you have justified upset…"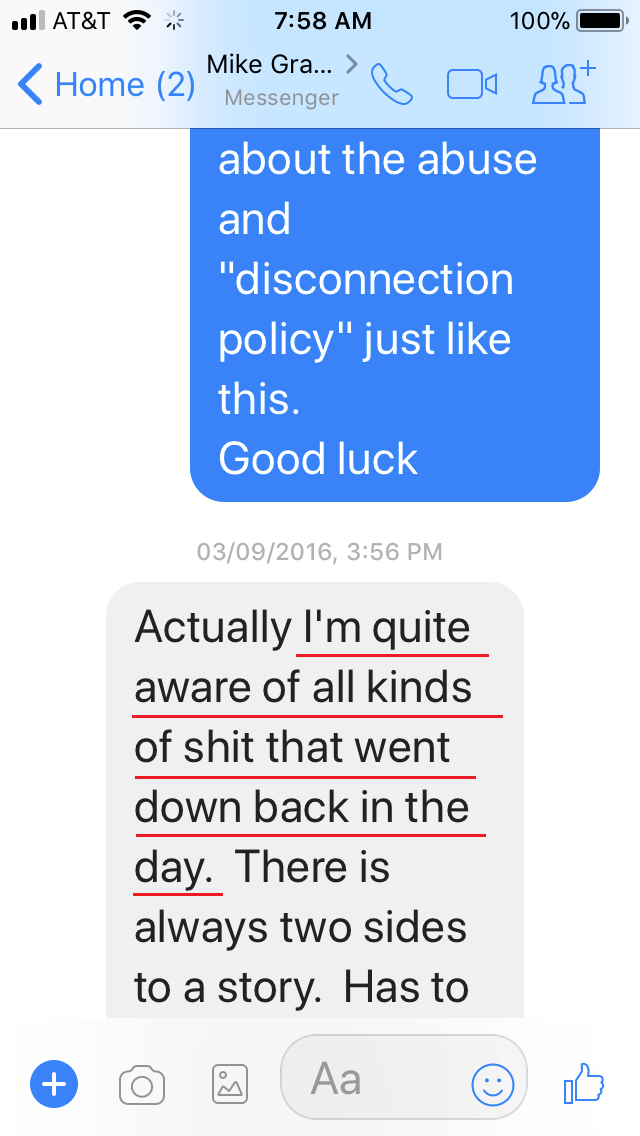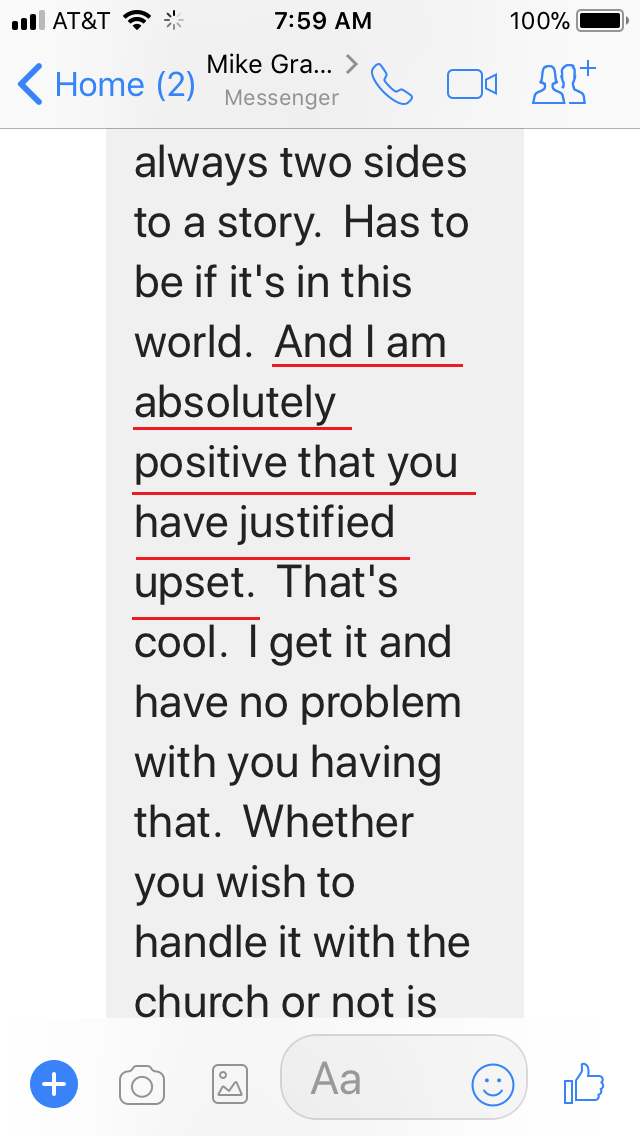 They made a big deal about Chantal attending public school. In fact she attended Martin Luther King Junior high for three months during ninth grade and that is the last schooling she had and the extent of her formal education as a member of the Sea Org.
Regarding use of weed, I responded with "So, call the FBI" because in this day and age only zealots think anyone would be outraged to hear that someone smokes marijuana. My guess is there are more people who smoke weed in this country than smoke cigarettes these days. Well, it turns out the truth is even more damning for scientology: Chantal is allergic to THC (and opiates) — she cannot smoke weed. So scientology once again gets a big raspberry.
They also claim she had "an affair" with a florist. This was after she left the Sea Org and her then husband refused to leave with her. She did marry the florist and got pregnant.  But he turned out to be a convicted felon and alcoholic. This is the "vetted source" scientology relies on who "called the church asking for assistance because Chantal had another man in the house." Well, true, he did call the church. But they "forgot" or "failed to vet" a few minor details: He had ABANDONED Chantal and his children. He was in and out of prison. He is a deadbeat dad who owes $39,000 in child support to Chantal.  This fine specimen of a man is on the lam, last heard from about a year ago he contacted Chantal's daughter and explained he had spent six months in jail for drug trafficking in Arizona.
And again, unlike scientology, here are some of the DOCUMENTS.
And finally with respect to Chantal:  They further smear her with tales about her being promiscuous. This is just victim shaming and has NOTHING to do with her claims of abuse in scientology (unless you consider being married at age 14 to another SO member aged 14 in order to have a room together being "promiscuous").
But Chantal wanted me to know that she DID have one affair. With a married man. This paragon of virtue's name is Johnny Hillman — and he is still in scientology either on OT VII or an OT VIII.  He keeps giving money to scientology so he is above reproach. But here is the rest of the story about Johnny Hillman — he didn't just have an affair with Chantal. At the SAME TIME he was conducting affairs with FOUR OTHER WOMEN. Yes, five in all. This all while he was doing his OT levels at AOLA.
And yet scientology cries "Chantal could not live up to the high ethical standards of scientology." Hah. But Johnny Hillman passed with flying colors…
Such hypocrisy.
Sherry Ollins:
Scientology really had practically nothing to say about Sherry. Except they talked about how she had promoted her half-sister to get psychiatric care (which is proof if ever it was needed that these smear sites are ONLY intended for scientologists who end up in the Ethics Office for having watched the show when they should have been reading an LRH book — nobody else would think there was anything wrong with this).
They omitted just a bit of information (surprising eh?).
Sherry's half-sister Serafin is 7 years younger. They share the same mother (Adriana Castle aka Ace Lewis) who is also Stefan's mother. Serafin's father, Ben Lewis, was Sherry's stepfather growing up.
Serafin grew up in Washington D.C. under the same conditions as Sherry: poverty, always in the nursery, spotty education etc.
In 1989 when she was 12 years old, while her mother was away in New York, she was recruited for the Sea Org and went to Flag. She was in the Sea Org there for four years.
While Serafin was in Clearwater, an older Sea Org member molested her. She told on him and apparently he was RPF'd. Serafin was heavily interrogated after the incident — the predator was her senior and the incident caused a lot of trouble and as a result there was considerable resentment towards Serafin. She left the Sea Org when she was 16 and returned to D.C. She started getting into difficulties there (fighting with some neighborhood kids, etc.) and her mother and step dad asked if she could come live with Sherry. She moved to LA and was taken in by Sherry. After a year she got her own place. Here is how Sherry describes Serafin:
I didn't know what I was looking at, at the time but clearly my sister was already descending into mental illness. She had severe mood swings, problems with people and erratic behavior. Over the next several years she actually worked a job and went to college at night and even got accepted to Berkeley (quite an achievement for someone with next to no education). But her mental illness was getting worse and worse and she did indeed have psychotic episodes while traveling in Europe. When she was at Berkeley, it got even worse and she never graduated.
For the last ten years, Serafin has been in state institutions. She has schizoaffective disorder, Bipolar type and at least one personality disorder.
There is a lot of evidence that says that if schizophrenia is caught early and treated early, that the illness can be greatly reduced and managed and people can lead almost a normal life. However, once the brain "goes there", it is hard to get it back. Serafin is among the most mentally ill patients out there and her life is quite tragic.
We will never know what might have happened if she had grown up in a stable, supportive environment. One theory is that if a person has a predisposition to this type of mental illness, it's as if they start with their cup "half full" if you will. Then if their environment is extremely stressful and damaging, it can fill up that cup and quickly overflow. Who knows?
What I do know is that the church worked my sister as a minor for four years, did not report her molestation to the police, and taxed all family resources that might otherwise have gone to getting her help and support.
Quite a different picture than scientology tries to paint.
Here is a picture of Sherry with her sister as children.