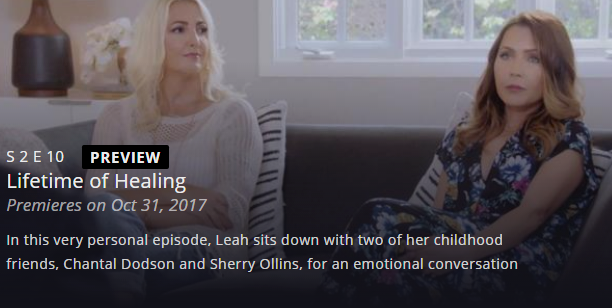 True to form, BEFORE the show even aired, scientology had their smears up about Chantal Dodson and Sherry Ollins.
These people literally have no shame.
Nor sense. But they seem to have a limitless supply of bullshit.
They begin with a clever Halloween theme: "Just in time for Halloween, Leah Remini and A&E continue their religious witch hunt."  That is an award-winner.
They opt for broad generalities, Chantal "ranks among the most ludicrous and transparently false yet. To say they never happened is a gross understatement. Chantal's absurd claims fit the modus operandi for Remini and A&E that has become so familiar."  Of course, no specifics — because they wrote this without having even SEEN the show! They then roll into how the show has resulted in "more than 500 threats against the Church, including death threats." They have been using this number for months, and when they first trotted out this absurdity they were taken to task by the media because they have absolutely nothing to back it up. But even that aside, one would conclude that if the FIRST show caused these 500 threats then there would be another 500 for the next show and they would be nearing 5,000 by now? Or was the only show that generated any threats just the first one about abuse of children and the rest have gone unnoticed? Come on OSA, you are not even trying.
They trot out their old bleat: "All come from sources that Remini boasts are "unvetted," a self-admitted lack of integrity that A&E's attorneys are more than happy to let her get away with." They have modified this statement, I guess the A&E attorneys got upset with scientology saying nobody was "vetting" the show when there is an army of lawyers doing so. But hey, scientology, if all of this stuff is maliciously and deliberately false — where are the lawsuits? You employ numerous lawyers to send cut and paste letters. Why are you not suing?
The absurdity of their rants is then highlighted by this "After Dodson left the Sea Org more than three decades ago, she returned in 1989 and actively worked to be accepted. She stayed for another four years, which raises the critical question neither Dodson nor Remini want to answer: if conditions were so bad the first time around, why was she so eager to rejoin? It's a question A&E refuses to address because it would undermine Dodson's tale and make her useless as the prop Remini needs to cue her to cry on camera." Well, gosh guys, if you had watched the program you would know this WAS answered. Chantal felt lost in the "wog" world after being raised in the SO and while still a teenager she returned to the only thing she knew. She had married a guy who wanted to join the SO and she badly wanted children. Oh yeah, you totally undermined her credibility… This makes clear what fools they really are.
They then go on to explain what a wonderful life Chantal had in the SO: "she never lacked for anything." Anyone who has watched this show knows what a bald-faced lie this is! And they try to gild that turd with this: "Chantal Dodson and other children of Sea Org members played together and were also given the opportunity to contribute. They operated their own organization, the Cadet Organization, that was always under adult supervision." And: "Dodson's cousin, Michael Graves, also recalled the pleasant childhood Chantal and her sister Natalie had. He said the sisters were always happy when they lived in Clearwater in the late 1970s, which he described as "like paradise." Hahaha — everyone knows the truth about children in the SO now. Graves then claims "Chantal's tales" are "a delusion fed by Leah Remini for her TV show." Of course, Graves has not seen the show! And knows NOTHING about life as a child in the Sea Org. But hell, he is an expert on this because he is her cousin? Where is the scientology official appearing on the show to respond?
Their "big attack" is that Chantal went to a local public high school in LA and there were people there who took drugs! It doesn't say SHE took drugs — just that she went to a public school where people took drugs. And then they tack on that she "was unable to adhere to the high ethical standards" — the tired line they use when anyone escapes the Sea Org.
And finally, to prove that everything that happened in scientology is "a lie" they go low — claiming Chantal had an "affair"with a man she then married. And that "she smokes marijuana" (OMG, call the FBI) which  somehow is intended to be evidence that she is a liar?? I think the people that are high are the ones that write this stuff. Surely even they cannot think this is effective.
And that is IT. The best they have to prove that everything Chantal Dodson said was lies…
Then they turn to Sherry and it's every bit as feeble.
Their first evidence that everything Sherry says — that they have not seen — is untrue is this:  "Ollins was a guest on Remini's previous show, It's All Relative, and never once mentioned any complaints she is now alleging. In other words, she's now making it up and embellishing her past for Remini's cameras." 
This is as logical as saying because Gwyneth Paltrow didn't talk about Harvey Weinstein molesting her when she appeared in Shakespeare in Love she is just making it up and embellishing it now. And there are more people who have provided first hand testimony about the abuses of scientology, especially towards children, than there are who have provided testimony against Harvey Weinstein. As a result, he is now toast. So too should be the fate of scientology.
Strangely, then they recount Sherry's history: "Ollins' parents signed the consent forms allowing her to join the Sea Org in 1982 [not mentioning she was 11 years old]. At that time children could join but only if they continued attending school as required by state law. Today, anyone under 18 wanting to join the Sea org must be at least 16, have written parental permission, and possess a high school diploma or a GED." Wow, way to go proving that everything she says is made up!  They confirmed what she said — except for the schooling. Sea Org children were NOT properly schooled. But hey scientology, if everything was so great, why did you change the rules?
And then they haul out some old "roommate" "Bonnie" from Clearwater who claims "the girls had a lot of fun, living in a spacious room with other girls. They lived a drug-free lifestyle that included going to school every day, having weekends off and going to the mall or to the movies on Friday. She said they did minor clerical work…" Riiight…
By 1985, Ollins decided she no longer wanted to remain in the Sea Org and has had no contact with the Church in the 32 years since. Yeah, pretty much got that right too. And this proves what?
They finally get down to the real meaty stuff, telling a story about how Sherry's stepfather's daughter took the psych drug Zoloft. He was the scientologist. She's not Sherry's daughter.
And their parting shot? "Leah Remini has always defended Sherry Ollins and her treatment of her family which has resulted in misery, just like Remini's miserable friends and relatives." 
Nobody who watches this program or has had any contact with scientology needs to be reminded just who it is that causes misery to friends and relatives. Scientology's toxic disconnection policy has caused the destruction of numerous families around the world.
And that is all they had to offer up to smear Chantal and Sherry. That is what they call in the industry "weak sauce."
Scientology should at least wait until the episode airs. If ever anyone needed proof that scientology has NO interest in EVER responding to the facts that are presented in the show, it is this. They can't be bothered to even pretend they care about what is said — their modus operandi is to attempt to smear the victims of their abuse. This is incontrovertible evidence of that fact.
For those who are not familiar with scientology's policies, here are a few earlier blog posts that will help you understand the mindset scientologists have about those who criticize any part of it:
Dealing with Critics of Scientology — The L. Ron Hubbard Playbook
And then read this one:
And here is a fairly short explanation of how disconnection is used in scientology (and how they try to spin the practice):
Disconnection: the PR and the Truth
An overview of the efforts by scientology to smear Leah Remini:
Scientology Dead Agents* Itself
And finally this is a post about the lies they tell about their "expansion":