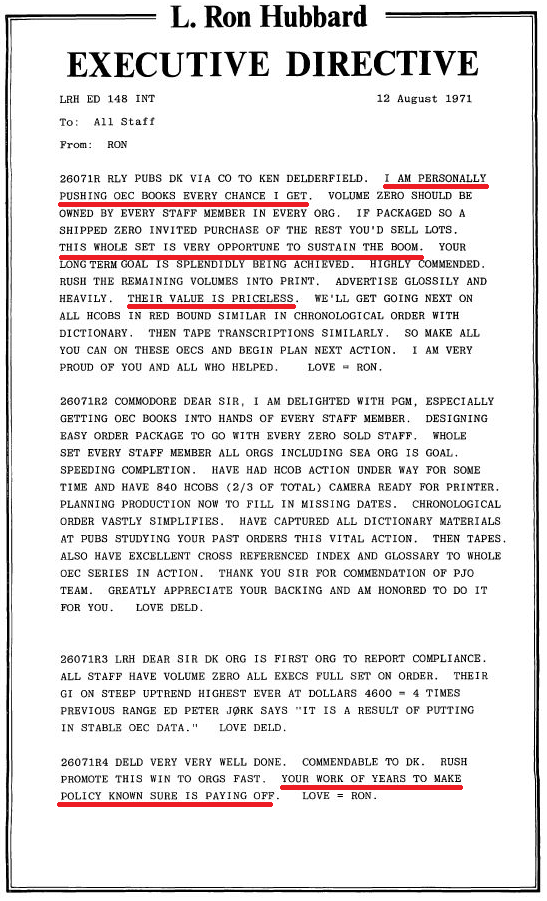 This is a follow up to the earlier posting I did concerning the apparent upcoming release of the "new" OEC (The Next Big Thing — The Miscavige OEC).
The OEC volumes have not been sold in scientology orgs or from the Pubs Orgs for more than a decade. Miscavige has declared them to be squirrel. Like the Briefing Course — and oddly, the Briefing course consists primarily of a few hundred recorded lectures by Hubbard himself.
It is quite amazing to see how utterly bamboozled scientologists have been by Miscavige. He has done what most old-time scientologists thought was impossible. Replaced Hubbard's tech with his. Though Hubbard was more than happy with the OEC volumes, and obviously also didn't have a problem with the Briefing course, Miscavige has "disappeared" them without any protest from the sheeple. They just go along with anything he does or says without protest or even questioning.
One of our readers sent the issue above about the OEC to me. I wonder what "Ron" would say about Miscavige having gotten rid of the OEC and Briefing Course (not to mention Class VIII — also primarily just Hubbard lectures), as well as Key To Life (THE answer to staff and everyone else's failures, at least that's how Hubbard presented it) and Life Orientation Courses. The Tech Volumes are also not available and the "Research and Discovery Series" long since fizzled out and stopped being released.
Funny, Hubbard declared in his "Technical Degrades" reference that it was a High Crime to "Act in any way calculated to lose the technology of Dianetics and Scientology to use or impede its use or shorten its materials or its application." I don't think he could even contemplate the idea that anyone would just get rid of it entirely….
Ruh-roh.