Apparently, the launch of the new Miscavige Organization Executive Course (OEC) is just around the corner.
You know the old "green volumes" that contain Hubbard's policy letters on how to run a scientology organization? In fact ANY organization. In fact, the "technology" of how to run galactic civilizations because the system failed after a few million years, so Hubbard improved on it. At least, that was his story. These volumes you see below in a historical photo.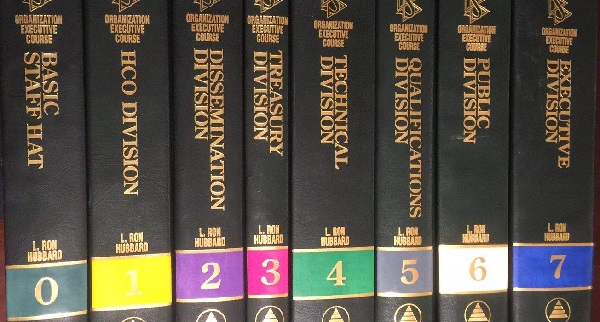 Well, since the early 2000's, Miscavige has been claiming they are useless. And has been threatening to put out the "new" OEC. You cannot even buy the old volumes in scientology orgs, and they're not on the Bridge website at all. Like the Briefing Course. It's just vanished and so has po0licy.
In the early 2000's, Miscavige announced to everyone at Int that the OEC was "crap." That it had been compiled by incompetents and though, like Hubbard's basic books, they had been just fine with Hubbard for all those years, now they had to be redone.
Miscavige did endless briefings to people at Int about "packages" of policy letters that related to one another by date, but had been split up into different volumes for no good reason. He had every policy letter in history printed out and laid out on tables in the "Castle" (the large movie soundstage building). They literally stretched for hundreds of yards. He assigned various people to "compile" the OEC but every time he would inspect the latest effort by the latest cannon fodder he would rant and rave about how incompetent it was and that he would obviously have to do it himself. This is what he says about everything.
This went on for about 5 years while I was still there. I left in 2007. It's been 13 years since without policy volumes in scientology.
Of course, they cannot say this in their promotion piece, as it would pre-empt his announcement. But if you know the information above, it becomes pretty clear what is being talked about.
Apparently Miscavige has finally gotten around to putting together the "new" OEC and is waiting for the COVID situation to stabilize so he can do an actual televised event to announce his "breakthrough." The new versions of the books will be slicker than the last but really contain nothing new. They will probably cost twice as much.  And every good scientologist will be expected to buy them. He will make grand claims that THIS is now why orgs have not been expanding — obviously they have not had the tech to do so (especially as he has taken it out of circulation for 15+ years).
It appears they are gearing up to do a training program before the release — like GAT II. Part of the "release" will be the fact that executives have been brought to Flag and have completed this training (he will line them all up on stage like GAT II for a photo op) and everyone will yell and applaud, they will return to their orgs and within a week or two everything will slip back into normal operating status — ie dead.
But there will be plenty of hype.
And a lot of money sucked out of people for something they don't need.
Of course, every single library on earth MUST have a set of this vital technology. So there will be a big push on that too.
The world of scientology is so predictable.