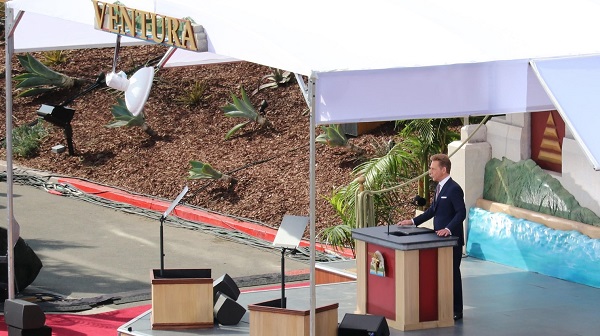 A tidal wave of Shermanspeak engulfed Ventura county as scientology's Dear Leader yanked his ribbon in front of his latest real estate investment in an industrial area next to a freeway.
The screaming headline at scientology.org is typical:
SCIENTOLOGY IDEAL ORG RISES LIKE A LEGENDARY KING WAVE IN VENTURA'S SURF CITY
And it goes downhill from there.
This is a "Seaside" Grand Opening that marks a milestone for Scientology's spectacular growth across the Golden State. Growth?? Where? Every org is struggling and there are less missions than ever…
The smarmy surfing language continues: Riding a never-ending swell of expansion… the Church of Scientology cut the ribbon  (an interesting turn of phrase, so David Miscavige IS the "Church of Scientology"?) along this slice of surfing paradise.
The first Ideal Org devoted to Ventura and Santa Barbara Counties (and last no doubt — they no longer open any new orgs) opened before an exuberant audience of some 4,000 Scientologists and federal, state and local dignitaries. 4,000? You can count then from the photo's yourself if you really want to. I take the estimate of 2,000 to be much closer to the truth. Scientology ALWAYS inflates numbers at events. But how many "Ventura staff and public" were there? All this to serve a grand total of 50 people.
It gets positively syrupy-silly as Sherman goes into overdrive:
Stirred by a wafting Pacific breeze, a festive air of accomplishment pervaded the occasion.
Yikes. A high-school english teacher would puke if a student handed in something as corny as that.
But then this is what gushed forth from Mr. David Miscavige, who told the assembled that the wave for which they were waiting was now about to break: "A perfect wave. An endless wave. A wave anyone can ride to higher plateaus of ability and spiritual immortality. But, of course, not everyone knows where the shoreline ends and the ride of a lifetime begins—which is where you come in with an invitation to freedom and a lesson on how to catch that wave and never be the same again."
That is some seriously tortured prose.
The hype then takes a nosedive as they have to report on the "dignitaries" who attended. It's a long time ago that the Mayor of Buffalo showed up for an ideal org ribbon cutting, or in fact anyone of any stature in any of these cities where the ribbon yankings are held. And this was no exception.
Councilman Steven Gama, from the City of Port Hueneme, Ventura County; The headliner. Not the Mayor or Mayor Pro Tem of this tiny city. And not the Mayor of Santa Barbara or Ventura.
Sharon Byrne, Advisor to the 4th District of Santa Barbara County; Advisor to? What about the member for the 4th district? Or the head of Santa Barbara County Govt?
John Chavez, Voluntary Agency Liaison, Federal Emergency Management Agency (FEMA); Liaison? A bit like Advisor it seems.
Barbara Gaughen-Muller, President of the Tri-County United Nations Association. Whatever.
Of course, they talked about Way to Happiness, drug education, Volunteer Ministers and human rights education. Nobody spoke of scientology at the opening of the scientology building.
And that was about all they had to say. Other than a reminder of their "era of explosive growth" with a listing of the other buildings that have been purchased and "opened" that remain empty graveyards. In fact, they only serve as testament to the financial sacrifices of the clubbed seals.
Apart from Inglewood, there has not been a new scientology org opened in California in 40 years. And in scientology, that qualifies as "explosive growth."