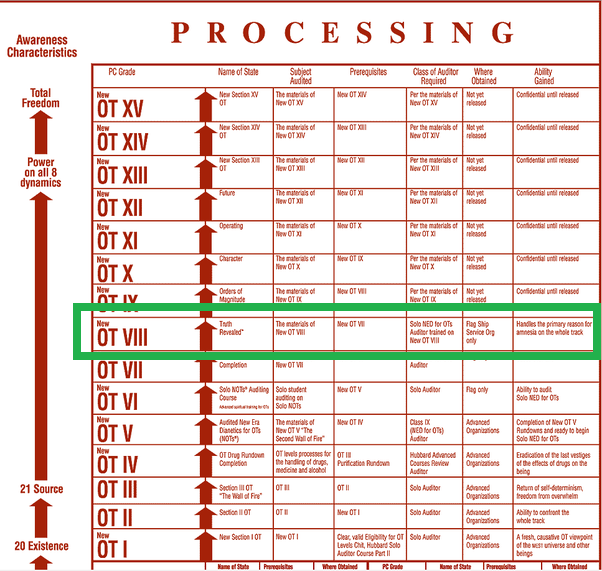 Here are a couple of "success" stories from recent OT VIII graduates.
This is the top of the scientology bridge. The ultimate achievement of the tech (they say there are more OT levels and have been saying so since before Hubbard died in 1986 but nothing has ever materialized and nothing ever will).  These people have paid hundreds of thousands to achieve these amazing things at the pinnacle of the "Bridge to Total Freedom."
The official scientology description of this level is "Truth Revealed" and the "ability gained" is: Handles the primary reason for amnesia on the whole track.
Remember, these are "success stories" they select to publish as the best advertisement for paying the price to achieve this vaunted state. And that "success stories" are mandatory in order to complete any service in scientology and receive your certificate.
A new level of ARC for everyone?
I bet if I walked into the same room as K.W. that would be put to the test!
Lots of generic pablum in here…
NEW OT VIII
COMPLETION SUCCESS
PETER STEPHENS
Over the past weeks I have been lucky enough to hear many New OT VIII Success Stories here at Graduation, and each one has been different. That makes sense since LRH says this level is uniquely addressed to YOU.
For me this level was full of surprises. Sometimes the surprises happened in session and I'd find myself laughing and laughing. Other times I'd step out of session and be literally dazzled by the 'life in motion' around me.
Sometimes I'd walk out of session thinking, 'Well that was a very gentle session, not very eventful' – but then I'd look around and discover that everything had changed. And I mean EVERYTHING. The corridor was different. The stairs weren't the same. I'd arrive in the examiner's space and think, "Wow. This is unusual."
One time in Curacao I walked out onto the deck and looked up at that famous bridge and thought, "Whoa! They painted half of it yellow overnight!"
Of course none of these changes were happening to the physical universe. I was changing, in all the right ways, as more and more truth displaced the falsehoods in my universe.
In fact I found there were many types of truth revealed on this adventure.
In between sessions I was able to get some Congresses done and I found the most amazing thing! I would come out of session and put on the headphones. There would be LRH telling me the exact piece of data that perfectly completed a major background cognition that I'd started having.
The first time it happened I thought, "Oh, that's a coincidence." The next time it happened I thought, "Hmm, another coincidence." Then it happened again and again, and I began to realize that my ability to perceive and recognize truth was being raised session by session. And remarkably, these truths I was discovering were exactly the truths that I needed to know at that exact moment.
By my fifth Congress I would put the headphones on and wait for the next big revelation. And I was never disappointed.
So for me, New OT VIII has been a dazzling, delightful, exhilarating and breathtaking series of surprises and adventures into levels of truth and certainty that I'd never imagined possible. I am happier than I have ever been and very proud of myself for making it.
But I very definitely did not do this alone. I wish to thank my beautiful wife Sophie who Tone 40'd me onto OT VII and who has helped me every step of the way, and our family and the staff of our Ideal mission of Tainan in Taiwan.
My certificate says that I am New OT VIII number 3012. Like my three thousand plus OT brothers and sisters, I am the product of the dedication and determination of this incredible team of Sea Org members on this Ship. I thank you all so much for making true spiritual freedom a reality. Without you we would have no hope of fulfilling our dreams and postulates.
My special thanks to my auditors and C/Ses, all the Tech and Qual staff and the magical thetans in the OTVIII course room who guided me through to success.
My eternal respect to COB and RTC for making it possible for the Truth to be revealed as LRH intended. To LRH, really, no words can express the depth of my love and gratitude for what you have given to all of us. Thank you, Sir!
And this person is simply delusional.
It's a "big win" to look at a bridge and believe "they painted half of it in yellow light"?
"Background cognitions"?
"I would put the headphones on and wait for the next big revelation." I thought this was supposed to be an OT VIII success?
But the big news here — there are a grand total of 3012 OT VIIIs on planet earth after 30 YEARS. One hundred per year. No wonder the Freewinds cannot afford to buy fuel to get from one port to the next… Two people a week for a ship with 300 crew???
Massive fail.