Tony Ortega has some excellent material on his blog today about the opening of the SuMP.
A few other/additional/redundant thoughts on this subject.
First, one of the more insane emails ever to come my way, Pasadena org sent this out at 8 pm on Friday night to let everyone know to come to the org at 7am the following morning because "course starts at 8am" — the most important thing about the most important event in the history of scientology, in fact the entire universe, is to keep those student points up and NOT MISS A MINUTE of your "enhancement"!
Of course, the email also contains the typical hype about this being the "biggest grand opening in Scientology history…"
From: Pasadena Org
Sent: May 27, 2016 8:18 PM
To: xxxxxxxx@xxxxx.com
Subject: SPECIAL WEEKEND COURSES AND BREAKFAST RSVP
Dear XXXXX,
I want to talk to you about Scientology Media Productions!!
The first thing to realize is that this is the biggest Grand Opening in Scientology history. In fact, it is not just a Grand Opening, but a full WEEKEND showcase of our international dissemination strategy.  
If you pull out International Scientology News Issue 66, you will see that Scientology Media Productions is our FINAL element in our Global Dissemination Strategy.
It started with the means to provide LRH materials in every language to all peoples of Earth — Bridge and New Era Publications!
Then was the means to provide print dissemination materials in likewise any format or language, in volume, at the press of a button — the Dissemination and Distribution Center!
And, of course, Scientology Media Productions is that final element, allowing us to reach, by ANY conceivable media channel, in any language, a full 90% of Earth's population — a whole new order of magnitude!
EVERY LA Scientologist needs to be there! We want you to be there and we also want to make sure that you also DO NOT MISS A MINUTE of your enhancement!
SO we have a special schedule for you!
Starting at 7am we will have a special breakfast to launch this historic day for staff and public!
Course starts at 8am and continues to 11:30am
The course rooms close at 11:30am to give you enough time to park and take the shuttle to the event.
The course rooms will re-open for delivery at 7:00pm until 9:30pm.
See you Saturday!!! RSVP to Lupe FCS Fnd.
On Monday join us for lunch at 12:00 to 1:00pm in celebration of Memorial day.
Please RSVP with Tess Field Control Sec.
Thank you See you here at you Beautiful Pasadena Ideal Org.
Here is something I happened to come across published by Freedom magazine in response to the Tampa Bay Times Truth Rundown series in 2009.
Just compare the hype about this being the "international dissemination center for the entire scientology religion" and the "state-of-the-art"iness of it and the stupid numbers (including "international broadcast events") to what they are now saying about SuMP (Today Golden Era is a footnote — "our film studio" and lket's not forget "worker's paradise."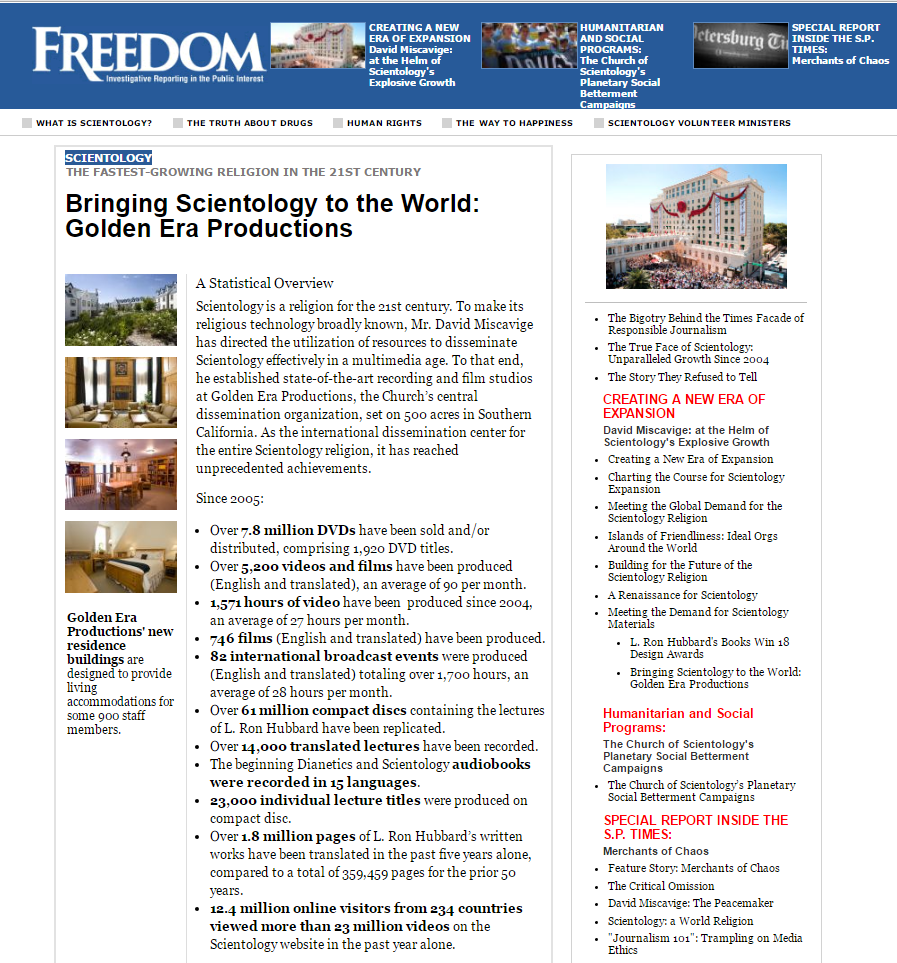 And here is the purple prose that appeared on the scientology.org website almost before the ribbon had been yanked.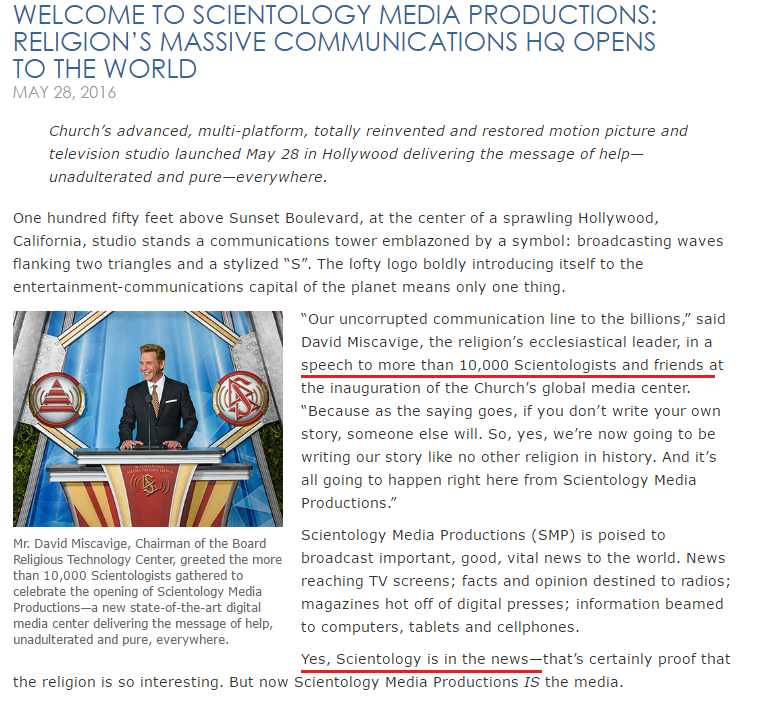 The lying has become so blatant I think nobody even cares any longer. The photos they showed (which you can see at the Underground Bunker) do not come anywhere close to 10,000 people in attendance. They had an "exact number" for the ribbon yanking of the SP building — also a complete lie — but this is LESS than that.
But ask yourself for a minute — even if there WERE 10,000 people at the "largest scientology event in history" this is the same as the number of people who were present for the 1993 IAS event at the LA Sports Arena (and you can see the video of the people there and it is WAAAAAAY more than the same "more than 10,000" at the SuMP.  So, in 23 years of unprecedented expansion, even by their OWN lies, they have the same number as the event in 1993.
But there is another comparison to a ribbon yanking event in Los Angeles that everyone seems to have forgotten. The 1997 grand opening of L. Ron Hubbard Way.  Back in those days, the claims of 7000 in attendance were probably more accurate, even if somewhat inflated. Though I can only find one small crowd shot, it alone demonstrates there were more people present than at the SuMP extravaganza.
But why is this event "forgotten"? Because the man front and center for the church was Heber Jentzsch. Dave was merely a sideline character. This is take from Freedom magazine: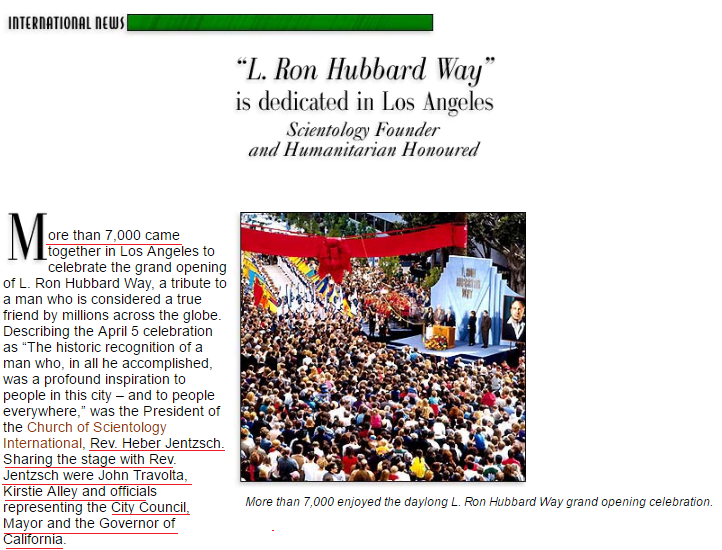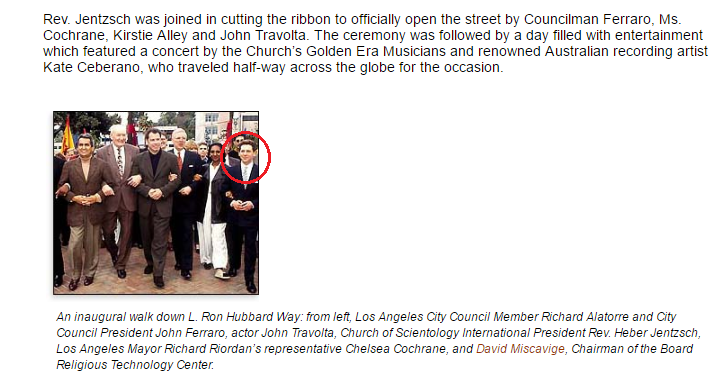 And by the way Dave, the "dignitaries" have certainly reduced in stature. Remember the good old days when Heber could get a representative from the Los Angeles Mayor's Office, the California Governor's Office, the President of the LA City Council and the Sheriff of LA County to show up?
Now, for the biggest even in scientology history you managed: the president of the Hollywood Chamber of Commerce, the President of the Los Angeles Conservancy (whatever that is?), "a" Los Angeles Police captain from the Northeast Division and the director of the Los Angeles City Film and TV Office. What a line-up.
And where was John Travolta and Kirstie Alley? Let alone Tom Cruise?
Yes Dave, scientology IS in the news. In a big way. Every day. You are the butt of numerous jokes. Your dad is everywhere. Louis Theroux has yet to hit the airwaves. There are more shows being worked on. But if media interest is such an important point, why were there NO MEDIA present at the opening? Given your fascination with the media, and reaching audiences on TV and radio and the internet — your stated purpose for this entire boondoggle — why didn't you take this opportunity to open your doors to the media to satiate their desire to cover scientology?
Then just a short note about some of the crazy statistics fun that has become the Miscavige trademark.
Searching for the "meaning of life" every 5 seconds? That is less than the number of searches done for organic cat litter or one-eyed oriental lesbian hookers. And because a few people a day are searching for the meaning of life, what makes you think they are going to have any interest in your thoroughly discredited subject?
And those average young adults "spending 10 hours a day on the internet" are NOT your public Dave. Not even close. Those people ARE internet savvy. They are on snapchat and instagram and your new studio isn't going to do ANYTHING to reach those people and even if you did — they are already inured to your bs pitches. Frankly, these are the LEAST LIKELY people to ever fall for scientology. Stick to the young adults in rural Siberia and Venezuela who will join the Sea Org in order to get out of their country and the promise of rice and beans and a roof over their head. They are NOT on internet 10 hours a day, so you have a chance with them.
And you know the people watching TV are watching The Path and SNL takedowns and Going Clear and everything else out there that exposes the lies and abuses of scientology don't you?

We all knew of course there would be statistics. Idiot statistics. And here we have miles of cable and gigs of storage space. He just cannot resist it.
Dave, if hardware (MEST to you) like miles of fiber optic cable or gigs of storage meant anything in the real world, RadioShack would still be going strong. They had tons of it. 
And finally, the old trope that is trotted out by Miscavige at every ribbon yanking. A lie he has told over and over with a straight face — this building is a "gift to the community." What he really means is that if we see an opportunity to make a video to gain some PR for ourselves, we might allow some limited use of the facilities as long as we control every aspect of it and you all wear yellow arm-bands issued by OSA.