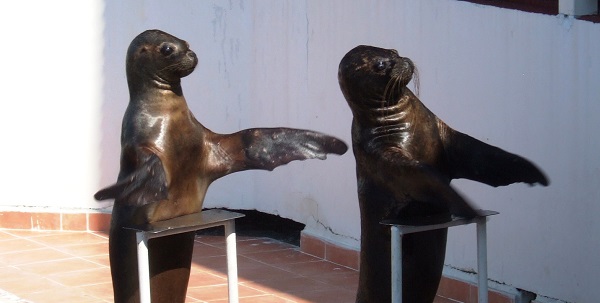 This is a lazy post today, so I can take a day off.
I am simply including the latest commendation from the Flag OT Committee which lists all the active members of the Committee. The mos gung-ho clapping seals of the Tampa Bay scientology community.
Scientology is trying to promote "I am a scientologist" but it's hard to find out who they are so now their names (other than seeing them inside the magazine). Their names will now be searchable on google… If you search for CLEARWATER SCIENTOLOGISTS these names should show up.
This is the email they sent out:
The following OTC members are COMMENDED tor reporting their stats for W/E 11/14/2019:
ABBY JUNEAU
DONNA BARNA
LARRY TRAINOR
RALPH CRISCIONE
ALBA GRANDE
DOUG SADWICK
LAURIE JESSUP
RANDY YOUNG
ALDO STANZANI
DREW ROBB
LEANN DEMOTTS
RENATA MCDONALD
ALEJANDRA GUZMAN
DUNCAN PRINGLE
LINDA LOMBARDO
RIC ALIEN
ALEX ECKELBERRY
ED SHARP
LISA BRAGATO
ROB COLLEWIJN
ALICE BELLUCCI
ELIDE NARDO
LISA GALLAGHER
ROBERT FISHER
ANGELIKA ZIMMERMANN
ELKE JAEGER
LISA HUBER
ROBERTO BARBIERI
ANGELO PORTA
EMMETT OSBORN
LORI LITCHFIELD
ROSALYN SPAGNOLA
ANITA KAPLAN
FEDERICO LORENTE
LUCY HUGHES
ROSE CRAFT
ANNA PADDOCK
FRAN HUTTON
LUIS COLON
SAM LICCIARDI
BARBARA HAMILTON
FU MEI MATHERS
LYLE ROLAND
SARIT KIMCHI
BENJAMIN NAGENGAST
GABRIELA SUAREZ
MARCY SARGEANT
SERENA ZOCCATELLI
BETSY CRAMB GHLEDIS
CARLI CISARI
MARIA MERLO
SHANA SANDELL
BETTY CARLETON
GIOVANNI DE CLEMENTI
MARIA ROBB
SHARON (FIFI) BESIO
BILL RHODES
GRANT BOSHOFF
MARIAH NAGENGAST
SHELLEY ABATE
BOB DESIMONE
HANS HUBER
MARINA PUGGELLI
SHELLI MARTINEZ
BRIAN ANDRUS
HEIDI ZUCCHELLI
MARISA ECKELBERRY
SHERENE BLANKENSHIP
CARLOS LORES
HOWARD BECKER
MARY SPENCER
SHERYL SCHAFFNER
CARLY SENE
HOWARD GLAZER
MATTEO ZANIBONI
SIMONETTA BELLEI
CAROL GULASA
HUBERT HELLER
MICHAEL CHAN
SIOUX HART
CAROL STEINROCK
JACK WAUGH
MICHAEL PHILLIPS
SIOUXIE BOSHOFF
CATALINA BANCHERO J
AMIE MAVERICK
MICHAEL WALBY
STEPHAN KOENIG
CATHERINE LAPLANTIF
JANICE BATEY-ZIFF
MICHELA SCHNEIDER
STEPHEN QUINN
CHIARA LOCATELLI-GIL
JANINE TSCHUPP
MICHELE KENNY
SUE YOUNG
CHIARA STAPLES
JEAN DWYER
NANCY SADWICK
SUSAN FREILICH
CINDY FORD
JIM BRIDGEFORTH
NATASCHA HAUG
SUSAN MOORE
CONNIE HARRIS
JIM MATHERS
NICKY BAKER
SYLWIA HERBST
COOKIE LEONARD
JO STRUTHERS
PAOLA LOMBARDI
TAMMY GARDNER
CRISTINA BAZZANI
JOANIE SIGAL
PAOLO TUCCI
TERESA RICCARDI
DANIELA NESSEN
JOHN BUCKLEY
PAT CLOUDEN
TERRY TINKELENBERG
DAVID NESSEN
JOHN SPAGNOLA
PAT FANTILLI
TOM CUMMINS
DAVID NEWBERGER
KAREN WALBY
PAT PARODI
TOMOKO KATO DAYAMI
TORRES MODESTINI
KARILYN TRAMMELL
PATRICIA NEMETH
TONY MELVIN
DEBBIE SHARP
KATHY KARL
PAUL CHALUPSKY
TONY TWOMEY
DEE SNOOK
KATHY STRASSER
PAUL POLIVNICK
VALENTINA VACCARONI
DENISE WEISS
KATHY WACH
PEARL LANTZ
WIEBKE KOENIG
DENISE WIKE
KELLY DOBBIN
PETER SPECKER
YOLANDA RINCON
DIA BORNET
KENDRA COPELAN
RAFFERTY PENDERY
DONNA ANDRUS
KYRA DELAWARE
RALF HAUG