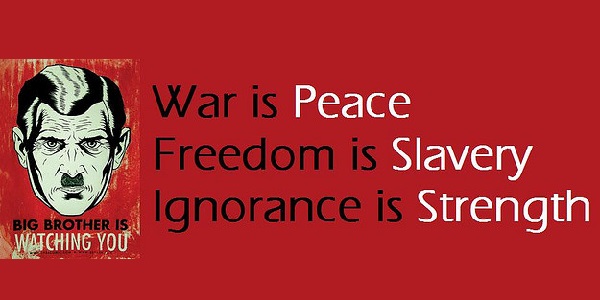 These are infamous slogans from 1984.  George Orwell's classic has hit the bestseller lists again in recent weeks.
Orwell's dystopian society includes remarkable similarities to life inside the scientology bubble. It was one of the first books I read as I was waking up to the realities of life in the Sea Org. His 1984 bubble, like scientology, has a language of its own – Newspeak.  It includes this:
Blackwhite, which denotes the Newspeak user's ability to believe that black is white, to know that black is white, and to forget that one has ever believed the contrary. Yet has two contradictory connotations: (i) Applied to an opponent ("Impudently claiming that black is white, in contradiction of the plain facts") and (ii) applied to a member of the Party ("A loyal willingness to say that black is white when Party discipline demands"). Blackwhite is an example of the Party's doublethink, which re-writes the past.
This subject bubbled to the surface with the recent story on Tony Ortega's blog: Putting back a family ripped apart by Scientology can be easier said than done.
Claudio and Renata Lugli spoke to their son Flavio who had disconnected from them. He claims THEY were the ones that disconnected by "choosing the path" of diverging from the church.
This is scientology Newspeak. And it is THE most common response both from scientology's official spokespeople and individual scientologists alike.
It goes something like this: "disconnection is a personal choice" and then they turn it on the person who has been declared and has had everyone they know disconnect from them, "You are the one that destroyed the family because you choose to no longer subscribe to scientology."  My ex-wife and children have stated for years that I "abandoned" them and "destroyed my family" even though I attempted to reach out to them upon my escape and they refused to communicate.
This is a scenario repeated over and over. The person who wakes up and is declared is the one accused of destroying relationships. The people who disconnect point the finger "your choices destroyed our family."
Scientologists still inside the bubble – and especially Sea Org members — are sure they are not disconnecting.   They are NOT the cause point of the breaking up of the family. The people they are disconnecting from have 'abandoned' them because of their overts.  The offender merely has to do steps A to E and all will be well. That the SP will NOT do this is "proof" of how little he or she loves their family. In the bubble-dwellers mind, recanting and doing A-E is a small sacrifice to make to "keep the family together."
It is a completely warped view. "Disconnection is Love" or perhaps "Escape is Prison" or most accurately "Me Disconnecting is You Abandoning."
The idea that these sort of "choices" about family relationships could even exist is abhorrent. Yet the concept that the ONLY REASON they exist at all is that scientology creates the artificial breaches in the family is completely lost on the bubble dweller. They don't see the world like everyone else. If you told someone on the street that anyone could order them to abandon their children they would look at you aghast. And if you added "and you will not only do it, you will be happy about it and blame your children" they would consider you certifiably insane.
But the bubble-dwellers have been so indoctrinated into this they will swear statements under oath and appear in the media to announce the "fact" that THEY did not disconnect, to the contrary their declared family member "abandoned" them. They automatically and thoroughly believe the person(s) they have disconnected from bear the responsibility to see the error of their ways and make good the damage done to them. And even worse, these poor deluded people are certain they truly understand the "reason" this is happening — it is all covered in the writings of L. Ron Hubbard. They have "Overts and Withholds", "Out Int," "MU's," "Evil Purposes," "are NCG," or a dozen other scientological explanations. And that the "good scientology" thing to do is get their family member to "come to their senses and do A-E" and not communicating with them will "help" accomplish this end.
If you have trouble following this, it is because it is insane. Utterly insane. The logic is every bit as convoluted as War is Peace and Freedom is Slavery. It is truly Blackwhite.
If you want to understand the truth about the "choice" of disconnection, see this earlier article: Disconnection: The PR and the Truth