This is a bit old. I had overlooked it and then noticed "No Reging"[sic].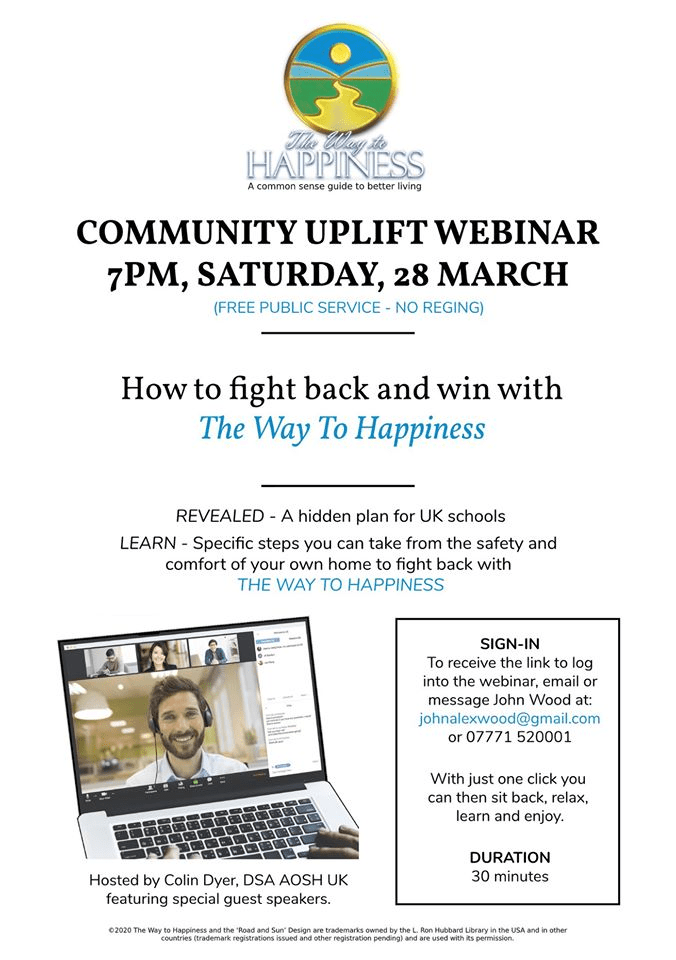 This is a very interesting development. John Alex Wood is still alive and kicking? Who knew?
But more importantly,  I think this is an indicator the pandemic is going to have a significant long-term effect on scientology. Not only because people are not coming in and paying for services right now and are instead hiding out at home doing a $20 Extension Course, sending in a chapter every few weeks. But because this break is changing the mindset of the sheeple.
It's like someone who has had a headache every day for 10 years and then one day it vanishes. They had forgotten what it was like to be without the pain. Now that people have been distanced from the vultures for some time, they are unlikely to go back to how things were. And they are having to say "No Reging" so as not to scare people away. Not everyone is going to follow this pattern. Certainly not the IAS. But it is a trend I am sure we will see more and more as things emerge from lockdown.
There is also word leaking out from inside the bubble that there has been a crackdown on some of the most criminal reg tactics. Taking out credit cards for people or charging to existing cards without their knowledge. Soliciting loans on their behalf. Debiting their accounts for books and services they were unaware of.  A number of regges have been busted. Apparently a lot of these practices emanated from the "ideal org training ground" at LA Org: Miscavige's brilliant strategy for training people from around the world into the criminal stat push methods of the desperate Sea Org drones he installed into LA Org.
Of course, changes like this ONLY come as a result of external exposure and pressure. Graham Berry has played a large role in this.
When some heat began to be generated, I imagine Miscavige quickly "shot" some underlings so he can later say if he needs to, "the minute I found out about it, I dealt with the people responsible." This is his standard operating procedure. Through threats and intimidation, force staff into doing things they would not ordinarily do in order to increase the stats/income (think back to the "Basics Evolution" which reached monumental levels of insanity), bask in the glory of announcing "more books sold last week than in 50 years previously" and "highest ever, ever 10X orders of magnitude expansion" and then when he sees some possibly personal downside, "I got rid of those criminals."