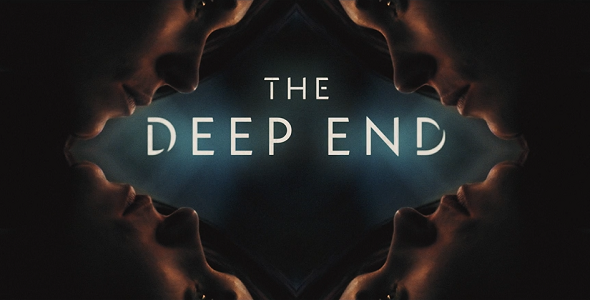 I watched the excellent 4 part documentary The Deep End about spiritual (cult) leader Teal Swan. I had never heard of her until I saw this doc.
This trailer will give you some idea of who she is:
The filmmakers, Jon Kasbe and Bits Sola have done a remarkable job of showing the world of Teal Swan. They were given astonishing access to Swan and her followers over three years. What unfolds is a fascinating study of control and domination by a cult leader reminiscent of so many others. Bits Sola was also a producer on The Vow (the mesmerizing HBO doc on Keith Raniere).
As I watched this series, so many parallels to scientology became apparent.
Swan uses a form of regression theory that is very similar to Book One Dianetics. And like Hubbard, who claimed his trauma ("blinded and crippled from the war" — not true) guided him to discovering his "breakthrough," so too Swan with her storied of trauma that led to the creation of her "therapy."
She has a lot of followers who hang on her every word and believe she has the power to read minds and see the future. They defend her at all costs.
Swan's pronouncements are not to be challenged or questioned — her veneer of "nice" falls away very fast when she believes anyone is doubting her.
Though the filmmakers don't offer much in the way of opinions or judgment, it becomes clear Swan is a classic narcissist. Nothing bad that happens is ever her fault. It is her underlings or people "out to get her." Those in her inner circle are like Sea Org members — they are not allowed to have children or relationships because they would distract from her mission. She treats those who are part of this inner circle as indentured servants and abuses them emotionally. Just like those around Miscavige, she accuses people around her of having evil intentions towards her and then has her sycophants pile on in agreement. As readers here know, Miscavige likes to equate himself with the Pope — so too Teal Swan.
She thinks she can dominate and control anything and everything. Swan told Jon Kasbe "I feel safer when the camera is pointed at me, I won't ever be telling you to turn it off," a typically arrogant attitude from someone who has convinced themselves they are always right about everything. Events unfolded over those 3 years and there were surprising twists, not flattering to the portrait of Teal Swan. Now she claims the filmmakers tricked her and used "selective editing." You can be the judge of that — it is hard to see how anything has been twisted in this program when the filmmakers simply documented the story as it unfolded before them. But put that aside, if Teal Sawn can look into people's souls, know that they are thinking, and predict the future — how did these documentarians manage to hoodwink her so completely?
Swan, Miscavige, Raniere, Bikram, Jim Jones and other cult leaders share so many character flaws there should probably be a special designation for them. Simple narcissist or sociopath doesn't really tell the whole story. Their abuse of others is based on people's desire to better themselves and the hope of spiritual peace and happiness through self-help/spirituality/religion. It is a powerful carrot that these people exploit for their own power and satisfaction. Perhaps they should be called spiritual narcissists or cultic sociopaths to set them apart from the run-of-the-mill assholes.
After watching the show, I listened to my old friends Sarah Edmondson and Nippy Ames interview Jon and Bits on their excellent podcast It's a Little Bit Culty.  I recommend it.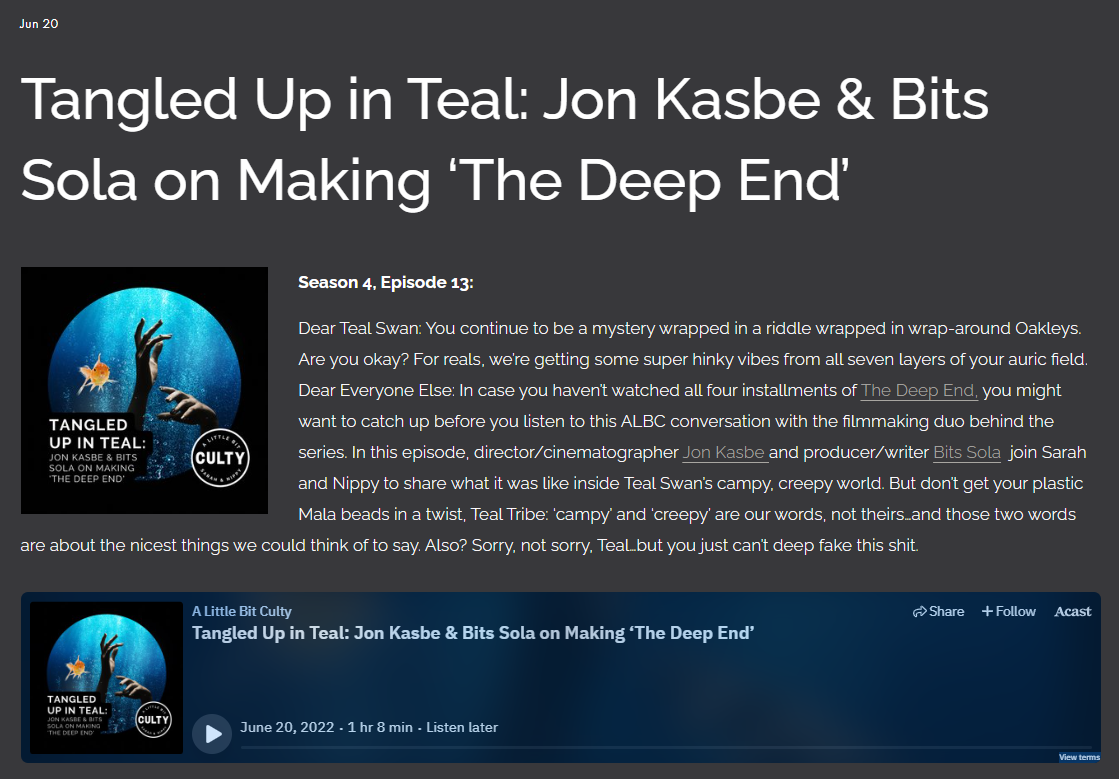 Finally, while the doc is available on Hulu, it is a Freeform production (a less well known streaming service that is part of the Disney/ABC family). Freeform put up this 
page on their website
of trauma and abuse resources which is worth knowing for anyone in need of help.