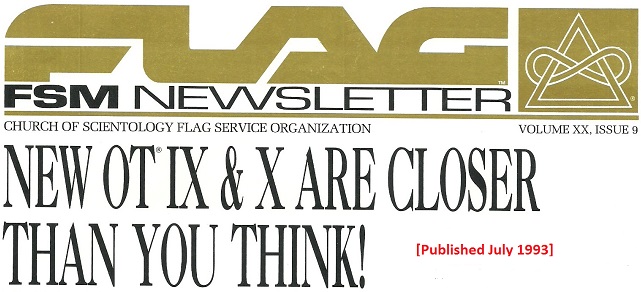 I happened to stumble upon this yesterday.
It was put out after the "5th Anniversary of the Maiden Voyage" which means shortly after June 1993.
Yes, that is right. TWENTY THREE YEARS AGO.
And look at the requirements — OT VIII and SHSBC Grad (or Gard V and ALL Tech Specialist Courses), all orgs St Hill Size and a "A safe environment."
More than two decades later:
OT VIII's are being pushed to do Student Hat, Purif and Objectives as their "set-ups" for OT IX and X. There is NO Briefing Course. You cannot do it even if you paid for it.
There are less "SH Size orgs" (by ANY definition) than there were at that time. Now the push is on "ideal orgs" because nobody was making SH Size orgs. Ideal orgs was a better gimmick because the OT VIII's were told they were responsible for collecting the money and "making it go right" so if there was no OT IX and X it was their fault.
The environment is less safe than it has ever been for scientology, which is now the routine butt of comedians everywhere.
BUT — they are STILL SAYING "OT IX and X" are imminent.
Clearly, these original "requirements" were completely arbitrary. Just made up to try to promote whatever they thought would be the best thing to occupy the OT VIII's with.
Plus this is a very clear indictment of David Miscavige's "leadership" of scientology. He proclaims it is brilliant and the expansion is "unprecedented" – the truth is the only thing that is unprecedented about his "reign" as the self-described pope of scientology is that the movement has shriveled and today is on the verge of disappearing entirely.
And finally, if anyone needed tangible evidence that OT IX & X are just scented plastic carrots being dangled in front of the OT VIII donkeys who need something to keep them giving with the promise/hope they will achieve the amazing results they were expecting on each of the previous levels — this history should leave no doubt.