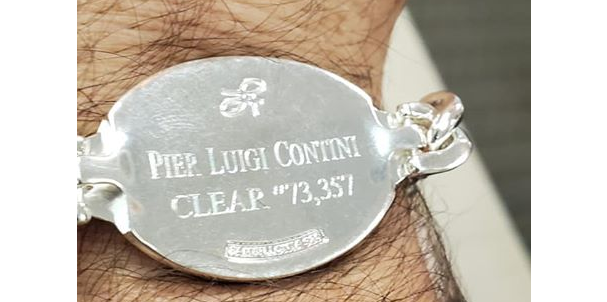 This is a new Clear proudly displaying his "Clear Bracelet" numbered 73,357.
Let us assume for arguments sake that there have in fact been 75,000 Clears made. The number is significantly lower, most of the lower numbers are for people who were subsequently declared "Not Clear" and also every org is allocated a certain block of numbers — there are probably 5,000 numbers out there waiting to be claimed, Salt Lake City gets 71,401 to 71,500 and Atlanta has 71,901 to 72,000 etc etc. But 75,000 is a nice round number that is pretty easy to do the math with.
Since 1950 that is a little over 1,000 Clears per year.
Scientology claims it is Clearing the Planet. You see this on posters, hear it at events and scientologists are always talking about how "Planetary Clearing is being made a reality."
In fact, they are going backwards FAST.
In 1950 there were 2.5 billion people on earth. Today there are 7.8 billion. That is 5.3 billion (minus 75,000) new NOT-CLEARS on earth in that time. That is three times as many NOT-CLEARS as when they started…
Earth's population is increasing by 80 million per year.
So every day they fall another 220,000 people further behind.
If you claimed you were bailing out a sinking ship, and it was filling with 220,000 gallons of water a day and you were bailing 3 gallons out, that is hardly saving the ship from sinking.
And it's even worse when you get to the top of the bridge. Not even 1 in 10 Clears makes it onto OT VII (let alone through) as they still have not made it to 7500 STARTED on OT VII anytime ever.
Scientology is insignificant and becoming more so by the second.
So much for "saving the planet."