Just some random thoughts.
Super Bowl ads:
What a colossal waste of money. IF scientology really had an interest in "humanitarian works" they would not spend a dime buying airtime to pat themselves on the back — because the money would be needed for their humanitarian works.
In fact, these ads serve absolutely no purpose than trying to convince the INTERNAL public that scientology is still alive. The reaction from the general public is revulsion and ridicule.
The tone of the ads was pretty strange, and could be summed up as "See, we are not as bad as you think we are." There was not even an effort to convince viewers to buy a book or take a service. An almighty fail except as a fundraising tool – as you can see below.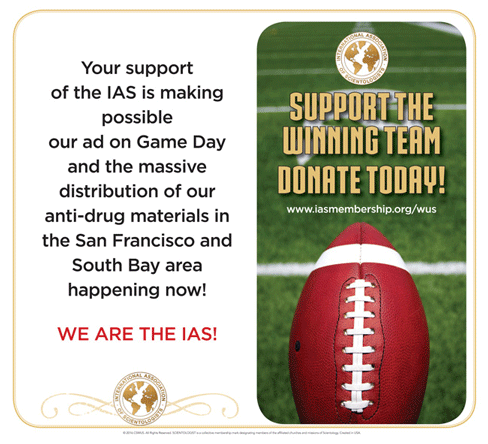 Fundamentalism:
Recent comments on this blog and much political discussion in this year of Presidential elections in the US brought to mind once again the issue of fundamentalism.
It is not pretty no matter what version it may be. But whether christian, muslim, scientologist, socialist or conservative, they all seem to share similar traits.
Here is the definition from the dictionary:
1. (

sometimes

initial

capital

letter

)

a

religious

movement

characterized 

by

a

strict

belief

in

the

literal

interpretation

of

religious

texts,

especially 

within

American

Protestantism

and

Islam.
2. the beliefs held by those in this movement.
3. strict adherence to any set of basic ideas or principles: the fundamentalism of the extreme conservatives.
This is what I have observed such people share in common:
1. A conviction, bordering on fervor (and sometimes crossing over that border) that their world view is right despite any arguments or evidence to the contrary, in fact, evidence to the contrary only confirms their rightness in their mind.  A false pride in being stubbornly dogmatic – it is regarded by their peer group as a sign of courage and honor to remain steadfastly (and foolishly) committed to an untenable position.
2. An unwavering knowledge that a force of evil is overtaking the planet and will only be vanquished by their knowledge and actions — Satan/infidels/psychs/banksters/socialists they all have a different evil that is devouring us all, though we are too blind/duped/unaware to see it.
3. A certainty that anyone that does not agree with their world-view is fundamentally flawed and cannot be saved from Armageddon short of converting to the "right" way of thinking and acting. In fact, those who do not agree and express such an opinion are part of the forces of evil.
4. Robotically citing the words of another(s) to make every argument or respond to every criticism — whether it be Jesus, God, Muhammad, L. Ron Hubbard, Ronald Reagan or the Founding Fathers. Critical thinking and logic take a back seat to memorizing line and verse of the sacred texts. And those texts are all-knowing and all-powerful and explain everything that is happening in the world and with people in general.
5. A false pity for those who are not part of their movement that degenerates quickly into hatred for anyone who opposes them.
There may be other characteristics, I certainly don't claim this to be a scholarly study of the subject. It is simply what I have observed and would welcome thoughts from others on this. Fundamentalism in scientology appears to be little different from fundamentalism in other parts of the social spectrum.
And in all these areas of religious and political belief — the fundamentalists are those that create the problems and mete out the abuses.
And finally, one other observation that may or may not be true. It seems to me that while there are hundreds of millions of Christians and a tiny percentage are fundamentalists, and there are tens of millions of conservatives but only a handful of true fundamentalist wackos, perhaps one of the ways of defining a cult is when the greater portion of the followers can be classified as fundamentalists. The polygamist LDS groups like Warren Jeffs. The People's Temple. And yes, scientology.
Would enjoy hearing people's thoughts on this.
Taiwanese earthquake:
There is an ideal org in this country, and a bunch of missions including one right in Tainan. It may literally be the ONLY place on earth outside LA and Clearwater where if enough pressure was brought to bear they could muster 50 VM's.
How long before the first fundraising call goes out for "donations to the IAS" for "earthquake relief" in Taiwan?