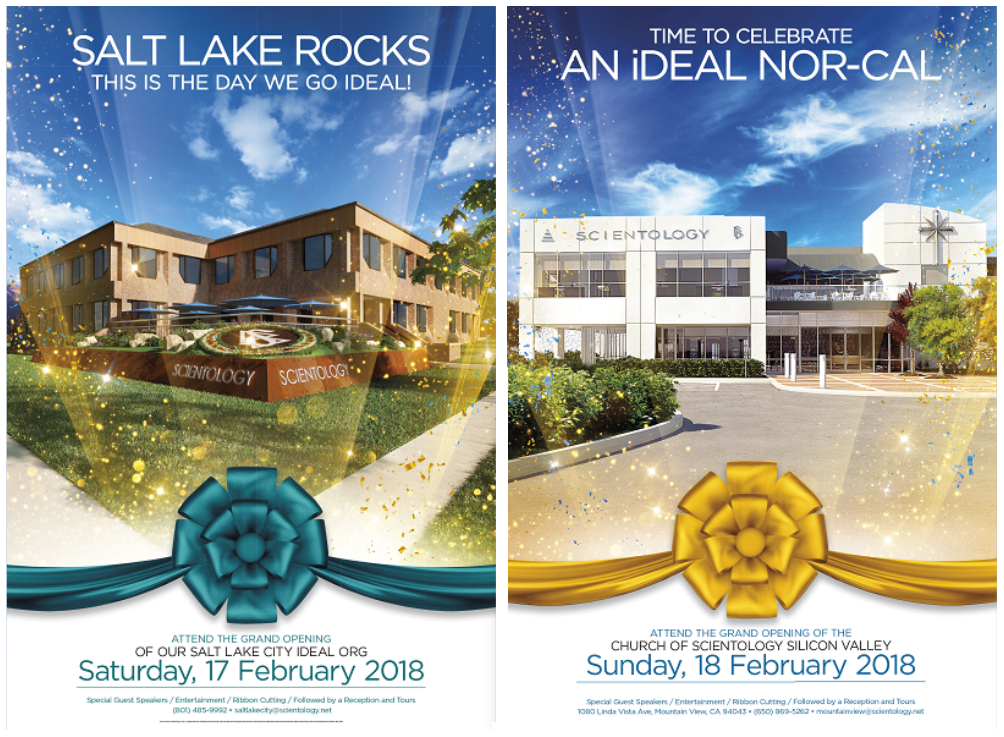 It's a big weekend of ribbon yanking for the Chairman of the Bored.
These HAVE to be done this weekend or they will not make it into the March 13th event — and he doesn't have anything else to hype at that event other than to bring the Sherminator on stage to ramble on with some more fascinating tall tales about the life of LRH, and handing out some awards to pre-ordained winners of the "Birthday Game" (you will see, the ONLY winners allowed now are "ideal"). So, it is absolutely imperative these ribbon yankings were made to happen. After YEARS of endless PR pieces about Silicon Valley, there was nothing until 3 days ago when suddenly "we are holding a grand opening." No last minute files pleas for help, no desperate recruitment pitches. When push comes to shove, everything is unimportant compared to the photo of op of COB yanking his ribbon.
Saturday: Salt Lake. This "org" is a complete joke — there are about a dozen scientologists in the entire state and they raised virtually NONE of the money for this ideal org. But as I predicted some time ago, the desperation to have something to show and claim "look how we are expanding with these "new" orgs" is paramount for Miscavige. So, eventually, in areas where there are no whales and virtually nobody to raise funds from, he will start just paying for the buildings and renovations out of Sea Org Reserves. As I have also said many times, IF it is true that the "ideal orgs strategy" is what is going to "clear the planet" (as Miscavige has often claimed) then why didn't he just buy EVERY org a new building and renovate it? The same logic follows — if 10,000 onto OT VII is the make-break point of civilization and they haven't been able to crack 7,000 in 35 years, why not just put ALL SO members and ALL staff onto full time auditing and get them up to OT VII? It would reportedly handle all ills of this planet…
Sunday: Silicon Valley is going to make the clearing of NorCal possible apparently. The other ideal orgs (SFO D, SFO Fdn, Steven's Creek, Los Gatos and Sacramento) haven't made a dent — but this one, hidden behind a retaining wall on the 101 Freeway is going to do the trick! This is what they have been saying for a decade now. Silicon Valley, very much including Google (they claim to "share a parking lot with Google") is about to be taken by storm. The 3 billion people who use the internet are about to see a whole new world as described by L. Ron Hubbard. At least this is what they have been telling the suckers who have been handing over money for 10 years…
But there are a couple of other interesting things:
Gosh Dave, why so bashful?  "Special Guest Speakers" — is this a new scientology euphemism for "He Who Shall Not Be Named"? Why aren't they shouting your name from the rooftops? You have become SO paranoid that you don't even want scientologists to know you are attending their ribbon yanking?
And don't you think you could be just a bit more creative on the promotional items? This is "generic ideal org announcement" promo. Fill in the name of your org here…
Of course, we will all be anxiously awaiting word on the magnificent speakers who join you to yank your ribbon. I bet they will, as has become the norm, be very underwhelming. A far cry from the Mayor of Buffalo or Charlie Rangel back in the good old days… Now you get to share the podium with "The Coordinator of Playground Amenities for the Neighborhood on the Other Side of Town" gushing about how the Way to Happiness has cut down on arguments over the swings. But you need to share the stage with these people because you have to try to show that you are part of the community. It's a bit of the show for the IRS. "See, our new facility benefits the whole community"… So sad. The contempt in which you hold these people is well masked for the behind-closed-doors-patrolled-by-security-guards "public" event, but your disdain for wogs is legendary. And wogs that are not movie stars or Hollywood agents or heads of film studios are beneath contempt.
Looking forward to the reports of thousands attending these epic, earth-shattering, watershed events that are significant signposts towards the front porch of infinity.