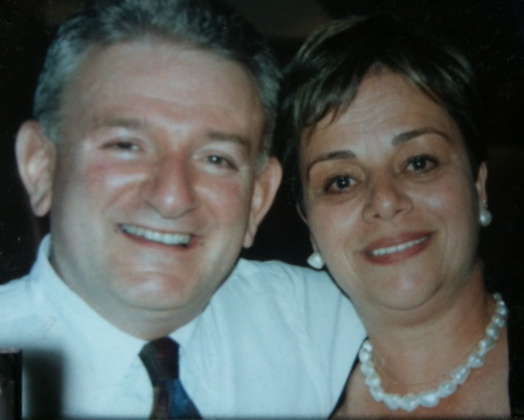 For readers of this blog who have decided scientology is not for them, this posting will be of no or very limited interest. But for those who still consider themselves scientologists, those who are still "on the fence" or "under the radar" this is information that is absolutely for you. It is FACTS about what goes on inside the church of scientology under the guise of "bringing spiritual freedom" and "uniting families."
Ronit and Yossi sent this message out to all their contacts yesterday. I have waited to publish this until after they sent it out in the hope it might reach more of the people that are its intended audience before the black PR, whispering campaign against them begins for overtly telling their story. 
Dear Friends,
We have some great news to announce: Ronit is back in the chair auditing again! Surprising? Probably not, however, very exciting!
Ronit became an auditor in the early 90's and always wanted and had the purpose to help mankind to go free, using LRH Tech.
First, allow us to give you our background in Scientology. Ronit cognited that Scientology technology works from the get-go, when she first found out about it early in 1985. Her appetite for more knowledge and tech grew as she advanced on the Bridge first through Processing and then Training. With each progress the desire to become a full time auditor and help others to go free became stronger and stronger. In 1990 while doing KTL at Flag, she first signed The Sea Org Contract.
Although not activated the contract, she became very active in the field. Ronit audited over 1000 hours of Book 1, delivered Basic Courses, active with the OT Committee, part time Mission Staff and gave 100's of assist to friends and family in the field in Israel and the US.
Yossi started his Scientology route in San Francisco in the end of 1980.
He instantly cognited the Tech works doing the TRs  as part of the Comm Course. Within 3 years he went Clear and through OT IV. He loved the training and became a NED Auditor and did Admin training as well. In the late 80's he went to Flag and completed all three L's and in 1992-1993 did OT V, OT VI and got on OT VII. All along he was on lines at local orgs and did Ethics Specialist course and Data Series Evaluator Course. Later on he was awarded as one of the top Flag FSMs.
In 1997 we moved to Clearwater, FL., to go up the Bridge: Ronit from OT IV to get onto OT 7 and to do The Saint Hill Special Briefing Course (SHSBC) and Yossi to continue on OT 7 and more Auditor Training, including Flag Pro Metering course and started the SHSBC. By the end of 1997, Ronit was auditing at home on Solo NOTs, finished Flag only Pro-Metering course and was on the SHSBC.
Life was good, but not challenging enough, since the "bug" to be a full time auditor in the Sea Organization (SO) just grew with each win and gain. Desperately desiring to fulfill that purpose, she signed again and at this time activated the contract in March of 2000. Within few months, she completed the entire Training lineup with flying colors and under checksheet time and became a Class IX Auditor at the Flag AO. It was a dream come true! She was truly on purpose helping LRH. With great professionalism, knowledge and dedication she quickly became one of the top auditors at the AO, and was hand-selected by RTC to audit celebrities, VIPs, top Sea Org senior executives and was one of the 5 auditors, (at that time out of 80 Class IX auditors at Flag) to get trained by Senior C/S Int to deliver the Solo NOTs EP Check.
She was a very high producer as an auditor, with an average of over 40 hours a week, (considered Affluence Condition for auditors at Flag). The love for LRH and the Tech was expanding with each session and it seemed there was no limit to that growth. There was also expansion on the second dynamic.
In 2003, Yossi has joined the SO and became a Solo NOT's D of P (supervising about 400 Solo NOTs auditors in Europe, Australia, New Zealand, South Africa, Israel and several VIPs). Our children were close by and all seemed ideal. Ronit had many privileges because of her high production. Life seemed well in the SO at that time as we were ignoring outpoints and arbitraries.
In 2002, Ronit got Leave of Absences (LOA) for her older son Bar-Mitzvah, the most important event in Jewish tradition next to wedding when a boy becomes a man at the age of 13. (She got through the entire LOA routing form which included a security check, finding a replacement and other required items, which took her about 3 months to get through, but we finally got okayed and approved through the line up of executives, up to the captain's and RTC's okayed to go). We were all very happy to be able to go to Israel, It was such a great, spiritual occasion for Ronit's father, to Bar Mitzvah his eldest, first-born grandson, that he rented a hall, entertainment, catering and invited over 200 close friends and family to this major, religious and traditional event.
Upon our arrival in Israel, Ronit was called by her Director of Processing to return to Flag immediately to get back to auditing. When she explained that, she just arrived and there is no possibility to return because it would create a major upset to the entire family, the calls persisted on a daily basis. Her mother, who is not a Scientologist and does not speak any English, was called several times a day by a Hebrew speaking SO staff to get Ronit back to Flag, telling her that it's very important to get back to Flag no matter what, including her first grandson's Bar Mitzvah. It became totally unbearable and created a lot of antagonism and a very negative environment, we did all we could to exclude her mother from the enturbulation, but the phone calls kept coming to her house, asking Ronit to return back to Flag, and Ronit's parents did not forget that incident. As Ronit was unwilling to create that effect on her family and leave before the Bar Mitzvah Celebrations, she ignored the calls and orders and stayed, despite the threats.
The antagonism from Ronit's parents towards the Sea Org started at that point.
A similar situation occurred 3 years later, when the entire family went again to Israel for the younger son Bar Mitzvah. This time it was worse, 3 of us had to go through the LOA Routing form (Our older son was in the S.O. already), get Security Check, find replacements and get approved through your senior to the Captain FSO and RTC.
Again Ronit's father rented an entire restaurant, entertainment and rabbi and invited over 200 guests to the celebration (specifically to Ronit's father as he is religious). We each requested three weeks of LOA. (Per LRH, each staff is allowed 3 weeks LOA a year). Yossi's direct senior held his CSW for over 2 months, until he finally passed it with some comments that his trip should be reduced to one week and when it reached his senior, the Solo I/C, who is head of the Department, she reduced it to 3 days, excluding the day of the event. Can you imagine the father of the Bar Mitzvah Boy is not present at his son's celebration? (Needless to say the 3 days included the round trip flights, which would not even allow him to be a whole day in Israel)
By pure postulate, Yossi was able to get his CSW approved by the captain and we are all packed to go. But the night before our flight the Solo I/C verbally cancelled his approved CSW and forbade him from leaving, but he was determined, took his chances and left the next day.
Again, like 3 years before that, Ronit, while staying at her mother's, was bombarded with phone calls from Flag to return to the AO to audit a celebrity. That continued on a daily basis. Yossi was called several times as well to return to his post. It was extremely humiliating and degrading to be treated this way. After working for over 3 months to get the CSW approved, getting all the required items completed, with all the seniors' and executives' signatures and approval, the approved CSW was completely ignored again and the phone calls started pouring in every hour of the day to return to Flag with threats of what will happen if we were not coming back right away.
The family in Israel did not forget that and it added another antagonism and unpleasant incident with the SO. Upon returning to Flag, Yossi and Ronit were removed from their post and were forced to do Lower Conditions. That incident caused further antagonism with Ronit's parents. Her mother was very vocal about her upset; how come the SO does not respect her religion, to Bar Mitzvah her 2 grandsons. (Violation of Way to Happiness "Respect the Religion of Others").
Additional major outpoints were observed.Yossi will name a few from the Solo HGC, at the Flag AO.
Enormous stats push on every Thursday before 2 PM.  Example. A senior Exec walks into Solo NOTs C/S office and demands the folder being programmed immediately for few questions on a new arrival. The random urgency would not occur on a usual basis, except it was Advanced Tech VSD stat, which is RTC's statistic. The public was a new arrival and had only 1 hour to complete his intensive. He went in session and thus was counted as an Arrival Stat and the hour was spent in session thus the entire intensive was counted as Advanced Tech VSD Stat.
One time, out of several, all Solo NOTs Ds of P were ordered to stay all night to collect backlog of 6 months C/Sing charges from the Solo NOTs public, which is not the Stats of D of P. (This is statistics of Div.3) The execs made the Ds of P responsible for Treasury not collecting the C/Sing.
I was personally called from my study to go for drilling. The order came from CMO staff member. She entered the courseroom, spoke to the supervisor, who told me I have to go with CMO for some drilling, violating the HCO PL What is a Course Room.
Our younger son, was in the Cadet Org, was pushed to join the S.O. The SO recruiter told him at numerous occasions, he is not a good person and constantly invalidated him for not willing to join. On one Thursday before 2pm, the SO recruitment pushed him again to sign for the SO. Although still a minor, 15 years old, and needing the parents written signature, the recruiter made him sign and route to EPF, in complete violation of Flag Order re: Minors in the SO and violation of the law of the land. Only after Ronit's intervention, who had to take the risk of walking off post to handle the upset and him returning back to the Cadets.
Personally observed fist fights on several occasions between Solo NOTs C/S and a senior executive in complete violation of HCOB Ivory Tower. And of course the Law of the Land.
Ordering ALL Solo Not's Ds of P to be on rice and beans, for at least a week, meaning, all you can eat that week is rice and beans, no other food is allowed and "Pigs Berthing" where you sleep on the floor with your clothing in the most dirty room you could imagine. It was a punishment for not getting enough arrivals into the AO, which again is not the statistics of Solo NOT's D's of P. That happened several times.
Staying till 3-4 AM, working 20 hours a day,  to sell lectures and the Basic Books to meet unreal quota. If the unreal quota was not made, no one could go home. That was a routine that occurred with every major release. Incase you personally meet the quota, but the group didn't, you still had to stay to help the group to make the quota. Again in violation of LRH Flag Order (FO) regarding Sleep and Rest for staff in the SO and Punishing Upstats.
The entire Solo NOTs HGC (Solo Nots C/Ss and Ds of P and all Admin personnel) was kept in a Group Lower Condition for 4 months, as a punishment. The Solo I/C did everything possible to keep us in Lower Conditions. No matter what we did, we could not get out of lower conditions, disregarding your own personal Stat.
There was an "arrival engram" in the Solo NOT's HGC. Not once we were ordered to stay overnight to get arrivals. Although not the actual stat or sub-stat (arrivals to the Solo NOTs HGC), the quota had to be made or "No Buses Home". At times it would create Stat Push when we were ordered to get the Pre-OTs to come earlier, even one month earlier, for their 6 months checks. An example. In a given week, I was upstat on all my major Stats that measured my production, but there was not enough arrivals, my LIBS (Liberty, by taking Saturday off) CSW was disapproved because of the low arrivals of that week. That was a wrong target. Again, Punishing the Upstats, which is a violation of LRH Policy.
There are some other outpoints, Ronit observed on her Post as a Class IX auditor at the Flag AO 5 HGC.
Thursday morning stats push. Habitually, on Thursday morning, RTC ran the production in the HGC, bypassing the regular lines, and forcing auditors to go back in session to complete the intensive hours with no regards if the Pre OT was on a win or not, so the stats of Advanced Tech VSD could be counted. If the Pre OT, finished his 6 months check, or Program before the intensive was completed, RTC stormed into the C/S office ordering the C/S to add more to the program, or add Security Check questions so the VSD target could be met. Actually, not caring for the Pre OT case at all, but ripping the Pre OT off, and wasting hours and intensives.
Another example of ripping off the public. On Thursday's after 2 pm, if for some reason the intensive was not made (minutes to hours short), the AO Tech Service Team were pulling back folders (from the folders' warehouse) on that Pre OT, and going through the worksheets, looking for mistakes in the hour's calculation in the folders, in order to find the missing hours necessary to make the VSD target. This was done on a regular basis and was known to all the senior execs of the Flag Land Base. This is also a violation of Pre OT's confidentiality reserved to religious counseling.
A Tech Page in the Flag AO, while being on post, was physically assaulted by a Senior HCO staff member, which caused him to fall down. Violation of the law of the land!
In 2005 the entire MAA Staff at the Flag AO, was ordered to do a Boot Camp (disciplinary action to "stiffen" their discipline, so they would be "unreasonable" and tough with the AO Public pre-OTs). Several of them were minors, under 18.  For weeks and weeks with no end, they were kept on rice and beans and pigs berthing. They were sleeping 3 – 4 hours a night, going to post at 7 am and after post at night, they were made to do some physical work. They were not allowed to talk to any other staff, even to family members at the SO.  There is no LRH reference on boot camp, or such disciplinary program, and was basically "slave making machine". Another violation of the law of the land.
On several occasions I saw the new Captain FSO, get physical with the Deputy Captain of Arrivals for the Flag AO, by shoving him to the wall. Usually, regarding some low stats issue. Later on, the Deputy Captain of Arrivals did the same physical abuse to his junior, the Tech Sec of the Flag AO. Then the Flag AO Tech Sec screamed out of his lungs, verbally abused and invalidated the Director of Tech Services, the D of P, or the Solo I/C. It winded down to the Tech Pages, those dedicated teenagers, who are at the bottom of the Org Board, knowing nothing about having wins or gains from the tech, but mere invalidations from their abused senior. The "Contagion of Aberration" spiraling down the command chain was a routine in the Flag AO.
The downfall of Flag started around 2004, where a new post was introduced: The Ethics and Image MAA's! Having hardly any Bridge of their own, they were trained with one purpose in mind, to bring the staff members down tone by using threats, unusual punishments, invalidation and intimidation. LRH says in one of the definition of "Invalidation" – "How invalidated can one get, Dead!" and that's what they were doing. I remember one instance when an Ethics and Image MAA asked one of our Tech Pages in AO5, who was a minor, how come he was 45 minutes in the bathroom, and he finally admitted after a long investigation, that he went to take a nap there because he was too tired. That's after having no sleep and normal food for weeks! The department of Tech Services was in lower conditions, pigs berthing and rice and beans for at least 12 weeks. At one time, at 2 am all the Tech Pages of the AO, some of them minors, were forced to jump into the water of the Golf of Mexico in order to clean the built up of algae and dirt on the retaining wall by the Sandcastle, as a punishment, justified as a disciplinary program. They were kept in lower conditions for 4 or 5 months at a time.
Teens Sea Org staffs, minors, suppose to get their High School education on Saturday and Sunday.  On many occasions, they were not allowed by their Senior. This is a violation of LRH and the Law of the Land.
Another out point that occurred is that entire Division 7 , the Executive Division of The FSO (Flag Service Org) and Flag Crew was in lower conditions and in pigs berthing for about 6 weeks. This occurred around 2007.
Ronit has observed on many occasions that RTC personnel, decides on their own personal feelings or orders from higher level if someone, public or staff, approved to complete an OT level, or get onto the next OT Level and not follow LRH Tech on an individual basis. To give only a few instances:
When a Senior FLB Exec completed Solo NOTs, (I was her auditor at that time) I heard an RTC Rep at that time, saying in a very emotional angry matter, that she would personally see that this Exec would never be okayed to go to the ship to do her OTVIII. No technical reason was given, just HE&R.
Pre OT of mine, who was on the lineup to complete Solo NOTs, could not complete because she was wearing mostly black cloths. The person has achieved all technical requirements to complete OT VII and that order was arbitrary. Ironically, in 2007, RTC uniform was all black.
Another Pre OT could not complete Solo NOTs, because she was overweight. Again the person had the necessary Tech requirements to complete Solo NOTs. Arbitrary!
Another Pre OT of mine that I have audited came to complete Solo NOTs after having all technical requirements, could not complete, per RTC, because her husband was not supportive of COB's Ideal Org strategies. All that was done, in this matter, and in other similar instances, was to waist their intensives with a Security Check, until the person had to leave Flag due to lack of additional funds.
Another Pre OT came to complete Solo NOTs and was not approved to complete just because his daughter inquired COB "wrongly"…. There was no LRH Refs and again he had achieved the technical requirement to complete Solo NOTs. The Pre-OT was sent home not given the true reason, but was instructed to continue with Solo Not's, which put him on a constant spin. I can write a book, describing these crimes that occurred on the Solo NOTs EP CK line. I was there for about 8 years.
While at Flag AO, Ronit observed that many good, dedicated staff disappearing or dying. "Someone actively getting rid of the best staff members" was an indicator of an SP per LRH reference. Few Examples that occurred in 2007-2008.
Sometime in 2007, I learned that the Captain FSO left staff with her husband. She was a great Captain, loved and admired for her leadership by staff and public alike through her 17 years carrier as Captain FSO.
Later, one of the Top Tech terminals on the planet, Senior C/S FSO, suddenly dying from cancer. A couple of years later he passed away at an early age.
The Deputy Senior C/S for Flag AO, got also sick with cancer and was sent away for treatment out of the base.
One of the top Celeb, Class IX auditor of the Flag AO, blew from post and later on routed out.
Several other valuable veteran Class IX auditors left staff.
Throughout the years in the SO, we observed many examples of the harsh regging by Flag Land Base staff. To name a few:
AO Reg did an un-authorized withdrawal from Flag Pre-OT account and used the money for Basic packages, about $10,000.  The books were shipped to the public's home address in Israel.
An OT VII, Class VIII field auditor was regged by three public AO MAAs for $22,000 in order to get out of lower conditions. He was threatened by the MAA's his IHELP license would not be renewed if he doesn't pay. That was a very "popular" way to get out of lower conditions, by buying the way out.
Using session data, like pc on a win to Reg the public. The session data was communicated to seniors and they forwarded to MAA's or the top registers. At one instance the AO Tech Sec was screaming out of his lungs at a public to get a donation from him. Every Flag staff member became a Reg whether for IAS, Ideal ORG, Basics, Libraries or other Campaigns.
One time Ronit was brought to a Celebrity's home in Clearwater, FL for a Reg Cycle to have an Auditor's presence, being the Celeb's  auditor. Several other times, she was brought to different location for other Celeb regging for the same reason.
If Pre-OT's did not agree with the donation, at times the Execs or MAA's asked the C/Ses to add few more Sec check question.
The Charny's left the SO in December of 2008.
Ronit's mother and father got fed up with not being able to see or talk to their grandchildren on the phone (in order to talk to your family on the phone an MAA had to be present and listen in on your conversation with your family).
After months of no communication Ronit's mother took out an AD in a local magazine saying that the SO is preventing her to see or talk to her family, specifically her grandchildren. That caused OSA to route the whole family out of the SO. Part of the suggested handling by an OSA Executive was that Ronit's mother MUST do A to E Steps, in spite of the fact that she is 70 years old and NOT a Scientologist. Although no SP Declare was issued for Ronit's mother, Ronit would not be able to audit again, unless her mother do the A to E steps. That was communicated verbally by an OSA Exec. At the same time of routing out, the same OSA Exec told us that we couldn't live in the State of Florida.
We decided to re-locate to Portland, OR. We re-build our lives here in Portland, and still live here till today.
A year passed since we routed out, and some old friends started to reach out for auditing with Ronit. Ronit ignored the arbitrary that came from OSA and checked with Dir. Val FSO (who was In Charge of our off load from the SO)  and confirmed that her Certs are valid. Several days later there was a call from the OSA Exec, (unfortunately keeping her word) forbidding Ronit to audit in the field, justifying the  "Not-In-Good-Standing" status, and therefore unable to get an IHELP membership. Many good wishers tried to help with that cycle. None of them was successful, because they got into a "dead end" with OSA.
Couple of years ago, someone else was reaching to receive auditing from Ronit and again she tried to go through the proper channels, but the MAA at Flag refused to give her OK to audit with an E-Meter. No actual policy was given, just another arbitrary, (this time she could audit, but not with an E Meter). Despite the stops and threats from Flag, she delivered the auditing with a great success. It was very rewarding for her to audit again and rekindled her purpose.
The last straw that broke the camel's back occurred several months ago, around February 2014.
One of the top FSMs in the LA area approached Ronit for help with a red tag pc receiving auditing in the field, from a field auditor in the Portland, Oregon, area. At first, Ronit tried to avoid and refused the cycle, but there was a concern for the Red Tag PC and she asked to review the folders, and agreed to take the pc. The pc refused to go to the Portland Org and it's been already a week (7 days) since the Red Tag.  Another week has gone by, Ronit finally got the folders. Ronit did the folder study and took the pc for an extensive interview. The High crimes, Suppressive Acts, Gross Out-Tech, Financial Irregularities and severe Auditor's Code Violation were discovered: the approved auditor from I HELP, was on regular basis late, 1-1.5 hours, for a scheduled session because she went shopping for shoes at Nordstrom, or went to Whole Food to eat soup, while the pc is waiting to go in session or similar gross invalidation of the pc. The pc was VBI's and reported no wins through out the 10 intensives of auditing, but the auditor and the C/S, just kept on hoping and not doing anything about it. The PC reported that her auditor screamed and invalidated her. The auditor was taking 30 minutes admin time for every hour of auditing, ripping the pc's intensives, and many more examples like those. The PC was in a very bad case of over restimulation and needed a very light and gentle approach. Prior to the interview, she refused to do any more scientology. After the Interview, the PC agreed to go in session with Ronit.
This was reported and communicated to the FSM. An agreement was made, were the auditor will pay Ronit the remaining of un-used hours, as a payment. The payment did not arrive, and delays were occurring. When pulling strings, the field auditor admitted she already spent all the money and can't pay Ronit. (This is after 120 hours of auditing and about $30,000 paid by the pc's mother). In the mean time, the PC is still RED TAGGED, and another week has gone by.
The FSM asked IHELP WUS for help to get the field auditor return the money she received and did not deliver any service to that Red Tag PC. By the way, the pc was so upset with her auditor, she refused to speak to her on the phone.
Starr, Commanding Officer IHELP WUS, was more concerned with Ronit not being an I HELP member than the Red Tag PC. She was demanding Ronit to become an IHELP Member and adding more arbitraries, instead of helping the PC and remove the Red Tag. We are now at week 4 after Red Tag VBI's PC and the main concern is Ronit's IHELP membership?! The FSM, New OTVIII, Class VIII himself, being IHELP member, was completely incapable of making a common sense decision (his livelihood depended on IHELP). The PC was tramped and forgotten by the Church membership manipulation and internal arbitraries. OSA prohibited Ronit from being an IHELP Member. A very sad tale but a true one.
The Red Tag of this long travail was at 8 weeks, when I left this cycle.
This is our story.
Hundreds of Reports and KRs were written regarding the above examples with no correction or response and the conclusion we came to, was not an easy or lighthearted. Scientology saved our lives and this was due to great Tech delivered. We were able to differentiate between the Technology of Scientology and the Church of Scientology.
We, Ronit and Yossi, decided, not to be part of The Church of Scientology, a group that violates LRH Tech and Policy, who physically and mentally abuses their staff, force arbitrary rules on the public through threats and punishment: separation, disconnection, freedom of speech or association. The awakening from the Iron Fist of the management style of the Church of Scientology, was not a one day affair. The examples from our experience as mentioned above, reading Debbie Cook letter, following Marty Rathbun's and Mike Rinder's Blogs where other Church members share their experiences; inhumane disconnection policy that has torn families apart, constant "donation requests", brought about our decision and announcement not to take part in the future activities of the Church of Scientology.
With this announcement, some of you will experience a sigh of relieve and joy, some of you will rush to a judgment "How did they dare to speak against The Mother Church" and will be told to disconnect from us, to cut all ties. We will miss those wonderful people, most of whom we know for long, long time.
The definition of Price of Freedom: "Constant alertness, constant willingness to fight back…" what led to our decision. LRH taught us, to think for ourselves, how not to be a slave to a group decisions or arbitraries.
I wish you execute your own due diligence and get to your own conclusion after learning all the facts. Feel free to contact us for any reason and to share your thoughts or concerns. We promise to maintain full confidentiality and discreet about the contact you have made. "THINK FOR YOURSELF" was a great campaign led in Europe.
Our decision is to continue forward the LRH vision to deliver standard Tech to pcs around the world who seek freedom through auditing without obstruction, executive interference, suppression and arbitrary policies. For the last year, Ronit has been delivering standard auditing, but this time with no interruptions, stops, arbitraries or suppression from the Church, with wonderful gains and wins from her pc's.
Ronit is delivering the entire spectrum of Dianetics and Scientology processing, from raw pcs to Clear and all the way to the highest levels available.
Some of you might think leaving the Church would close the door to your spiritual freedom. This is not true. There are plenty of standard auditors available in the field. We have established a group and named it "Higher Spiritual Abilities". Our doors are open for you at all times. We will keep you up-to-date with future announcements.
There is no other way to finish this letter, but with a Success Story: "I am so happy and feel so wonderful at having achieved this state of being. My attention seems so much more out on the environment and off of the body. I feel bigger and brighter with a tremendous sense of well being and my body feels more alive and alert. Ronit, thank you so much for caring and applying what LRH gave us to use. I will always remember what you have done for me. You are truly valuable being and having achieved this new state that statement is more real to me now than ever. Ron, thank you so much for this wonderful gift that gave me a new life. I will be forever grateful for all the training and auditing that I was able to receive because of the work you did." KB
There were many more successes and happy faces for the last year. We want to thank all of our public, those of you who held our hand throughout this process and to those who accompanied us from the beginning of our journey in Scientology to this day. Those were very exciting days and we couldn't have done it by ourselves. However, after 30 years, times have changed and now we are moving in a different direction from the Church, but forwarding LRH Tech and Policy.
Respectfully Yours,
Ronit and Yossi Charny
Yossi E-MAIL: charny7@gmail.com
Ronit E-Mail: ronit.charny@gmail.com