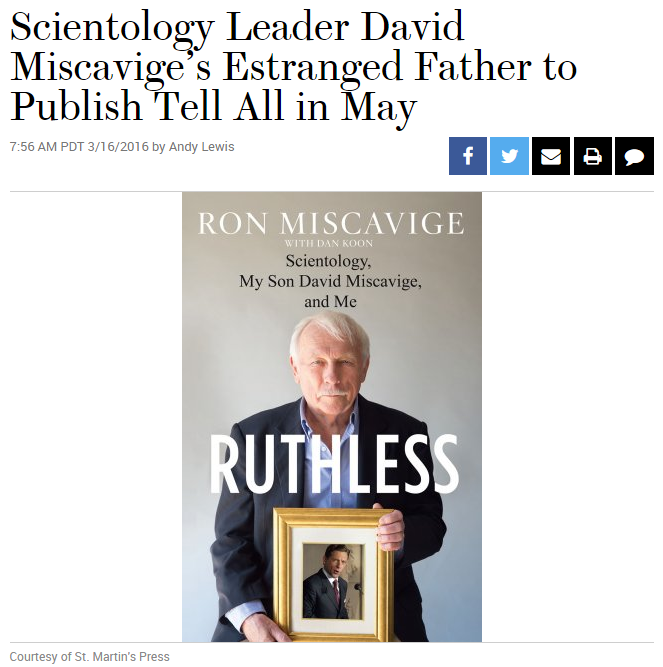 Now that Ron Miscavige's book has been announced, I am offering some predictions on how his son will respond.
This is based on past experience and reading Martha Stoutt's The Sociopath Next Door. David Miscavige fits the personality traits profiled in that book as if it were written exclusively about him.
More than likely, the responses will come from "Karin Pouw," "Freedom" magazine or lawyers, even though dictated by Dave. He doesn't like to soil his image by commenting on things that are beneath his lofty station in life like a book by his father.
But regardless of whom utters the vitriol, you can be sure Dave (or his spokespuppets) will not sit quietly. I have plenty of personal experience with the venom scientology spews when they don't like what you say. And of course any time the subject is Dear Leader himself, it is magnified dramatically.
Ron can expect his very own video on the "Freedom" mag website where he will join some illustrious company: Emmy and Academy Award winner Alex Gibney — the "CIA spy" and "propagandist," Pulitzer prize winning author Lawrence Wright — "who always gets it wrong" and Academy and Emmy Award winning writer and director Paul Haggis — "the Hollywood failure." All of them are "failures" and "bigots." In scientology parlance a bigot is a wog with attitude. If you are not one of us you are an enemy. Most are quiet and to be pitied – the run of the mill wogs. A handful are noisy and must be annihilated – the bigots.
Scientology will send binders of material to the media denouncing Ron: "Dead Agent" packs designed to "prove" that Ron cannot be relied upon for any information whatsoever, and asserting they should get the "real" story from a real reliable source, scientology. These packs also include information about their "massive international expansion" demonstrated by their "new buildings" – even though completely irrelevant to the story.
The "Dead Agent" materials will follow a familiar pattern:
Ron is a failure at everything in life. He could not live up to the high ethical standard of the church and so was kicked out.
As an apostate, he is bitter against his "former religion" like all apostates are according to "leading religious scholars." He has an axe to grind and cannot be trusted.
He is just trying to get rich — taking advantage of the good name of his son to gain notoriety and make money at his expense.
Everything Ron says (other than anything good about David or scientology) is made up lies, none of it ever happened. There may even be a "provable bullshit" or two thrown in for emphasis – completely denying undeniable facts. But read the denial carefully — David may say he never heard of the PI's that were following Ron and didn't know their names. That could be true. It is standard practice not to use the names of such people — I am pretty sure David Miscavige never knew the names of Paul Marrick and Greg Arnold, the PI's who monitored Pat Broeker for decades (before they were switched over to me and Marty Rathbun). But you can be sure Miscavige received regular reports on every move that Broeker (and then me and Marty Rathbun) made. He knew there were PI's — he had ordered the surveillance be set up in the first place. But he probably didn't know their real names.   Interestingly, the PI's that were caught following Ron were the same PI's who had earlier been doing surveillance on me.
There will be claims of the enormous generosity that has been forthcoming to Ron from Dave and scientology.  How well treated his father has been.
Ron is spiteful against his son for no good reason. David is a "man of goodwill." His father is "stirring up hatred" and causing the great man endless suffering even to the point of people making "death threats" against him (see the clownish attempt to lay this on Marc Headley).
David Miscavige is the poor victim — a selfless humanitarian who helps millions and is loved the world-over. It is tough being a martyr who helps so many.
His father "doesn't know anything about David" because he "abandoned him" when he was young. And he left the church X years ago so has "no idea what is going on today. The implication therefore is that his experiences are inaccurate and meaningless because that are "outdated."
David tried to help his father, but Ron is an ingrate and instead of being grateful is attacking him. David wants nothing from his father.  David didn't start the fight. He just wants to be left alone.
Ron's two daughters who remain under the spell of David (they have children in the SO and are beholden to him as he flies them to the UK for the IAS event and hires lawyers to get Denise out of trouble) will step forward to make outrageous claims about Ron. He was abusive towards them. He was a terrible father. David is the only one who has truly looked out for their well-being. These are perhaps the hardest things for the non-scientologists to understand. How can children be turned against their father like that? I know, there are letters from my children and ex-wife and brother and sister that the church uses to "prove" what they say about me too. They publish them and send them all over. These people think they are "saving their eternity" or protecting the one thing that can protect them.  What usually doesn't get noticed in these things is "why if he was so bad did they say nothing before?"
They will utilize whatever they think are "buttons" taken from his pc folder. Things he might have discussed in auditing sessions that he felt uncomfortable or bad about. Disclosures scientology asserts repeatedly are absolutely sacrosanct. Until they are not, because "SP's" have no rights. I once said in an auditing session when I was very young (being sec checked on the 5th dynamic ) that I felt bad that I had placedl tiny firecrackers is anthills as a child. This has been turned into "Mike Rinder tortured and killed cats by sticking firecrackers in their asses."
They will also claim Ron is part of a "posse of lunatics" or "cabal" or "conspiracy" – that he has teamed up with "other SP's" like me, Dan Koon, Marc Headley, Steve Hall and others (he even went on an "SP Cruise" with them) and this is "proof" that he is an anti-religious bigot and hate-monger.
They will accuse the media of being "biased" and "not listening to their side of the story" and yet completely refuse to be interviewed for any program or publication. They will only provide press packs and "statements to be published in full" accompanied by hollow legal threats.
You can take all the bullet points above and substitute me, Marty Rathbun, Amy Scobee, Marc Headley, Alex Gibney, Tony Ortega, John Sweeney, Lawrence Wright, Jason Beghe, Leah Remini et al and the pattern will be clear.
This is chapter and verse of the David Miscavige/scientology playbook for those who say things they don't like. When these things appear in the future they can be seen for what they are. A desperate and by now predictable effort to avoid dealing with the truths about the abuses of scientology and its international ecclesiastical leader.