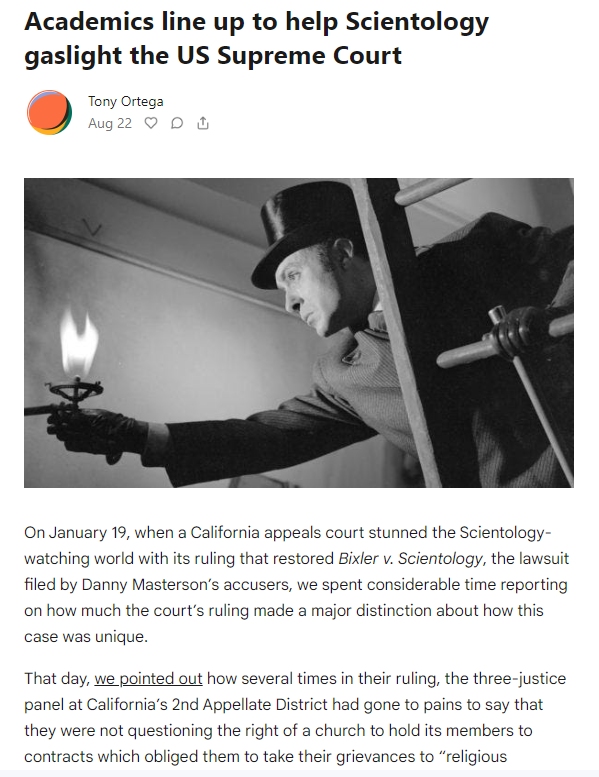 Tony Ortega wrote this piece recently, covering the scientology petition to the US Supreme Court in the Masterson civil case claiming their "First Amendment rights" are under attack because the California Appellate court ruled that its "arbitration" contracts are invalid when they commit torts against someone who is no longer part of their organization.
I have warned previously about the problem with conservative judges Religious Protections Run Amok and Scientology "Arbitration": They make up the rules as they go along
Once again, this problem arises. Two amicus briefs were filed in support of scientology with the US Supreme Court. One by Federalist Society member Ronald Colombo and  Emory University professor Michael Broyde, who also wrote something mischaracterizing the case for the Wall Street Journal. The second is from a Tennessee lawyer, Larry Crain, who runs something called the Church Law Institute.
Amicus brief by Broyde and Colombo.
These super conservative legal organizations are lining up with scientology because they view scientology as a bulwark against intrusion into the practices of mainstream religious organizations. If they can keep the "erosion" of rights at bay out on the fringes, they will protect the rights of the big churches.
The petition is now scheduled for review by the USSC to determine whether they will take the case. Only a tiny percentage of cases that are petitioned to the Supreme Court are accepted and heard by them. Typically, the chance of this case being accepted for hearing would be virtually zero. But with this conservative stacked court, there is a chance they will take it.
Whatever your political views, from the perspective of ending scientology's (and other religions') abuses, conservative judges and lawyers are bad news. It is something to consider when casting your vote and is perhaps the single thing that has the longest term and most profound impact on bringing justice to victims.