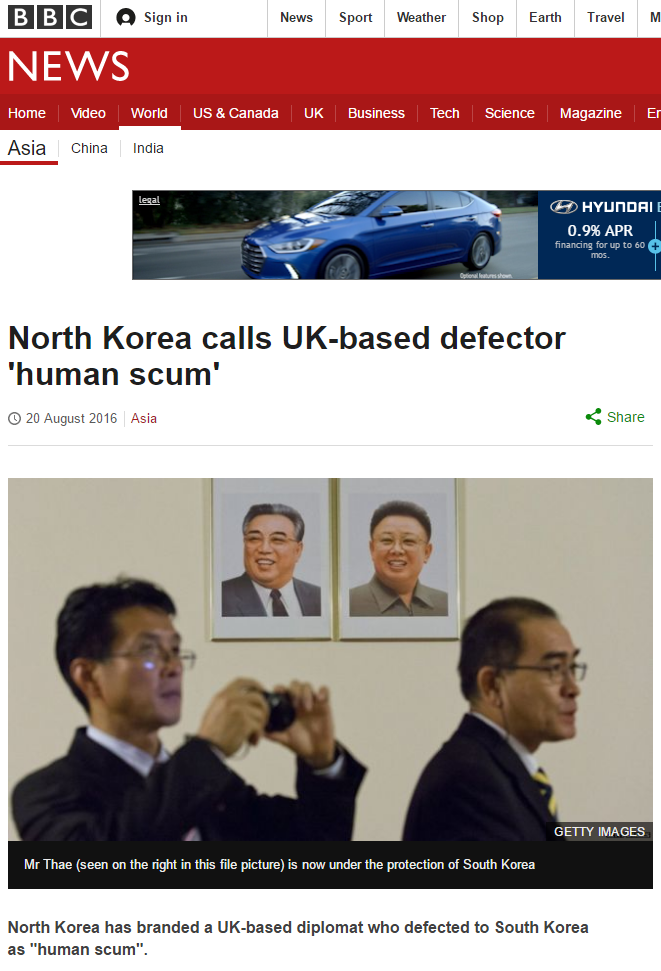 On a number of previous occasions I have commented on the parallels between the scientology world and North Korea.
From empty showcase buildings to the unwarranted adulation of their current leader Kim Jong-un to the bizarre stories of the life and accomplishments of the Godlike founder of the DPRK, Kim Il-sung.
But this BBC News story came across my newsfeed and once again the similarities were eery.
A prominent North Korean diplomat defected. The response reads like the things scientology puts out about me and anyone else who has escaped from its bubble.
He was of course "all bad" and was about to be punished for his extensive crimes of "leaking secrets, embezzlement and child rape." Oddly, he was still in a position to be a spokesman for the DPRK when he defected… Similarly, scientology has repeatedly asserted that people like me or Marty Rathbun,  Tom DeVocht and anyone else who has ever spoken out either had never been in any positions of authority or had been removed from all positions because of malfeasance and/or had been "thrown out." Not a single person who has spoken out about the abuses in scientology was "thrown out" — every one of them escaped.
Then, they claim, like scientology has done with so many of us, that "he discarded the fatherland that raised him and even his own parents and brothers by fleeing, thinking nothing but just saving himself."  Most of you saw the "inch wives" on AC 360 asserting that we had "abandoned our wives/families" and many of the whistleblowers have been publicly accused of being traitors who "betrayed their religion."

And finally, they name calling — in this case "human scum who lacks even an elementary level of loyalty and even tiny bits of conscience and morality that are required for human beings".
Apparently, there is a handbook for bunker-mentality organizations when dealing with those who expose their human rights violations or simply decide they are going to escape their bubble of oppression.
Below is a tiny sample of the over-the-top "human scum, embezzler, child rapist" style ad hominem "articles" to be found on the Freedom mag website about every single person and media outlet who has dared expose their dirty laundry. This is just a small fraction of what they have about me…