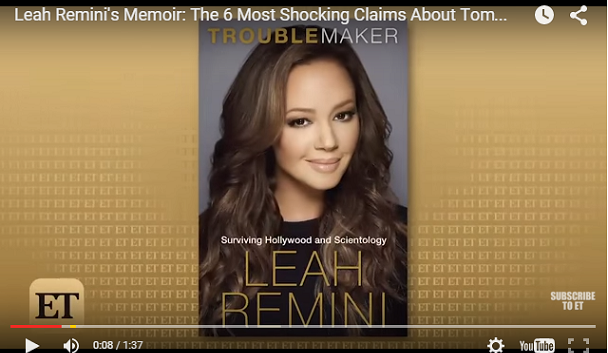 As the media onslaught surrounding Troublemaker continues unabated, now hitting Entertainment Tonight, People mag, the Washington Post and everywhere else you turn, scientology is in bunker mode. Refusing all media inquiries for "spokespeople" and dishing out the same old cut and paste "responses."
And as with every media who has sought to cover anything related to scientology, ABC received the usual litany of letters prior to the airing of the 20/20 piece. Each of them complains about how their sources are disreputable liars, every question the media asks is ludicrous and accusing them of missing the real story of scientology (massive international expansion under the brilliant leadership of David Miscavige, proven by the number of square feet of empty buildings he has cut ribbons on).
Those ABC letters have now been put on one of the church's websites.
One might ask "Why?" They failed to prevent ABC from airing the program or including me. Which was their purported intent. Why advertise their failure like that? To any outsider, the strident ad hominem is laughable. And they serve as a repository to show to future media "here is what you can expect to receive from the church — you can find these cut and paste letters at a lot of media websites these days and you can see they are basically form letters at this point. Nothing to worry about as nothing ever comes of them."
There is only ONE reason those letters are on the website.
To show to scientologists who see any media coverage of Leah.
David Miscavige wrote them with the idea that they will be useful to "dead agent" Leah to the internal scientology public who break the rules and see any "entheta" media.
"Dead agent" is a scientology term taken by L. Ron Hubbard from Sun Tzu's Art of War. It means to prove a secret agent is a liar and thus expose him as a spy, and he is thereafter a "dead agent."
Hubbard wrote an extensive tract about how to do this.
The problem is that scientology is constantly confronted by people who are NOT liars. So, instead of disproving their "lies" they are left to call them names and speak in generalities about how the person is "unreliable" and "cannot be trusted" and is doing it "to make money," "remain relevant," "get attention" etc etc. These statements are terribly ineffective – especially when they are repeated over and over about EVERYONE and not a single specific is ever disproven.
I have not had the time to dissect all of these 9 letters. They are of course jam packed with generalities and lies and I will probably take some time eventually to dissect them in detail and perhaps to address the mounting piles of rubbish they keep cut and pasting about me (I am now a "wife beater" every time I am mentioned) so I can point the media and others to it in the future.
But for now, and rather quickly, I glanced through the first letter Miscavige dictated purporting to respond to the "Questions from ABC."
The letter is jammed with self-serving snark. But there are a few things that are said in that stand out.
One of the reasons they stand out is that they are going to crash into the cognitive dissonance of scientologists who are in some doubt about the subject. (And likely anyone who sees or reads any of the Leah Remini media is already thinking along those lines). Just like when Paul Haggis heard Tommy Davis denying disconnection existed on national TV. Just like all the people who were given the Freedom mag that "responded" to the Truth Rundown Series in the Tampa Bay Times.  Scientology's own words sunk them.
So too, here. There are some horrible clangers.
And as I said, this is just a quick read through the first of the 3 "response" letters sent on 26 October.
Let's begin with the doozie: we never considered Ms. Remini an actual Sea Org member, because she never rose above a cleaner.
It's like Ariel Castro, after the 3 women escaped from his basement, stating: "I am very happy those women are no longer in my house. They need to move on with their lives."