We just concluded our second episode with Mike Brown, detailing the abuses rampant in scientology, and especially with Sea Org members.
We showed some documents during the course of the episode and I am including them here.
Rosemary Chicwak Letter to Miscavige & Cruise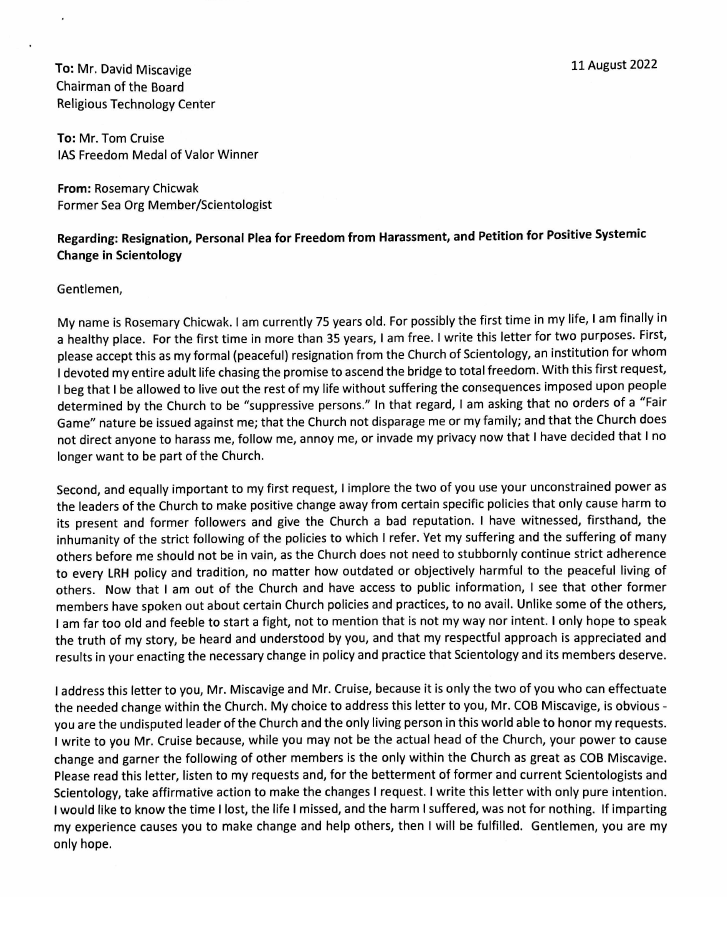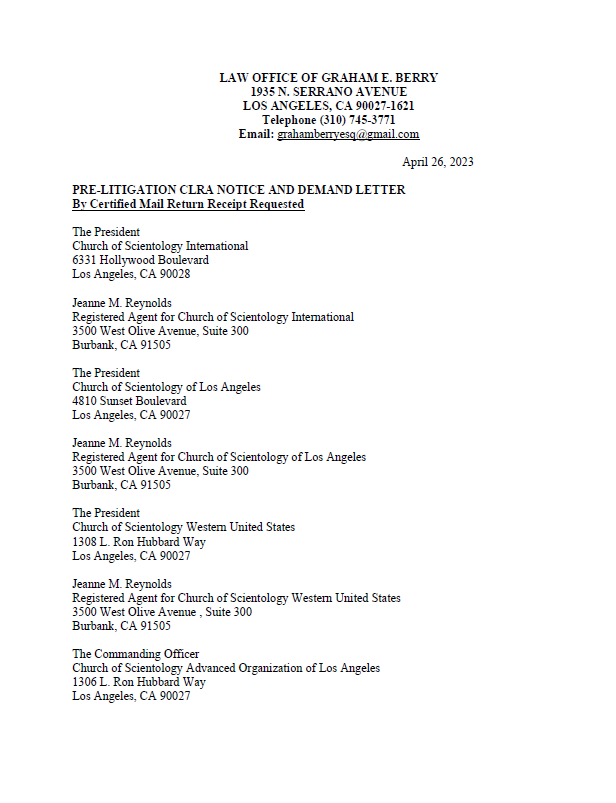 This is the list of elderly SO members Rosemary is aware of:
PAC Base Elderly Sea Org Members
Glendale House "Oakridge Inn 2" (1225 Oakridge Dr. Glendale CA. 91205)
This facility is a residential "Board and Care" facility run by a private contractor (non-scientologist) by the name of "Romik Rostomyan" 35yo. Board and care for each resident is billed to the PAC Orgs at $3000.00 per person. There is a 24-hour care giver able to assist residents. There are a total of 6 residents that live in this house, 4 of which are Sea Org Members. There is no food plan for residents and meals are haphazard and unbalanced. Residents with dementia do not comment on the food due to their mental state. One of the residents with Parkinson's has special dietary needs that are provided for daily by her husband (who lives in the medical house on Edgemont in Hollywood) which he brings to the care takers to cook for her. Residents who are placed here are thought to be "high risk" medically and not authorized to be at the "Medical House" or on the PAC Base as they might need Paramedic/911 support or are unable to take care of themselves. Sea Org residents are as follows:
Daphne Griffin-Smith (Parkinson) from AOLA (~67yo)
Ilona Gallop (Dementia) from AOLA (~78yo)
Formerly Rosemary Chicwak (Heart Failure) from AOLA (75yo)
Sandra Johnson (Dementia) from Flag Office/FSC worked with Hubbard, 50+ years S.O. (~85yo)
Glendale House "Oakridge Inn #1" (1281 Oakridge Dr. Glendale CA. 91205)
This facility is like the residence above and owned by the same private contractor. There is only one Sea Org resident in this house named below:
Stanley Doyle (Dementia) from OSA (~85/90yo)
Medical House (1200 N. Edgemont St. Hollywood CA.)
This is a property where senior citizens or Sea Org members with terminal illnesses are housed if their illness is deemed too bad off to live on the PAC Base. It is a scientology owned property where residents largely are required to care for themselves, and no skilled care is provided. The residents are required to organize and conduct themselves as active-duty Sea Org Members while living there with some work requirements, a rank structure and are kept largely isolated from the outside world with no TV, Internet, minimal phone access, etc. Residents are as follows:
Barbel Light, PAC MLO "for Seniors"/ driver at the medical house.
Nancy Phelps, Lives in a small room (former closet) works as a driver. Has a personal van she uses for moving people around. Has it set up to live in as needed.
Suzanne Justus (Stroke, High BP, Heart Problems) former D of P AOLA (75yo)
Carol Hougin (Stroke) Bridge Publications (~80yo)
Janice James (Stroke) former Auditor in CLO EUS (~83yo)
Weldon Caldwell (Stroke, congestive heart failure, heart attack) former Chaplin AOLA (~73yo) Received money from Social Security and was made to pay and take out loans for services and IAS donations. Paid for bridge up to OT3 at Las Vegas Org. Unable to cover bills with SS income.
Kylea-Rose Kevit (Unknown terminal Illness) Dep Qual Sec AOLA (~45yo)
Damien Kevit (Hit and run car and dragged, handicap, lost right leg and most of hip) former Auditor CLO WUS (~45yo)
Gail Mortensen (Cancer) former Treasury AOLA (~68yo)
Ed Smith (Heart Trouble) ASHO (~75yo) Daily drives to Glendale House #1 to care for wife
Faith Schermerhorn (Care giver for husband) former ESI/Gold Staff (~63yo)
Tom Schermerhorn (Back and physical problem from military service) ALOA (~70yo) Received money from the VA and Social Security and was made to pay and take out loans for services and IAS donations.
Carla Cohen (Brest cancer) Class 9 Auditor AOLA (~65yo)
"Suki" (LA Org) Missions guy (~55yo)
"Harold" (Stroke) Estates CLO (~85yo)
Cheryl Krishko (Cares for husband still works at base) Central files ASHO (~72yo)
Jack Krishko (Diabetic, High BP) former PAC Landlord (~78yo)
Mike Spillino (Sugar Diabetic, legs degrading, smell, dying) Word Clearer AOLA (~75yo)
Eunis Spillino (Dementia) ASHO (~75yo)
Pam Bowen (Cancer) OSA (~76yo)
Don Bowen (UNK med problem) OSA (~76yo)
Margie Esterman (Stroke) C/S ASHO (~82yo)
Mitch Esterman (Old age, eye patch, dementia) Class 9 Auditor AOLA (~83yo)
PAC Base Complex, Main Building Room 216 (L. Ron Hubbard Way Hollywood CA.)
This room is where the elderly female Sea Org Members from the local orgs are housed. It is a converted large storage room separated into two individual rooms that has no windows, fresh air intake or exhaust. Residents combined funds to purchase portable heater/air conditioners for the room that vents into an elevator shaft close by as nothing was provided by the organization. The room has 2x refrigerators (uncommon for staff), a small kitchenette and its own bathroom with a sink and toilet (no shower only a tub but not handicap accessible). Other lavatory and shower facilities are located down the hall (open bay design).  Beds are a combination of single and bunk beds.
Many of the following names are suspected to have been subject to illegal financial practices. They were made to pull out lines of credit to pay for Scientology Services at The Church of Scientology Los Angeles (L.A. Org), American Saint Hill Organization (ASHO) and the Advanced Organization of Los Angeles (AOLA). Credit was stated to be obtained from Navy Federal Credit Union and Chase Bank but other banks were likely also used. Registrars "Reges" from all the above organizations were actively having Sea Org Members pay for Scientology "church services" that should have given for free during the period 2011 and 2014-15. Some form of internal Sea Org investigation was conducted and some of the Registrars were forced to leave the Sea Org or were sent to the RPF. Money taken was never refunded from the Church of Scientology to those Sea Org Members that made them take out loans resulting in most, if not all, of the below named individuals still paying off debt using their Social Security money.
Residents in Room 216 are as follows:
Rosemarie Paquett – (91yo, deceased) Owed ~$17,000 to Navy Federal at time of death
Florence "Flo" Petro – (~85yo, deceased) Owed money for loans at time of death
Linda Hall (Back problems, walks with cane, twisted spine) CLO WUS (~70yo)
Patricia "Pat" Hammerson (Heart trouble, high BP) PAC Call Center (~65yo)
Jane Gerow (Heart trouble) Bridge Publications (81yo)
Judith "Judy" Ferguson (MS) CLO WUS Data (~60yo)
Janet "Jan" Blout (Overweight, heart trouble) CLO WUS Treasury Chief (75yo)
Kathy "KJ" Johnson (Heart trouble, stints, collapsed on post) AOLA Reg (~68yo)
Janet Weiland (Heart trouble and diabetic) OSA PAC (83yo)
Charlotte Cook (Heart trouble, High BP, hard of hearing) ASHO Central Files (81yo) She was made to give money, like Rosemary Chicwak, and still struggling to make minimum payments.