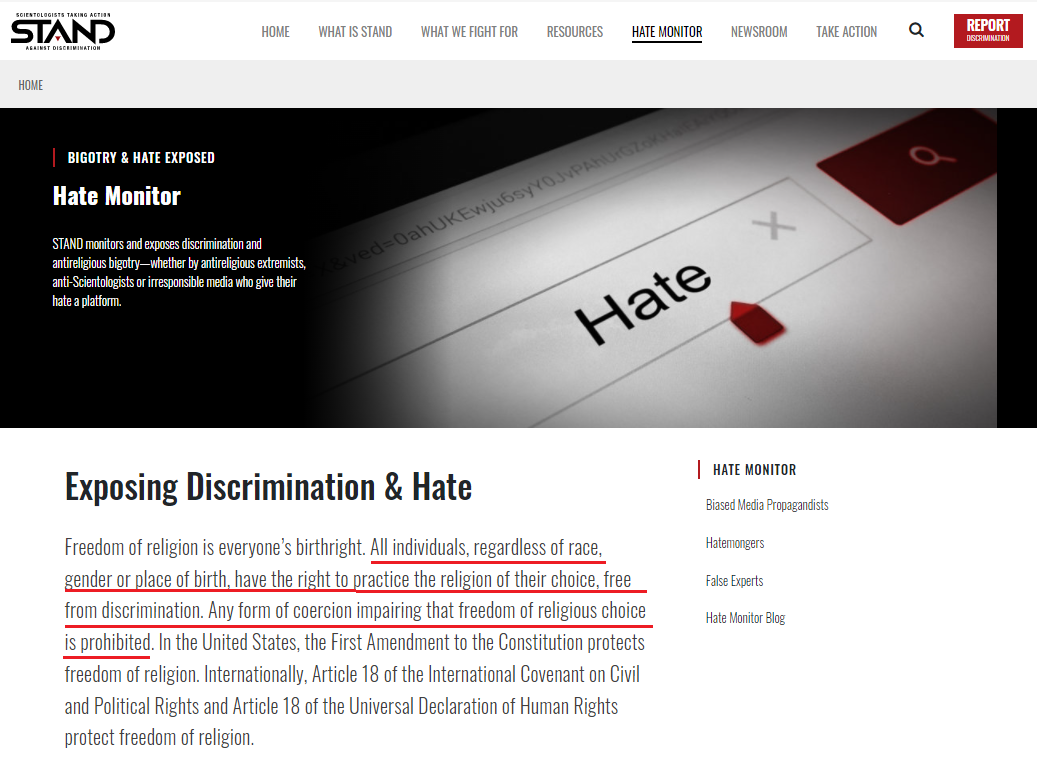 This is the bleat they repeat over and over. "We stand for everyone's human rights" and "we protect the rights of everyone to practice the religion of their choice" — what they don't say out loud is the rest of the sentence: "UNTIL it is inconvenient for us."
One need look no further than the recent California Appeals Court decision in the Masterson case.
Tony Ortega covered the decision at the Underground Bunker
It held in part (emphasis mine):
Individuals have a First Amendment right to leave a religion. We hold that once petitioners had terminated their affiliation with the Church, they were not bound to its dispute resolution procedures to resolve the claims at issue here, which are based on alleged tortious conduct occurring after their separation from the Church and do not implicate resolution of ecclesiastical issues. We issue a writ directing the trial court to vacate its order compelling arbitration and instead to deny the motion.
This case involves both petitioners' First Amendment rights to leave a faith and Scientology's right to resolve disputes with its members without court intervention. When applied to a dispute that arose after petitioners left the faith, and which can be resolved on neutral principles of tort law, we find petitioners' right to leave the faith must control.
As Scientology puts it, "An 'irrevocable' agreement to 'forever' waive civil proceedings and submit to Scientology Ethics and Justice Codes in 'any dispute' with Churches of Scientology is a condition for participation in the religion." It argues that this agreement should be enforced like any other agreement. Enforcing this provision without regard to petitioners' First Amendment rights would mean that if the Church or a Church member committed any intentional or negligent tort against a former member of the Church, that former member would be bound by Scientology dispute resolution procedures regardless of the fact that the member had left the Church years, even decades, before the tort. In effect, Scientology suggests that one of the prices of joining its religion (or obtaining a single religious service) is eternal submission to a religious forum – a sub silencio waiver of petitioners' constitutional right to extricate themselves from the faith. The Constitution forbids a price that high.
But the individual's right to practice the religion of their choice (ie, not scientology) was not favorably to scientology's position. So, they claim this was a travesty of injustice and they were unapologetic about it. One of their numerous attorneys was quoted in the New York Post: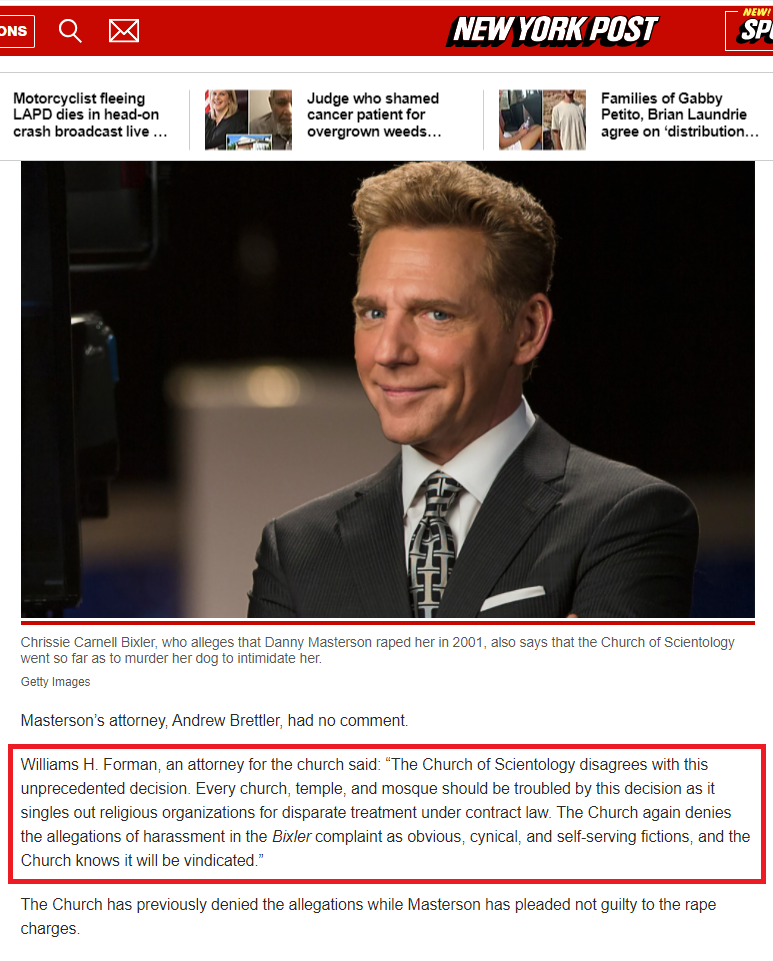 Hey scientology, your hypocrisy is showing once again. And it's not subtle. And you are trying to hide it like you usually do by complaining that treating scientology for what it is — a bully trying to enforce its religious belief on those who no longer wish to participate — is harming OTHER religions. Such a tired ploy. No real religion would dare try the stunts you do.
The depths of scientology bs are as yet untapped, as you prove at least once a week.