Apparently, Seth Abramovitch of the Hollywood Reporter has caused some serious butthurt in the scientology world.
A couple of recent articles seem to have put him on the Enemies List and scientology has responded in their typically understated fashion.
On one of scientology's many Facebook smear pages, they repeatedly posted this: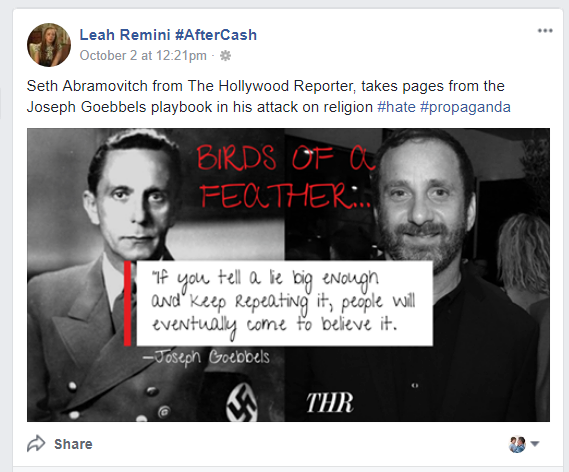 I guess the irony of this being posted on their own Facebook hate page "Leah Remini #AfterCash" never occurred to them? They keep repeating the big lie that Aftermath is about money… It must be obvious to even THEM by now that this docuseries does not compare to a network sitcom as far as remuneration goes. Let alone to an IAS fundraising event.
Nor do they blush at the fact that they are not only singling out an obviously Jewish writer for a side-by-side photo comparison to Goebbels while claiming he is "attacking religion" they are reposting their vile drivel over and over and over "("keep repeating it").
And the ultimate irony of all is that the "STAND League" also chimes in on this Facebook smear page with two posts that are repeated in lockstep with the Goebbels one. STAND is a dyslexic acronym for "Scientologists Taking Action Against Discrimination"… Surely STAND finds comparing Mr. Abramovitch to Goebbels just a little discriminatory?
But no, they pile on with two posts putting "The Hollywood Report's" [sic] Seth Abramovitch "on notice"… Apparently to them "taking a stand against discrimination"  means vague but menacing threats of retribution?
As a note, you have to love the reactions they get to their posts. Really popular…
Given the timing of their rants, which seem to launch at the end of September, it does not appear that it was this article that set their pants on fire: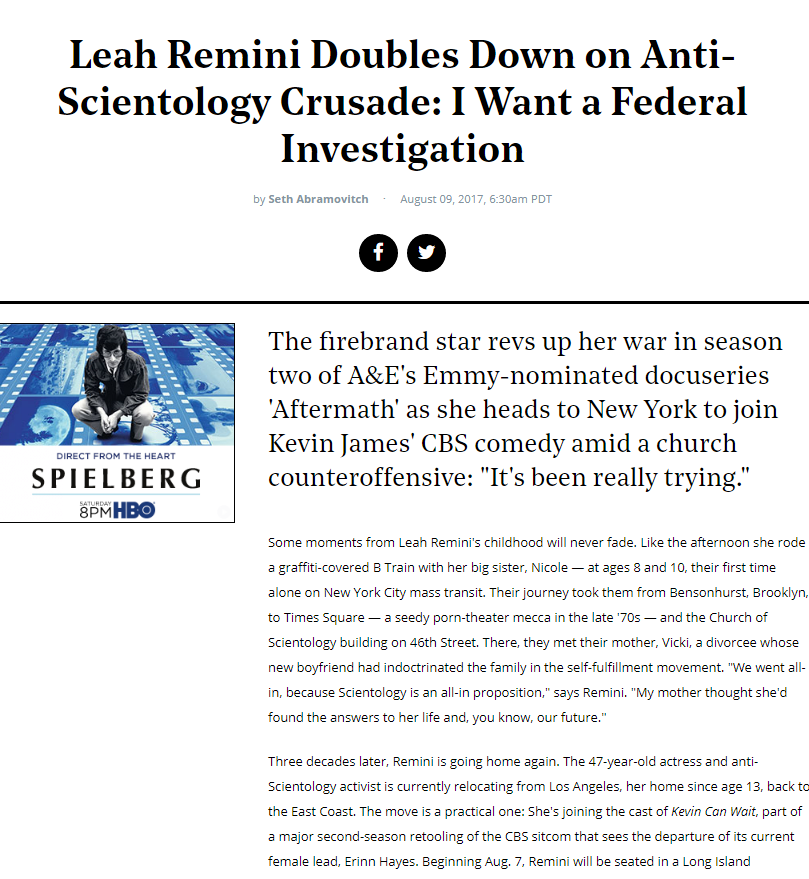 But rather it was this piece about Elisabeth Moss that stirred their juices.
And though this article is about her behavior, somehow the onslaught ended up on the Leah Remini hate page? Even though the ONLY mention of Leah in the article is a gracious quote from her about not wishing any ill-will to Lizzie Moss.
I guess it's pretty much a given at this point — anyone who notes anything untoward about scientology was caused by Leah Remini.
Somehow it seems fitting to invoke some of the wisdom of L. Ron Hubbard. He describes the criminally insane as seeing enemies attacking them behind every bush.
Scientology — take heed of your Founder's words. Your'e nuts.