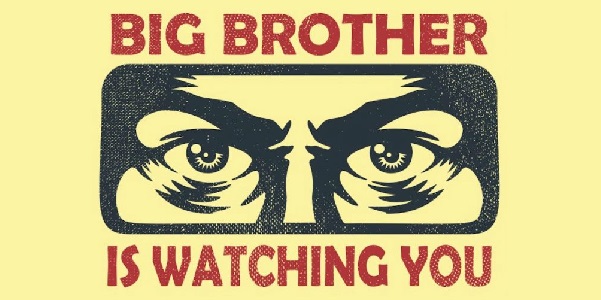 George Orwell's astonishing novel 1984 depicts a dystopian world that has many remarkable similarities to scientology.
Big Brother is a character and symbol that represents a society where every citizen is under constant surveillance, constantly reminded of this by the slogan "Big Brother is watching you."
If you visit downtown Clearwater, Big Brother (scientology) IS watching you.
Anywhere and everywhere.
While they claim the dozens of cameras mounted on their buildings are for "security" — the truth is a little less palatable.
And they showed their hand this past week in a strange way. In trying to claim that the operator of "Cult City Tours" is a "bigot" they provided a photograph of him wearing a T-shirt from a BBQ joint which, according to their spokesperson Paris Morfopolous, proves he is a "fake Muslim."
But what is more interesting than their tortured reasoning is the photo they provided as evidence of this.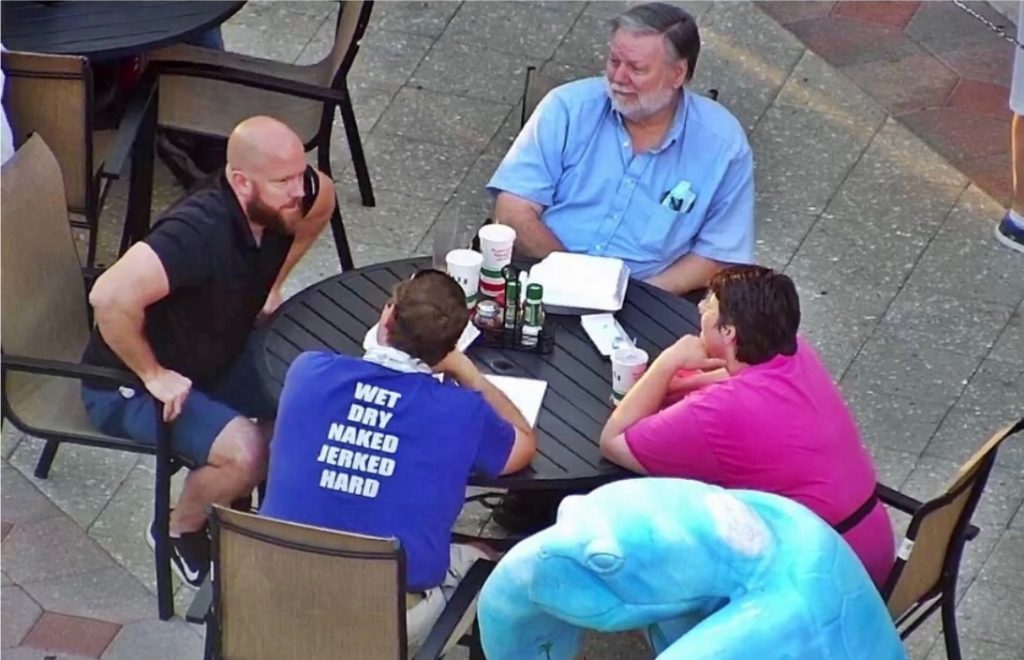 Here you can see Aaron-Smith Levin and Mark Bunker sitting at a table conversing with the gentleman wearing the "anti-Muslim" blue T-shirt.
What is remarkable about this photo is where this table is located.
It is NOT, as one might assume, in front of a scientology building — though one would not assume that given the people in the photo they would be seated in front of a scientology building. They chase Mark Bunker off park benches, let alone dining tables. But one would assume it given it was a photo taken by scientology looking down on the table. Obviously not just someone "walking by", snapping a shot. It's either from a fixed camera or a drone.
In fact, this table is on Cleveland St in front of Downtown Pizza. On a block of Cleveland St that is the only one in the downtown Ft. Harrison/Cleveland St core that does NOT have a scientology building.
Half a block away is the "Coachman Building." That is where the photo was taken from.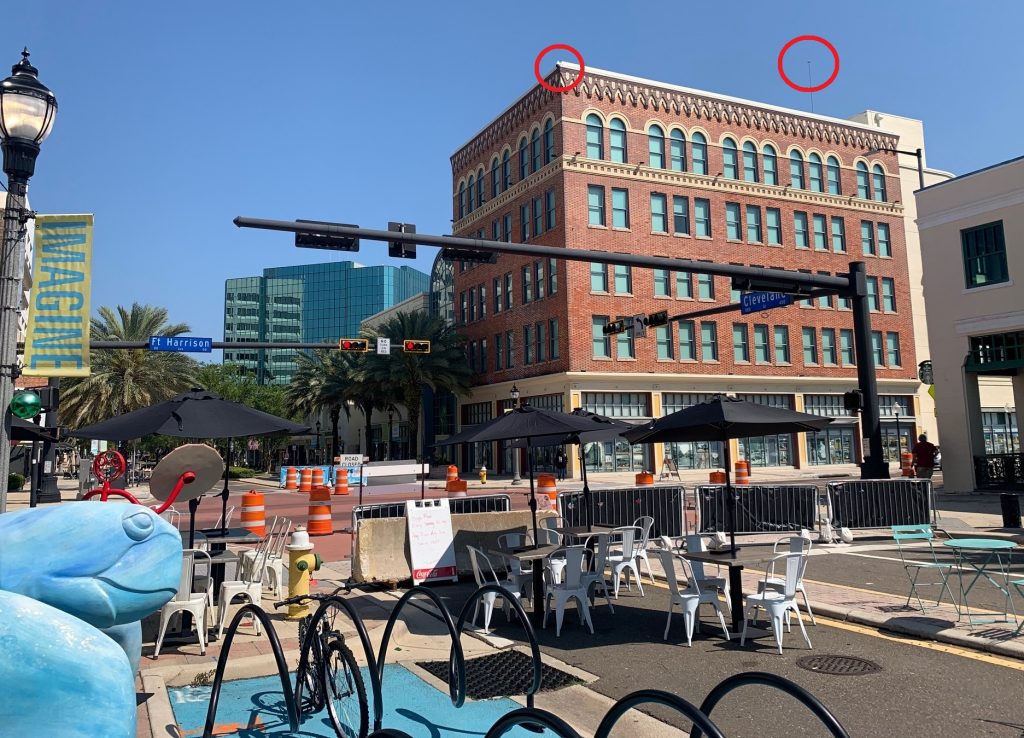 Yes, at the top of the building are surveillance cameras (there are others too) which is the location the shot was taken from. You can see the blue turtle on the left of this photo that appears in the bottom right corner of the first photo and you can see what angle the shot was taken from. Not sure which of those two cameras the image came from, but it doesn't matter. They are BOTH scientology surveillance cameras trained on the downtown area.
The question is, how did scientology know to take this photo of people sitting at a restaurant on a different block than their building?
Or are they monitoring everyone all the time?
Brendan Tighe, the former security chief of scientology in Clearwater helped provide some answers. He left scientology in 2011. Things have been updated and upgraded since then and are no doubt even more sophisticated today. Scientology does not spare funding security, spying operations, smearing enemies and paying for lawyers.
Here is what Brendan said:
Last I knew they have two or three cameras that can zoom from downtown all the way across the bridge going to Clearwater Beach.
They had at least fifteen cameras that could zoom with clarity up to about five blocks.
Any cameras with the zoom feature can rotate a full 360 degrees. And pivot 270 degrees.
When I left in 2011 they had just started replacing older cameras with new ones that have facial recognition tech.
This is something the City should investigate. Are their citizens being surveilled/spied on whenever they are in downtown Clearwater? Are they monitoring the Mayor and other city officials, or is it only City Councilman Mark Bunker… That would be an awful lot of equipment and effort to expend on just one person so it seems unlikely.
Is this legal?
Just imagine if the City announced a program to install cameras to monitor people in the downtown area 24/7? The outcry would be enormous and warranted. But because it is scientology and they are willing to lie to cover up what they are really doing, nobody is raising their voices to change this Orwellian state of affairs.
The Mayor and other city leaders are offended by the moniker "Cult City." Perhaps they should take more effective action to make clear they don't just object to the NAME, but actually object to the REALITY that this IS what downtown Clearwater has become.
And just for good measure, here are some other shots of cameras outside scientology buildings in downtown that are used to monitor the STREETS and people on them — not merely the entrances to their properties (which is where security cameras are usually located). And this is a SMALL sample. There are dozens and dozens of scientology cameras watching downtown Clearwater.
And finally, this sort of set up is typical of all scientology Sea Org bases. Cameras bristle from the walls of "Big Blue" in LA. They are everywhere at the Gold Base. And even more ubiquitous at the CST compound where Shelly Miscavige was sent in the San Bernardino mountains. A simple Google search will show up dozens of images.