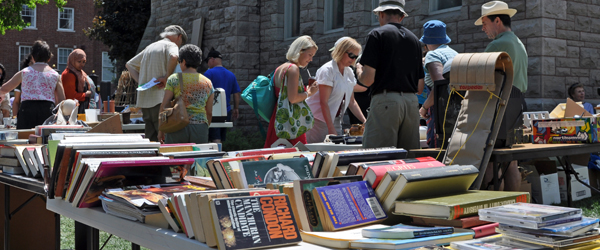 This is a companion to the post I did last week with reports from around the world about the state of local orgs and missions.
What came in concerning the infamous "Scientology Library Donation Campaign" tells the story, just like the Ideal Org "strategy." of another massive fail that has been used to fleece millions from gullible public.
Here is proof that those who gave their money to place LRH books in libraries were scammed. 
Of course, the first indicator that this has little to do with getting books into libraries and everything to do with making money is the fact that these "library donation" books are SOLD AT FULL PRICE.
If this is such a worthwhile thing to do for the "expansion of Scientology" why aren't the Pubs Orgs doing this campaign AT COST? Better yet, why isn't the IAS sponsoring this? The answer is patently obvious. It's about the MONEY.
The people who are running this campaign KNOW the libraries send back or trash the books. It's not like it's a big secret. They can look on the internet too. And they can read the letters they get from librarians informing them that they received the books but they don't have room/only stock against demand/have limited shelf space etc etc  
But still, they run their campaign "We now have books in every public library in the US, now we want to get them into all school libraries" or "France is done, now we need to complete Morocco" or whatever seems to be the latest fad. They play on the disaster capitalism buttons too — typhoon in Hong Kong? They need books in their libraries. Mass shooting in Norway? They need books in their libraries. Waiting for the shopping mall in Kenya to be turned into a book dono pitch….
So, here are some reports sent in that are enough of a sampling (VERY consistent)  to make clear this is complete fraud. 
Also of note is that expose books ARE in demand and are available often in greater numbers than Scientology's own materials. 
San Antonio
In San Antonio, earlier this year I bought a complete "Basics" set for $20 at a library sale, and the full "L. Ron Hubbard Series, The Complete Biographical Encyclopedia" set also for $20 at another library sale. Both were in unopened packaging from Bridge Publications. Each time, staff told me Scientology materials go straight to the remainder bin due to lack of interest.
Washington DC
I live here in the Nation's Capital where even OSA has its own building (Formerly the Fraser Mansion)
7 Scientology Books (2 DMSMH '79 & '07) ('72 POW) ('88 Fundamentals of Thought) ('90 Clear Body Clear Mind) ('99 The Background Ministry Ceremonies…)('92 What is Scientology)
10 Anti-Scientology Books
LA County Public Libraries
In LA county there are approximately 90 libraries. I did a search on their website. There are not even 2 books per library. And many of the books are his fiction books, DVDs or in a foreign language.
San Francisco Public Library
80% are available only from the reserve desk, and are single copies. Of the remaining 20% of those 27 books, 50% are "missing" from the stacks, Again, only single copies. I did not index books on tape, but from the above statistical data, I would be surprised if any exist. The remaining 51 books on the subject are authored by former members (Reitman, Hill) or criticisms (Wright, et al). The old man does do well in the Sci Fi stacks, which is a busy section of the library. I didn't take time to take a count because it didn't seem relevant to your request.
Additional Information: Yelp has two reviews of Scientology locations in S.F. These are amusing. One is closed (ironically, near the SF Main Library), and the other is in the original A.P Giannini/Bank of America building near the financial district. Lovely architecture with iron work atop. Doesn't appear to attract much foot traffic, and the locals don't take notice much. Here are links to the Yelp reviews: http://preview.tinyurl.com/ntx2vcn http://preview.tinyurl.com/mx6yk6y
Wyoming Public Libraries
Number of Scientology Churches in Wyoming = 0
When I (shudder) asked COS to locate the church closest to my location, it gave me the Denver, Colorado Org, 352 miles from my location. Of course I used Google to ask it that question, so that is hearsay.
Our library cards are good for the entire state, so I searched the entire Wyoming Library System.
There were 4 (FOUR) titles authored by LRH in the entire STATE. This is down from 6 books in my County 2 years ago.
Problems of Work – 1 copy exists in the State.
DMSMH – 1 copy exists in the State.
There are not even any of LRH's fiction books in any of the libraries in the State of Wyoming any more.
There are, strangely enough, 2 articles published in the 1995 Trade Publication Chemical Business about problems in India with LRH listed as the Author discussing chemical problems in India and ARC and Exchange; the June 1995 Volume 8, Issue 11, Page 87 (4 pages) and August 1995 Volume 9, Issue 1, Page 72 (5 pages) that exist in 1 library in Wyoming.
In contrast, the term Scientology appears quite frequently. Unfortunately for Teeny Fists, without exception, EVERY SINGLE FREAKING TIME IT APPEARS IT IS NEGATIVE. There 689 magazines, 174 newspapers, 67 academic journals and 66 reviews which portray Scientology in a NEGATIVE light in the state of Wyoming. 
Yep, their promo is correct. Scientology is Finished in Wyoming.
Anchorage, AK
Here are some library stats for Anchorage, AK Pop. Approximately 295,000.
A little background, about 3 years ago we had a fundraiser at the local mission for donations for sets of the Basic Books to the libraries in Anchorage as well as other populated areas in the state. I'm estimating 5-8 sets were sold. I did research at the library yesterday and this is what I found;
DMSMH 1978 1
DMSMH 1
Introduction to Scn DVD 2006 4
Fundamentals of Thought 1988 1
FOT 2007 1
What is Scientology 1992 1
What is Scientology 1998 2
What is Scientology 1978 2
Scientology 8-80 1973 1
Problems of Work 1988 1
POW 1972 1
15 Total Scientology Books in Anchorage Alaska Libraries.
Other BOOKS
Beyond Belief – Jenna Miscavige 2013 Many locations
Going Clear – Lawrence Wright Many Locations
Inside Scientology – Janet Reitman Many locations
Going Clear – Lawrence Wright 3 copies prominately displayed
Beyond Belief 3 copies
Inside Scientology 2 copies
Coincidentally, I ran into someone who is still onlines at the local mission. He said the mission was only open 2 nights/week for 1 1/2 hrs. an evening. When I was there a year ago, it was open 3 nights/week for 3 hrs/night. Also, shortly before I left the church, a field auditor had moved to AK to help boom the mission. A couple of months ago he relocated to Portland as he wasn't able to make a viable living as an auditor up here. So much for straight up and vertical. Looks like our donations never made it into the libraries or else the libraries got rid of the books that our donations bought as there was only 1 book from the 2007 release of The Basics that was currently in a local library. 
On another note, there were 4 of us who left the church around 1 year ago. I have completed 2 L's in the indie field, 2 others have started on Solo 1 and the other started onto OT V after being stalled in the church for over 30 years!
Knox County Libraries, Tennessee.
Population 436,929 (Largest city is Knoxville) There are 20 Library Branches in Knox County, including the John C Hodges Library on the Univ of Tenn campus.
The numbers below represent how many of each book or kind of book TOTAL in all of the branches:
Scientology Books
DMSMH (1990) – 1
DMSMH (1995) – 1
DMSMH (2007) – 1
Intro to Scn Ethics (2007) -1
Fundamentals of Thought (2007) – 1
Fundamentals of Thought (1988) – 4
Dianetics 55! (2007) – 1
Scn Basics: 0-8 (2007) – 1
What is Scientology? (1990) – 1
Clear Body Clear Mind (1990) – 1
Humanitarian: Road to Self Respect – 2
Total Scientology Books= 15
Negative Books
Going Clear by Lawrence Wright – 7
Beyond Belief by Jenna Miscavige – 2
Inside Scn by Janet Reitman – 2
Inside Scn by Janet Reitman (audio) – 1
Inside Scn by Janet Reitman (ebook) – 1
LRH: Messiah or Madman? by Bent Corydon – 1
Other Scn books not sanctioned/published by the Cof$ – 22
None of Marty or Marc Headley's books 🙁
Total Anti-Scientology Books= 36
Hong Kong
One of Asia's major metropolises with 7 million people:
Number of orgs: 0
Number of missions: 0
Number of Scn or DN books in ANY public library: 0
Number of Scn or DN books – Chinese or English – available in ANY public bookstore: 0
Ottawa Canada Public Library
Here is my report on LRH or related books currently available in all branches of the entire network of Ottawa Public Libraries per their web site. Please note that entries include books in stock or available.
DMSMH= 1
The Dynamics of Life= 1
DTOT= 1  
The Scn Handbook =1
Dianetics Today  =1
WIS =3
POW  = 1
TWTH =1
Dianetics The Evolution of a Science =1
Scn 8-8008 =1
Handbook for  Preclears = 2
SOS  =2
A New Slant on Life =2  
ITSE =2
A History of Man= 2
The Creation of Human Ab.= 1
The original Thesis =1
Dianetics 55 =1
FOT =1
Self Analysis= 1
Scn 0-8 =1
Total Scientology Books in the state of Ottawa = 28
Prince William County VA library system.
Prince William is one of the 10 richest counties in the U.S. and has over 400,000 people. There are 10 full service libraries in the county. Here is what I found:
– FOT 1 copy
– Have You Lived Before 2 copies
– Child Dianetics 2 copies
– Clear Body, Clear Mind 2 copies
-NSOL 1 copy
– Dianetics – shown but no copies
– Introduction to Scientology – 1 copies
– 8008 – 2 copies
– How to use Dianetics 2 copies
Now here is something strange. There are actually 29 additional books in Spanish ranging from Dianetics 55 to the Axioms. There are a good number of Spanish speakers in the county, but they are a minority. Not sure why there are more copies of books in Spanish than English. Not a single copy of ANY book by Hubbard is checked out, which is why they are discarded by librarians to clear shelf space for more active check outs.
Randburg library in Joburg North vicinity.
Not one LRH book.