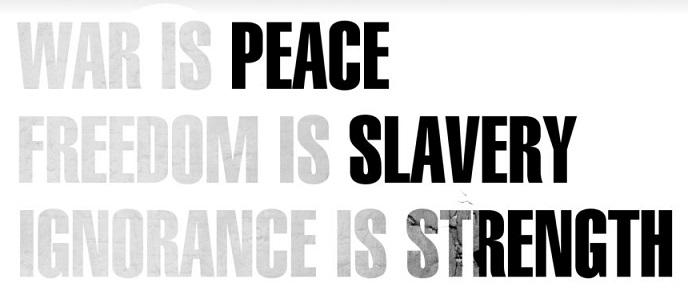 In the topsy-turvy Newspeak world of scientology, add to the classic phrases from Orwell's 1984 a fourth: CONTRACTION IS EXPANSION.
As long as the news is preceded with some modifiers "greatest expansion ever" or "exciting news of our accomplishments" or something similar, ANYTHING can be presented as "proof" that the 47X straight up and vertical expansion is continuing unchecked. Even the eradication ("combining") of a Sea Org org.
Closing an SO Org has got to take the cake as far as pigs ear catastrophes presented as silk purse accomplishments. It has never happened before in the history of scientology. Even the anachronistic St Hill Fdn has been kept on artificial respiration for decades (though I assume once Dear Leader gets to the UK for the IAS event the plug will be pulled and that too will be a goner).
L. Ron Hubbard had a lot to say about ASHO Fdn and its purpose and reason for existing. But then again, in the modern scientology bubble, that means nothing. When ASHO no longer even delivers the Briefing Course, it can hardly be a surprise. Many leaks from inside PAC over the course of this year have indicated how desperate things have become in both ASHOs. I would imagine from the staff perspective they are thrilled about this.
But there is no doubt that this is more concrete evidence that the scene is disintegrating. If they were being "flooded" with people "pouring up the Bridge" as Dear Leader assured the crowd when he yanked the ribbon on the "Ideal PAC" (including the Ideal ASHO Day and Ideal ASHO Fdn) they would NOT be "combining" these orgs.
ASHO Fdn is the shortest lived "ideal org" ever.
Here is the spin, hot off the presses:
Something MASSIVE has just occured at the Pacifica Base! This is one of the biggest administrative and organization changes ever to occur. You may have heard it on the grapevine that ASHO is no more two orgs! ASHO Day and Foundation have merged and there is only ONE org and that is ASHO!

THERE IS MORE!

COME FOR THE FULL SEA ORG BRIEFING TOMORROW, MONDAY, AT THE AO ATRIUM – 6 PM.

Come and get briefed about ALL that happened today and WHY and how this will influence your Bridge progress. Come and meet the new ASHO Captain. This is very BIG and EXCITING News!!!
And while I am on the subject, just a comment about the other Newspeak phrases. Two minor variations SLAVERY IS FREEDOM and STRENGTH IN IGNORANCE might be the most succinct summations of scientology one could ever devise.