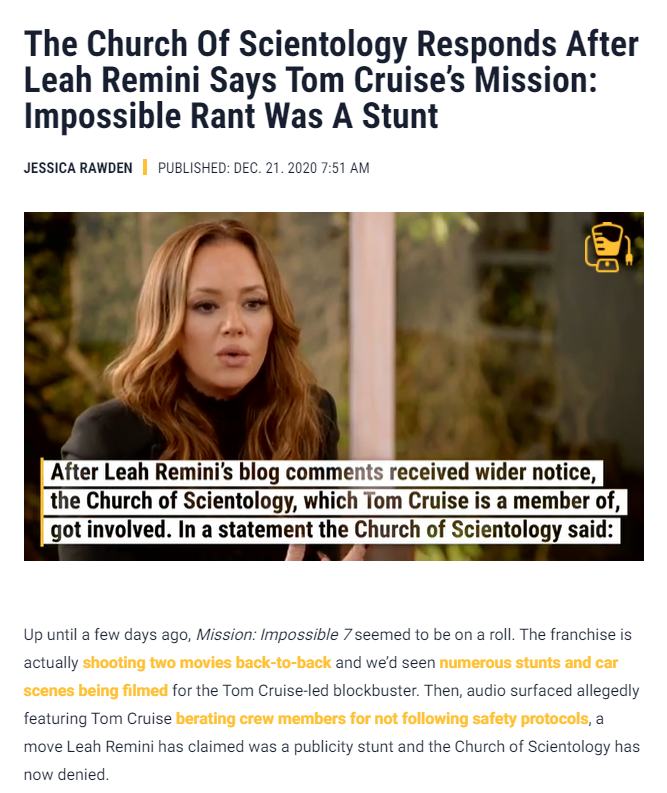 Scientology is speaking as the PR representative of Tom Cruise. While he and his PR people remain silent. The man who laughs in the face of suppression and can confront and shatter any SP is apparently unable to confront some bad media.
It would seem David Miscavige was upset that "nobody was coming to the defense of Tom" and so ordered his minions to put out a statement. To me, this is further indication that the whole thing was a publicity stunt that blew up in their faces. Or at the very least, Miscavige had praised Cruise for his "tough guy" image and told him he was showing the world what a real scientologist and real man is. Then when the ceiling caved in, he yelled at his minions to "do something." I have heard Miscavige scream at his underlings numerous times that "nobody ever defends me" after he makes his PR blunders. I can see him doing the same thing about Cruise. And that at least makes some sense as to why scientology would insert themselves into this mess. When it's convenient to them, they claim "We do not comment on the personal lives of our parishioners." But when it comes to Tom Cruise they are all about it.
And of course the statement itself is a typical scientology non-response. Rather than actually addressing whether it was true that Cruise's rant was a publicity stunt (nobody has denied this at all — nor has anyone explained how this recording got off a set which has massive security precautions and everyone is made to sign NDA'S etc), they go on about how wonderful scientology has been in its response to COVID (they did manage to get a LOT of money from the government, so in the money-grab they were kind of "ahead of the curve"),what an amazing man David Miscavige is and what a terrible, unreliable person Leah Remini is. None of which addresses the point.
The Church of Scientology has done more than any other religious institution in promoting COVID-19 prevention actions–throughout the U.S. and worldwide. Long before 'stay at home' directives, the Church took aggressive actions to prevent the spread of the virus. The Church's leader acted well ahead of the curve. Remini is an unreliable source who attacks Scientology for publicity and money – as she herself has admitted.
But, why would anyone expect anything different? Scientology CANNOT change its ways. Ever.