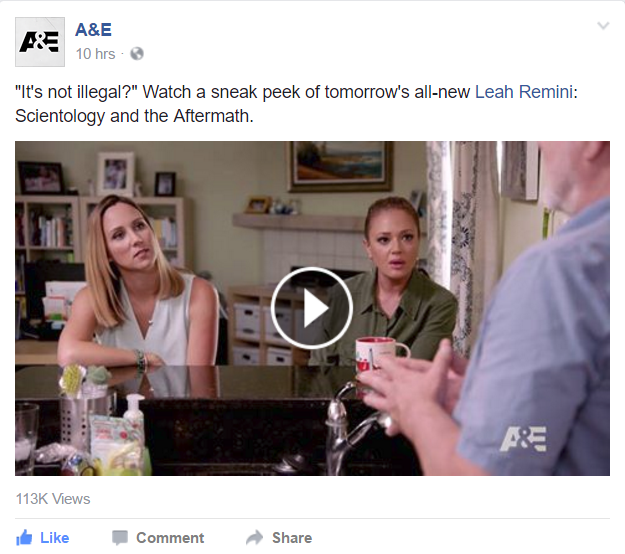 Tonight's show focuses on me and addresses the subject of Fair Game. There is a short teaser for the show on the A&E Facebook page. Tony Ortega has a review of the episode on his blog today.
Obviously there is a huge amount of territory to cover and it's SO difficult trying to figure out what to include and what to explain and how. You don't really understand this until you try to do it.
And it is especially difficult to have perspective on a program that focuses on you. Obviously there are many things I have spoken about during the filming of this series that won't ever see airtime. It is the nature of the beast. 30 hours of interviews are distilled down to 48 minutes airtime.
One concern I have is that the show does not really give voice to my regret about things I have done during my time in the church that may have caused suffering to others. I think it captures the regrets I have about my children, always the answer to the question "What is your biggest regret." But it is not the whole picture and I fear it will appear that this is ALL I care about. So, let me set the record straight in case that is the impression that is created: I apologize to anyone I hurt, and I am truly sad that I was that person. The only thing I feel I can do about it let that be know, but more importantly, try to make good going forward. I certainly wish I had been smarter and had not believed so strongly that what I was doing all those years in the Sea Org was "saving the planet." And that I had not bought into the idea that every decision is based on "the greatest good for the greatest number of dynamics" (where the Third Dynamic counts 20 and each of the other 7 count 1), nor had I subscribed to L. Ron Hubbard's "Code of Honor" – particularly "never fear harming another in a just cause." I now see these as false and harmful "stable data" and sometimes wonder at my blindness.
Today, I try to live with what I see is the truth, not what someone else tells me is the truth. I attempt to do what I think is right. I am not living in the past or living a life of regret by any means. But I feel it is important to the people out there who may have been on the short end of the stick I was wielding to know where I am at. For whatever reason I did not feel, for me, that this truly comes through in the show.
Apart from my new family and the many friends who have been incredibly supportive of me, perhaps the greatest happiness I find in life is when I hear that I have helped someone as a result of exposing the abuses rampant in scientology. Yesterday I received a message from a mother that literally made my day (many of you may have seen it already as I posted it on Facebook).
Dear Sir, I've just watch Ms. Remini's new program about your former "church". Thank you for your interview and taking part in it. I firmly believe that by your actions and everyone else who are working so hard to reveal the truth in the extremely say situation it will, eventually bare fruit in the downfall of this group. Please, know that, while you may never know you are having a profound impact for the good with your efforts for the truth to be revealed. My son, had been "playing" with the idea of finding out about Scientology. Knowing, what I know about it, limited that it is, didn't agrue, but asked him to watch the 1st episode of Ms. Remini's program.with me. He did, we talked and then I asked him to do his research and if he wanted to talk again about Scientology again, we would. We have just finished that talk. THANK YOU BOTH SO VERY VERY MUCH!!! I make this statement this way because I firmly believe your collective efforts may have very easily saved my son from a life of total Hell, lies and Heave only knows what else. I am truly sorry for what you have had to live through with this thing called a "church". You have lost so much, both you and Ms. Remini. It was not for nothing, I can promise you that. Your speaking out saved my son and I will forever be greatful. Please understand what that means to this Mama'; as a parent, I'm sure you do. Most Sincerely, I remain respectfully your's…
I hope you enjoy the show tonight. I look forward to hearing your views tomorrow.
And finally, Leah Remini is one of the bravest, strongest and kindest people I have ever had the good fortune to meet. Without her, this show would not have happened. And remember, unlike me, she is not fighting to get her family back, she is standing at the front of this crusade on behalf of others who do not have a voice. She inspires me to be a better person.