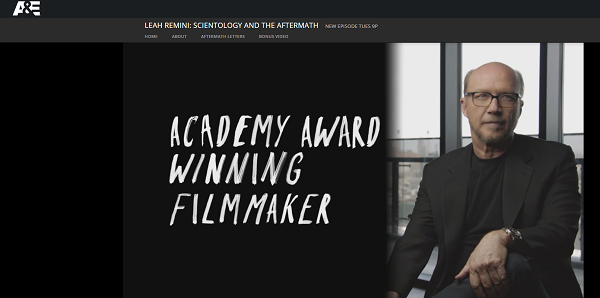 Tonight's episode addressed another subject we get a LOT of questions about. Celebrities and scientology.
And of course with the controversy over Elisabeth Moss's Emmy win for her portrayal of the victim of an oppressive system that controls every aspect of people's lives when she is a scientologist, and then Nicole Kidman's acknowledgement of the unconditional love from her 2 daughters with Keith Urban, while not mentioning the two children she adopted with Tom Cruise, there is heightened interest in the subject.
I must say, because I do not feel we were really able to communicate this well enough in the show — Paul Haggis is a hero of mine. Not only because he paved the way for so much that has followed by standing up and speaking out, not only because he is one of the smartest, kindest, most articulate and all-around best people I know, but also because he truly puts his money where his mouth is. He tirelessly works to help the underprivileged and impoverished. He was working to help children in Haiti LONG before natural disasters hit the front page and a few VM's in yellow t-shirts arrived for photo ops. And he continues to work there today long after the yellow t-shirts have vanished entirely. He and his foundation built an actual school – they didn't hand out some booklets or give a few touch assists. And this is just one small part of the work he does. He isn't presented trophies for this. There is no video made of his great works like they do with IAS "Freedom Medal" winners. He does it because he cares. That is what makes him so admirable in my eyes.
Paul has a life. He's got more Oscars sitting on his shelf than all scientologists combined. He has plenty of work. He has a whole world of artists that look up to him. He does not need this shit. But he feels a responsibility to do something about the abuses he has witnessed in scientology.  So, he continues to speak out. There is literally NO upside to him. Just more smears coming. But that is the sort of person he is.
And I do not mean to lessen Karen's bravery by comparison (or ANY of our contributors) — all of them are courageous, strong people I am proud to know.
Paul simply has a special stature in my personal Hall of Fame because he went all out when it was REALLY not "safe" to do so, and he has never backed away since.
Of course, I am interested in your thoughts about this episode.
And as I always do, for anyone newly coming to this blog, I include some relevant links to earlier blog articles.
The first of which is especially relevant to tonight's episode: Scientology Homophobia
And here are the scientology policies that demand that anyone in disagreement be destroyed.
To begin to understand the mindset scientologists have about those who criticize any part of it, read this article:
Dealing with Critics of Scientology — The L. Ron Hubbard Playbook
And then read this one:
And here is a fairly short explanation of how disconnection is used in scientology (and how they try to spin the practice):
Disconnection: the PR and the Truth
An overview of the efforts by scientology to smear Leah Remini:
Scientology Dead Agents* Itself
And finally this is a post about the lies they tell about their "expansion":
Scientology "expansion" debunked
PS: From Paul Haggis
I see people have been asking you about the identity of the folks who so strongly objected to me "comparing" David Miscavige to Martin Luther King, Jr.
Glad to clear it up.
It was LRH "biographer" and DM's speechwriter Dan Sherman, who sat to my immediate left, and senior CoS executive Dave Bloomberg (famous for being the guy with the camcorder when Marty Rathbun was ambushed at LAX) who sat in the middle of the conference table to my right, with his briefcase on the table.
By the way Bloomberg carefully angled it on the table, I have always suspected that briefcase contained a video recorder, but that's nothing more than a hunch. While other voices were raised in protest at that moment, they were drowned out by Sherman and Bloomberg who quite literally leapt to their feet to object to the insult of comparing DM to MLK – which of course I was not doing. I was, respectfully but rather doggedly, digging into the accusations made by the St Pete's Times that alleged that DM had been physically abusive, trying to get anyone in the room to admit that even their revered leader was fallible. By way of illustrating what should be obvious, I suggested that even incredible men like MLK were human and made mistakes. That clearly outraged them, as I never even got to finish the sentence.
If it was being recorded, their actions make more sense, as they would have been putting on a show for Mr. Miscavige. From what I've since learned of him, DM would want to see how vociferous his messengers were in their "defense" of his character.
best,
Paul