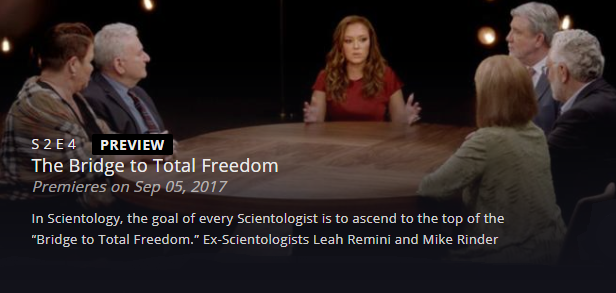 A bit of a breather tonight.
We have 5 "Special" episodes this season that will be interspersed with the "regular" episodes that recount more person stories. These episodes are intended to be more educational and explain some of the terminology and activities of scientology that are often touched upon in the main episodes.
We began with a more detailed explanation of the Bridge. It is something we are asked about often and we touched on it in an episode in Season 1 where Leah and I spent a little time with one of the show producers explaining to him what the Bridge is.
Even devoting a full episode to this subject cannot come close to explaining it all, but I think we covered a lot of ground. As always, I am very interested to hear your thoughts.
Wonder if they are going to put up videos about Bruce, Vicki, Ronit and Yossi or if they will limit their ad hominem responses to Leah and me…
Scientology knows no limit on "attacking the attacker."  So nothing would surprise me.
As I always do, for anyone newly coming to this blog, I include some relevant links to earlier blog articles. And even for those who regularly come to the blog, it is instructive to refresh your recollection as to just how clear the POLICY of scientology is that anyone in disagreement must be destroyed.
To begin to understand the mindset scientologists have about those who criticize any part of it, read this article:
Dealing with Critics of Scientology — The L. Ron Hubbard Playbook
And then read this one:
And here is a fairly short explanation of how disconnection is used in scientology (and how they try to spin the practice):
Disconnection: the PR and the Truth
An overview of the efforts by scientology to smear Leah Remini:
Scientology Dead Agents* Itself
And finally this is a post about the lies they tell about their "expansion":