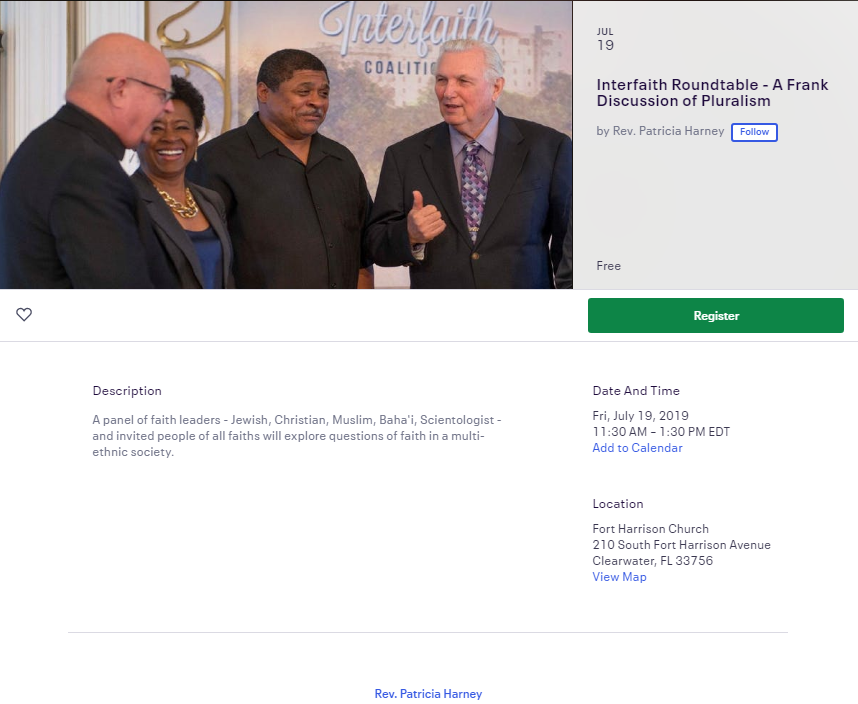 Hubbard policy (HCOPL 3 Feb 1969 PUBLIC IMAGE) states:
"…you have to go civic, go outside Scientology, get support, organize committees, plot out campaigns, work for outside finance, etc.
"In handling the above public image policy, you don't announce the policy.
"You can and must ally with real humanitarian and civil-rights groups (getting press coverage for every such contact."
The question to be asked is, why would ANYONE wish to attend an event like this and be used by scientology in their attempt to gain credibility?
Are the people who might participate in this (if there are indeed any at all) ignorant of what they are getting themselves involved in?
Have they been promised financial or other support as a quid pro quo?
Are they involved in an organization that has even less credibility than scientology (is that possible?)?
None of the above — just plain stupid?
People need to understand that scientology is NOT compatible with any other religion. They are all "wogs" and have "no tech". There is only ONE way to salvation and that is by "ascending the Bridge to Total Freedom." The ONLY value other religions have to scientology is to gain credibility by association and as a bulwark against "attacks". When scientology has been exposed for its abuses it has used other "religious allies" to come to its defense, proclaiming "attacks" on scientology are motivated by religious bigotry and hatred. STAAD still uses this — lining up protesters and speakers to go after The Aftermath  and scientology victims. But their ranks are shrinking and the apologists have been having a harder time justifying their positions.
Scientology is desperate to try to gain acceptance and credibility in the Clearwater community. Their stock has plunged since they declared war on Winter the Dolphin along with the constant exposes in the media over the last few years.
In keeping with this theme, I was sent two snapshots of the "Block Party" hosted by scientology on Saturday in downtown Clearwater.
There are other "block parties" sponsored by the city and associated organizations and they are PACKED. Only scientologists are brave enough to attend a "scientology sponsored" event on Cleveland St. And most of those probably only show up because they are trying to get out of Ethics or earn themselves a commendation for future visits to Ethics.
Things are not looking rosy for scientology in Clearwater.