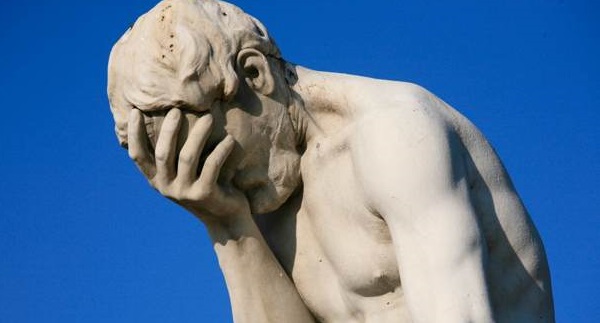 First things first, the blog…
Nathan Rich provided a layman's explanation of what happened to the blog over the weekend – I asked him to make it so even I could understand it:
Here's how it works and what the evidence is.
If you have a computer you can make it do stuff, like host a website — but then you have people who need access to those websites. But you don't want them to have access to your system, because you're the owner, not them.
There's different ways to handle this. The normal way smaller hosting services do it is by using "jails" — they set up many sort of "sub-environments" inside one machine so you can log in and do ANYTHING you want and you can never affect anything outside of that jail. Outside that jail, on the main part of the system that they control, is where the actual configuration settings are. This is where the real processes which are serving the web are found.
This is what was messed with. And that means a couple of things:
The problem could not have been generated from malware on your site
It was a deliberate attack or a serious problem in their system which is usually from an attack.
Generally these systems are more or less 'auto-built' and automatically heal themselves. The most likely scenario in my mind is the following:
a."Unknown" people attempted to attack your website.
b. You are a "controversial" figure, shall we say, and that sways the odds towards you.
c. These people could not find an obvious way into your site.
d. They determined that site5 was hosting your site, and continued their attack, only this time, they found a file with improper permissions on the HOST (the computer outside the jail). This allowed them to alter the configuration files, which instead of ALLOWING your site to be served, instead DENIED your site from being served.
The reason it was taking them forever is because they didn't just have to stop the attack, they had to rebuild everyone's configuration afterwards.
It could have been a different scenario but given the fact that the vast majority of sites hosted on these low-end hosting platforms are absolutely uncontroversial, the probability sways more towards you. Of course, it also could have just been a random attack by no one for any reason, but I would guess the scenario I described is more likely.
We have no way of tracing where the attack came from.
But we have now relocated the web hosting and have implemented measures to ensure there is no repeat of this problem.\
PS: You can now edit comments for 5 minutes, at which point they become unchangeable.
And now for something completely different…  Scientology's massive international expansion.
Apologies to Monty Python. I just couldn't resist a tweak of JAW and Gemma the Twit (if you do not understand this, don't worry, it is irrelevant to anything important).
Chairman of the Bored has been on a mini-roll yanking ribbons at his latest ideal "orgs" — Dublin two weekends ago, Birmingham last Saturday and Amsterdam coming up next weekend (I wonder if he is going to chicken out of the trip to Holland due to worry that the Germans have a lot of sway over their neighbors…).
One could [wrongly] conclude this 3 in 3 weeks represented an uptick inside the scientology bubble.  This is the ONLY reason these yankings are happening. A deliberate attempt to create this [false] impression.
There wasn't even an org in Ireland, just a bedraggled and failing mission, a hostile press and a persistent and vocal anti-scientology community. Why this ideal org even came to be is a mystery. Perhaps Tom Cruise is going to shoot a movie there (the motivation for a number of other "ideal" orgs in strange places)? Perhaps the IAS had money stuck in Ireland they could not get out — they were Bank or Ireland customers until they had problems with scientology — this is the reason the IAS bought buildings in Harare and Bulawayo decades ago that have been occupied by squatters since. And that crumbling castle in Joburg for their "upcoming Advanced Org" that is never coming.
Birmingham is also a wasteland as far as scientology goes. The last time Birmingham org was doing anything of note was when Haydn and Lucy James were running it and they have been declared for a decade. With a few hulking wrecks of buildings in the UK (most notably Sunderland and Plymouth) purchased back in the "good old days" of wheeler-dealer Bob Keenan riding around the country with tens of thousands of pounds cash in his Triumph's saddlebags, SOMETHING had to be done because the eyesores were generating a lot more attention and interest than the failed "ideal org" in London.
Amsterdam org has NEVER been anything but a poky dump. And with the recent decision of the Dutch courts to declare scientology NOT tax exempt there is absolutely NO reason to invest money into opening a lavishly appointed new building there. It is all for show. It is all Miscavige has got. Opening empty buildings for the video footage.
Scientology loves to promote how opening these ideal orgs generates massive expansion. They STILL circulate this poster: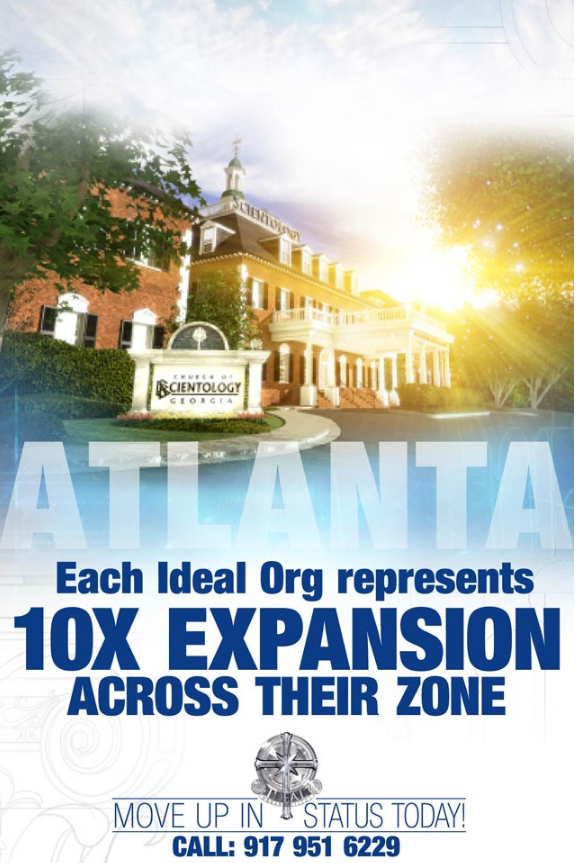 It's as if putting something on a poster makes it true. Or if COB says it at an event it becomes fact.
Hate to be a party pooper, but recent reports from Atlanta (as with EVERY OTHER ideal org on earth) are that it is EMPTY. Like dead. Nobody there.
But you don't need to take my word for it.
Let's look at some FACTS that are undeniable.
There are TWO Ideal Orgs in Australia. Sydney and Melbourne. AND a large new "ideal" Advanced Org in Sydney too.
These are the two largest cities in Australia. About half the population of the country lives within 100 miles of those two cities. So, if those two 10X and they represent half the country — discount the AO — by scientology's reckoning scientology in Australia has expanded 5X with those two ideal orgs. And that is 10X IMMEDIATELY. Over several years that expansion ought to be exponential.
Now for the bad [good] news. There is a VERY accurate way of measuring scientology's expansion. Australia conducts a census of the entire country every 5 years.
They survey religious affiliation. Scientology is shriveling faster than a grape in the outback sun.
The number of Scientologists in Australia dropped by 21% in the last five years, from 2,163 to 1,684 — that is of a total population of 24 million. (Way to Clear ANZO…)
Now, one could argue "well, there are a lot more that didn't announce themselves as scientologists" [they were embarrassed?] and that may  be true. Though even if you multiplied the number by 10 to 16,800 for the whole country it isn't even a blip on the radar screen. But what is without doubt — there are less people willing to identify themselves as scientologists now than there were 5 years ago. Less by 21% Forget the 500% expansion, they have accomplished a 21% CONTRACTION.
Now that is the reality of Ideal Orgs. Squeeze the blood out of every last local. Fly in Dear Leader to yank a ribbon with a staged video. The circus leaves town within a few hours and the idle morgue returns to it's natural state of comatose near-death.
Would love to see the next poster: Each Ideal Org represents 21% CONTRACTION ACROSS THEIR ZONE
Hip hip hooray!!!