Jeffrey Augustine posted the document below on his wonderful site The Scientology Money Project which is an invaluable source of amazing information.
He included it with a video of scientology's grand poohbah of mailing lists which in itself is fascinating. But I wanted to make a different point.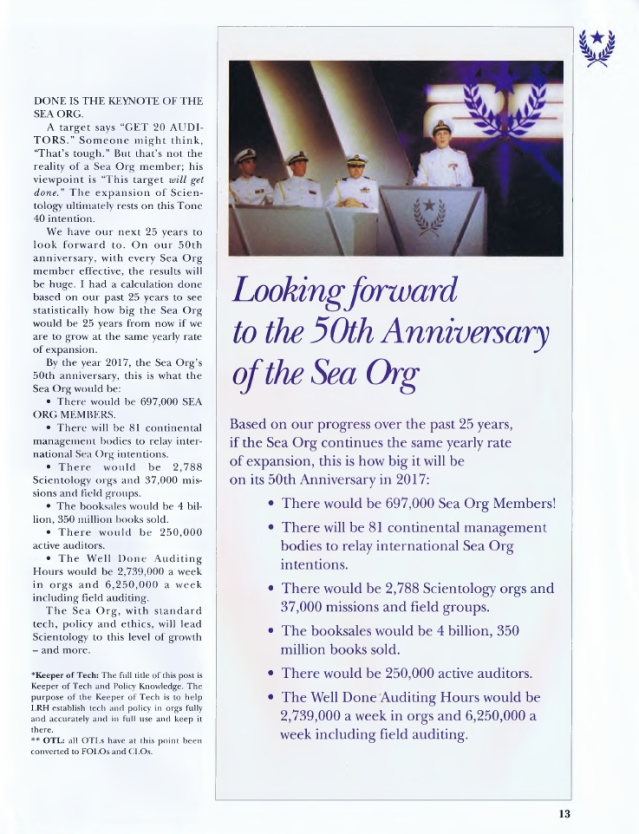 Captain Miscavige and his crew of loyal sycophants constantly claim that scientology is experiencing its "greatest growth ever" and "more expansion in the last few years than the previous 50 years combined" blah blah blah
Everyone outside the bubble knows these are massive lies.
But this old publication proves this in a way that even he could not dispute.
Capt Miscavige's minions took the growth of scientology from the inception of the Sea Org in 1967 through to 1992 and then extrapolated it to what scientology would look like in 2017 if that growth continued at the same pace.
Clearly, the growth has not only not continued, the wheels have fallen off completely.
In the years before Miscavige became capo di tutti capi (or perhaps it should be capo di tutti frutti) scientology was growing at a fairly rapid clip. At least until the early 80's there WERE new orgs being opened and a pretty healthy mission network around the world. Based on that earlier expansion, they extrapolated 2,788 scientology orgs and 37,000 missions by 2017.
Well, cough, cough…
There are the SAME NUMBER of orgs today as there were in 1992 and WAY LESS Missions.  No expansion. Only contraction.
Despite all claims to the contrary — Miscavige has actually ridden the scientology horse into the ground. What HAD BEEN growing for a few decades before he took over has been shrinking steadily since.
697,000 Sea Org members? They have to empty out the RPF and steal from other orgs just to open an AO in Africa. The number of Sea Org members today is less than at the time of this publication.
4 billion books sold? Erm… the Pubs orgs still crow about figures in the tens of millions.
250,000 active auditors? Miscavige crushed the number of EXISTING auditors with the wonders of Golden Age of Tech, wiping out the ranks with the cold chrome steel efficiency of Typhoid Mary. Today there are less active auditors on earth than at any time since the late 1960's. The bell curve is on the downward slide from its peak in the mid to late 70's.
This one list represents the catastrophic implosion of scientology under Miscavige Rule. It is what is NOT there that makes this so vividly clear.
And how ironic that it comes from a publication that lauds him as the leader of the Sea Org (and that I am sitting right there next to him)…