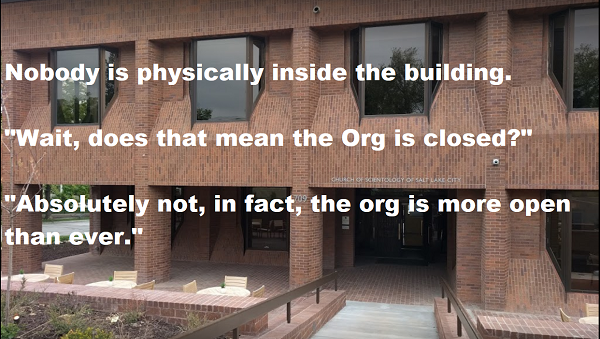 I was forwarded this email from the EDs of Salt Lake City "ideal" org.
I reprint it here with spelling errors/typos exactly as it was received.
Another confirmation that this org is closed (public are not receiving services physically inside the org) — but they then go on in typical scientology style to say the answer to the question "Wait, does that mean the Org is closed?" is "Absolutely not, in fact, the org is more open than ever."  Only in the deluded world of scientology would a shuttered org be more open than ever…
But "more open than ever" translates into more desperate for money than ever.
The big pitch is "Extension Courses" (which is really just "read a book" and send in answers to rudimentary questions at the end of each chapter). Pretty soon we will be hearing how they have "Highest Ever" extension course starts as proof that everything is going great inside the bubble. The "massive" Salt Lake City scientologist community is "conspiring" to "overlload" [sic] them with Extension Course lessons. "Imagine the power from an entire field moving through the knowlegde [sic] LRH gave us." Yes, just imagine what 10 people reading books can do to a society!
But of course, pay us for your next service, ("we will be back in operation soon" even though we are "more open than ever") — you don't need your money, so give it to us now so you will "be ready". Even for the true Kool Aid fanatics, this is a tough sell.
The real worry scientology has it that the people who are disconnected from the bubble, holed up in their homes watching TV or surfing the internet, are going to be weaned from the intravenous drip of crazy, and perhaps even stumble across some "entheta" and become curious. It is apparent, scientology is NOT making a "safe environment" or "clearing the planet" and the harsh reality of today is driving that home.
I am not sure they can avoid the inevitable. But of course, in times of great need, people turn to the craziest solutions. The societal upheavals of the 60's and 70's were fertile breeding grounds for scientology and a lot of other cults. Today there is a LOT more information available on the internet and in the media, so it seems unlikely that scientology will be seen as a "counter-culture" answer to the "status quo."
Good Day,
I hope this finds you happy, healthy and overall sound in mind and body!
I know there is a resounding question on the Salt Lake City Scientology community right now: "So… what's happening with the Org?"
The short answer is – Public are not receiving services physically inside the Salt Lake City Org premises until further notice. Our number one concern is the health of the staff and public of our great community. We take that responsibilty quite seriously. Knowing the strength and character of our great people, we will endoubtedly emerge from this as an even more magnificent group.
The follow up question then becomes: "Wait, does that mean the Org is closed?" The answer to that is absolutely not. in fact, the Org is more open than ever. We are simply delivering services to you in your own home! We have already begun servicing many of you by way of an extension course, and the big idea is for the Salt Lake City Org to deliver to EVERY Scientologist in their own home during this unique period of time. We are prepared for this, and I would love it if this massive Salt Lake City Scientologist community conspired to overlload us with extension course lessons. 😉
So therefore, to state it clearly, the STABLE DATUM and "call to action" for you right now is "Move on your extension course. Every day!"
Imagine the power generated from an entire field moving through the knowlegde LRH gave us. We will come out of this stronger and more capable than we have ever been! What's that saying – When dealt a lemon, make lemonade? OK, so let's say you are all set with your extension course… now you may be asking: "How can I help?"
In short, there are five (5) very important things you can do to help:
Again – move yourself through the Golden Age of Knowledge extension courses (are you getting a theme here?). Your progress on the Golden Age of Knowledge helps everyone – not just you. It de-stimulates the world. You know this because I am sure you have gained LRH knowldge, applied to your surroundings, and have seen the positive effects that you have created.

Secure your next major services. We will be back in operation as soon as possible, and we want you prepared to jump right back onto those major Grade Chart and training actions!

Get those around you connected to Source and onto an extension course with the Org. Help get every Scientologist moving. Think about the impact of each Scientologist helping get another to acial themselves of the knowledge, and the snowball effect that could be created if we each got someone newly onto a course every week. Even thosr who are not Scientologists can be shown the benefit of doing Golden Age of Knowledge courses from home. A lot of people out there need something to do! Why not get them doing something that will truly help them- such as Self Analysis a home?

Stay connected to the Org and each other – by phone or Facetime or Zoom. Find waays to digitally connect with voice and video. Texting or social media is not the same – make the time to call your fellow Scientologists. See what they need. Stay connected. Create teams of people who are taking initiative and coming up with bright ideas on how to be pro-survival.

Send me an email – tell me about extension courses you've completed, other types of progress you've made, anything you're particularly proud of, photos of you studying Scientology in your home, and just good news. I will take this and share it.
Okay, so what's the take away here? Say it with me now… "Move on your extension course." Also – I'm going to be sending out weekly updates to the entire field – highlighting good news – extension course completions, something I'm proud of, and possible a new bright idea for the week. Remember, the situation we are in will come and go – but the question will be what did we do with the time we had? Did we make "lemonade"?
I'll close here by asking you to live with this sentence from Inspector General Network Bulletin No. 88 CURRENT SCENE ( AND WEEKEND OF EVENTS) "So once this current situation passes – and it will pass – you are going to need a seatbelt for when the rocket boosters fire for lift off." – Chairman of the Board, RTC
Much love,
Gairia Taufer, ED Day
Valerie Kingdon, ED Foundation
P.S. Check out this link! The Church of Scientology International has put together a resource center for you – covering prevention, sanitation, and overall health and much more. https://www.scientology.org/staywell