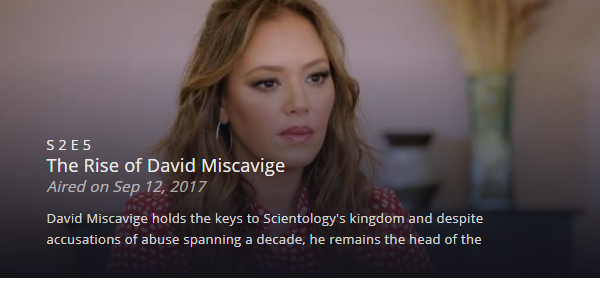 Time to take a look at the weekly "response" from scientology to The Aftermath's latest episode.
It is of course as pathetic as all their previous efforts because they cannot address the FACTS, so they exclusively deal in ad hominem attacks pursuant to scientology policy.
I will endeavor to bring some semblance of truth to the stream of lies they put forth about JB and Jackson. Scientology is wearing a trail into the carpet — everyone is a bad person, they are all "low-level" nobodies, they all have "confessions" that "prove" they are liars, cheats and thieves and not a single person was in a position to know anything ever.
Let's start with John Brousseau.
Scientology's headline sets the tone: Leah Remini Rewriting History Through the Eyes of a Delusional Handyman
Of course, this "delusional handyman" who "knows nothing" was the person tapped by David Miscavige to build Tom Cruise's limo, tour bus, airplane hangar, motorcycles and refit the Freewinds. He was such a "nobody" that he has photos of all of these things. Hundreds of photos.
You can find some of them here, along with more detailed descriptions of his activities over the years.
The story of John Brousseau written by Tony Ortega. You can also google JB and you will see a LOT of information about him.
And then you will see what scientology says about him: "Brousseau couldn't cut it and had no talents to offer beyond unclogging a drain, changing a tire or mowing a lawn."
They pull out a bunch of Sea Org members to do Korean POW style videos.
These are bizarre and have NOTHING to do with anything he talked about on the show. They variously claim he was a "disgusting, creepy womanizer," (with NO specifics), had engaged in "borderline sexual harassment" (no specifics again), he's "he's kind of stalkerish" and the specific they give is a woman claiming "he made a big deal about my haircut."  This is classic scientology propaganda. They seek to imply someone is bad because they have indentured servants who will say anything…
Of course they drag out a bunch of other sad looking people to proclaim "he was a driver," "he was a mechanic" and "he would tighten screws on doorhandles." I wonder if they even realize that they are confirming that this is EXACTLY what JB said he did for Miscavige?
So glad they did, because this report is a bombshell.
THIS is what this report says — as recounted by Marty Rathbun in his blog post of August 19, 2010 (Rathbun kindly attaches a copy of the report itself). I have noted in bold some of the more interesting passages. The italicized passages are direct quotes from the document. The non-italicized are Rathbun's commentary back when he was thinking and talking straight. I note the first prescient sentence:
Warren has undermined any future dead agent packs that try to attack JB's credentials for future appearances:
"JB was an employee of Religious Technology Center (RTC), which is under the supervision of Mr. McShane. JB did not have an official title within RTC, however, due to his tenure with the church and his unique skill set he was an integral part or the lead on many high profile internal church projects."
Warren confirmed that all base personnel (with the exception of JB, and of course he is now gone) had no access to the internet absent restricting filters:
"JB's internet computer was different from other employees, in that it did not have any filters and JB could search the internet without restrictions."
McShane swears to the Sheriff, that with the exception of JB – and of course he's gone – no "church members/employees…enjoy…freedom of movement":
"On April 22, 2010 (Thursday) at approximately 0730 hours JB left the main facility driving his privately owned vehicle. It was not clear where he was going, or the nature of the trip, however it was not unusual for JB to come and go due to his work projects. His ability to come and go from the facility is in contrast to other church members/employees, who do not enjoy the same freedom of movement."
"Mr. McShane summoned (4) church members/employees who know JB the best and sent them to Texas to attempt to contact him and perhaps persuade him to return to the facility in Hemet, CA."
Clearly, JB was an employee of RTC, the highest scientology organization on earth, and had special access and privileges that virtually NOBODY else had and was so important top level officials including Tommy Davis and Miscavige's right hand woman at the time (Angie Blankenship) were sent to try and get him back.
Yet this is what scientology has on their site today:
"Brousseau attempted to gain status with the media by pretending to be a former "high-ranking" member of the Church, as if changing the motor oil of a van makes him a religious expert. In reality, he was known as nothing more than a grease monkey, a handyman who handled vehicle maintenance, janitorial and groundskeeper duties."
But then, the irony of ironies — scientology cites a recent Marty Rathbun POW video "where he debunked the myth of John Brousseau."
Well, here is some more of what Marty Rathbun said about JB before he was doing videos to help scientology: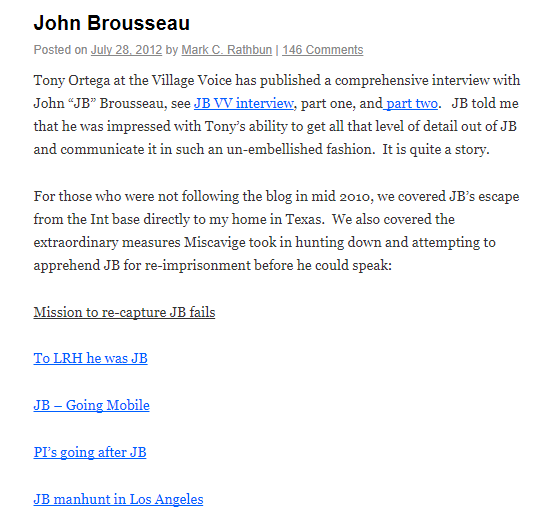 Here are his links:
Mission to re-capture JB fails
And finally — here is a link to a piece that Rathbun wrote to discredit the claims that scientology had made that John Brousseau "knew nothing" in response to the New Yorker — the attachment has lots of photo evidence that scientology was lying then as they are lying now.
And now on to Jackson Morehead.
Scientology's  ad hominem attack on Jackson consists primarily of three things:
He was a "sick sadist" who "tortured animals,"
He was uneducated,
And he had no "special line to Miscavige"
The entirety of his "sick sadism" and "pleasure from torturing animals" is that he killed feral cats on the property. That was his job, assigned by scientology. Now turned into "sadism."
"Morehead was incompetent and illiterate, someone who one of his bosses compared to the dimwitted character "Jethro Bodine" of The Beverly Hillbillies sitcom.
"Said one former Security Chief: "His bosses would work with him just to get this guy to learn to read basic primer English. Couldn't do it. Couldn't do it. He's a loser. You know. He's a complete, dedicated loser."
Well, if this were to be true (and those who actually watched the program can determine if he is a "dimwit" and a "loser" and rightly judge scientology for its childish name-calling) then this is the product of scientology. Gary's ONLY education as a child was from scientology…
And speaking of basic english — this is a quote, spelled out on screen, from one of the POWs who claims Gary is illiterate and a loser: "he's making up lies for his own personal financial." 
They dragged some interesting people out for Gary's POW videos. For someone who held no important position and knew nothing about anything, it was surprising to see:
Former CO CMO Int Mark Ingber now noted vaguely as a "senior executive" — actually he has NO position at all…
…and former Int Finance Director Wendell Reynolds identified only as "former studio head" – also with no position at all.
These two are Hole people
In addition they brought in Paul Kellerhaus – the former (or current) Security Chief FLAG and Mike Sutter — former RTC Enforcer and Miscavige right hand man who is identified with the vague title of "executive" (Miscavige busted him to "tape stuffer" – who knows what he is today).
They go to great lengths to proclaim Gary "did not have any special relationship with the leader of the church" and "he didn't have any special lines." At no time in the episode did he ever make such a claim. He merely recounted the interactions he DID have and his personal experiences. Of course, what he actually SAID is not addressed.
The most bizarre "dead agent" effort is a POW video featuring Gary's niece who proclaims: "Gary was never around growing up. He wasn't part of the family. He was not a person I could go to. It was constant disappointment." Seriously? He was in the SEA ORG. He was not allowed to even tell family members where he was.
And once again, they rely on Marty Rathbun as their "expert" on Gary Morehead. Rathbun complains that "Morehead's tales constantly evolve, change and are embellished over time to where one can't take them seriously."
Oh come now Marty. Pot. Kettle. Black.
Let me help you out Marty — here is a video interview with Jackson published by the Tampa Bay Times in 2010. Why don't you check it over and see how his story has "changed" and get back to us with some specifics.
And the final irony is they hawk their  "video tour of Golden Era Productions, the resort-like studio that features a golf course, a swimming pool, tennis courts, five-star dining and numerous amenities for its staff. Having lived there, Gary Morehead knows full well his characterization of the property is a baldfaced lie." The shameless lies and propaganda reaches a pinnacle with this video — it might make the North Koreans blush.
This is the best they could do to respond to everything that was said about David Miscavige's rise to power. There are no documents from L. Ron Hubbard anointing Miscavige produced. There is no response from Miscavige AT ALL. Not a peep. Not even a "provable bullshit."
Weak stuff. Really weak. If I was to resort to scientology-style name-calling, I would opine that this response is obviously the work of a dimwitted bumpkin who is too stupid to even understand the words he is using and too moronic to recognize the world sees him as the village idiot.
And finally, for those who may be unfamiliar with the lies that scientologists will tell at the behest of the organization (especially Sea Org members), here is an article I wrote earlier that explains this phenomenon: Why Do Scientologists Lie?