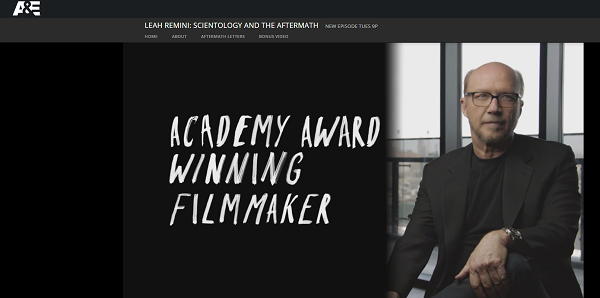 Here is my customary response to the weekly scientology insanity that appears on their website during the airing of each episode of The Aftermath.
Anyone who sees the vile invective spewed by scientology about EVERYONE who ever says anything they don't like reaches the same conclusion: scientology's reaction is evidence of the truth of the experiences  each of these people recounts. This organization is hateful, vindictive and insane. No story is too incredible to be believed. There is no reason NOT to believe everything that is said by the victims.
So, let's take a look at this week's ad hominem. They have two separate sites — one devoted to Karen and one for Paul.
KAREN PRESSLEY
Of course, there is no response to what Karen SAID — their attack on her is that Karen is "a woman no one remembers."
As "proof" of this, they have short clips of a bunch of people saying "I never heard of Karen Schless." Wow, that is effective. So if I produced a video of people saying "I never heard of Albert Einstein" this would prove his theory of relativity is wrong?
But OOPS, it seems they forgot they have SECOND video of people who DO recall Karen?
This one has her ex-husband taking the lead. I often call them POW videos, but the term is especially appropriate here as Peter looks as emaciated as I did when I was in The Hole back in 2007 (Peter was also in Hole at that time). Maybe he has never gotten out of the Hole? He looks TERRIBLE no matter how much make-up and lighting they use.
There is a lot of blah-blah from Peter and a few other Gold staff (all of whom are truly "nobodies" — worker ants running the hamster wheel of Golden Era but I will give them a moment of fame here: Linda Grielich, Denise Friend, Cindy Cruzen, Geray Maio and Tristan Korringa) who clearly DO remember Karen.  Though for some reason they included Tristan who struggles mightily to recall her before saying "she sat right next to me"… Not a good advertisement for his recall abilities.
The entire point of this 9 plus minute video was to reach the conclusion that Peter announces: "She was a barmaid, waitress, trailer trash…"
Wow — this was the woman you married and stayed married to for MANY years. The woman who came BACK to the Sea Org after she left because you convinced her to return to be with you. If you want the real story — read Karen's excellent book:  https://www.amazon.com/Escaping-Scientology-Insiders-Celebrity-Spirituality-ebook/dp/B075MB8WKC
And don't you find it even the slightest bit hypocritical to call her "trailer trash" while whining "stop the hate"?
Of course, like everyone else who has ever left scientology, Karen was a "nobody" who never had any knowledge of anything. Every single person who ever says anything is re-cast in their new history as being a nobody.
Just for shits and giggles — one of our correspondents forwarded us a copy of Celebrity mag. It's Peter AND Karen Schless on the cover AND interviewed. Guess they forgot about this too…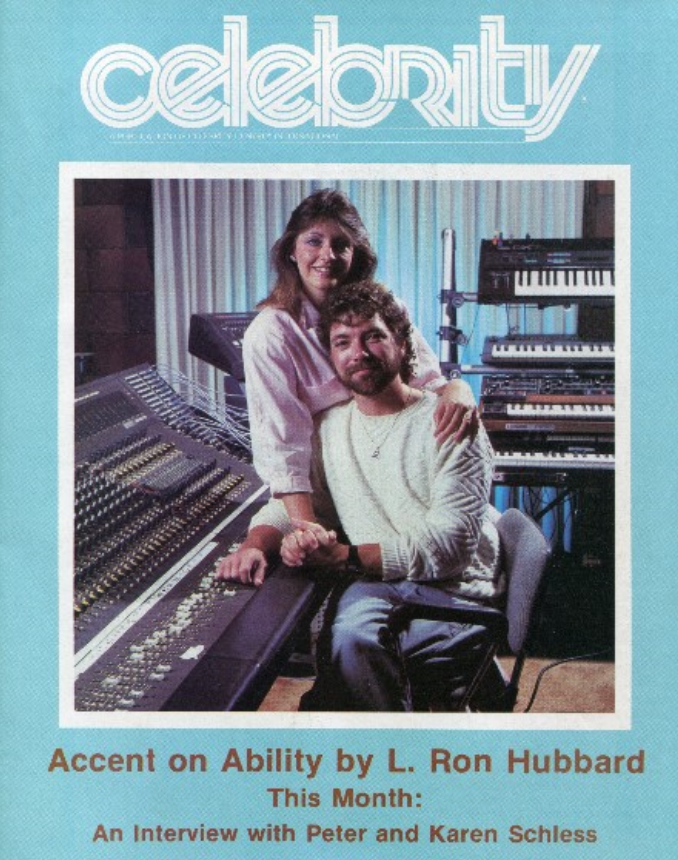 As might be expected, they put more time and effort into Paul Haggis, who they dub "The Ultimate Hollywood Hypocrite." (An epithet that should really be reserved for "family man" Tom Cruise who has ex-wives and an abandoned child strewn around the world).
Paul is apparently guilty of various sins: "religious McCarthyism, " "harassing individuals who are simply practicing their faith," engaging in a "hate-filled witch hunt," "bigotry" and "hate." But they offer no evidence to support their ugly assertions.
Their video for Paul is a name-calling tour de force. It starts out with this "Talk about Hollywood reruns, here comes Paul Haggis, a Hollywood writer no one has heard of" and goes downhill from there."
Ironically, this line was likely penned by Dan Sherman, a wannabe writer who never made it in the industry AT ALL and has been working on the still incomplete and never to be published "biography" of L. Ron Hubbard since 1993. A little jealousy perhaps?
Then they go on to say: "He's been lying for a decade — the first lie, that he was ever a scientologist in the first place."
Seriously?
Well, how did he end up on the cover of scientology's Celebrity magazine?
This is the old "this person never held any position of authority and has no knowledge of anything" they say about every former Sea Org member (including me — even though I was the current International Spokesperson and on the Board of Directors of Church of Scientology International the day I walked out the door) taken to the absurdity of "this person was never even a scientologist."
Scientology then claims Paul "falsely claimed he split with the Church because it could not take a position on California's incendiary Proposition 8 campaign in 2008 regarding same-sex marriage, due to its status as a tax-exempt religious and charitable entity." As usual, they have twisted the truth 180 degrees. Scientology appeared on a published list of organizations that SUPPORTED Proposition 8. Paul objected to THAT.  "The Church from Day One has noted that the tale is made up from whole cloth, as the Church never takes a position on political issues." They are so brain-dead that they don't even seem to realize that they are SUPPORTING Paul. He said they shouldn't be endorsing it. They say they shouldn't be endorsing it now to "prove" that they could not have complied to what Paul was asking. That they withdraw their illegal support. Cray cray.
And then they drag in the ultimate POW video victim — Marty Rathbun (identified as Paul's "former guru") now claiming: "He [Paul] orchestrated a phony departure from a church no one even knew he belonged to." Rathbun seems hard pressed to get any words out of his mouth — it's very sad to see the whipped dog performance of someone who used to speak with certainty and direction now reduced to rambling, unconvincing and contradictory drivel.
But I guess they kind of forget about the things Rathbun said about Paul Haggis on his blog a few years ago — or they rely on the fact that nobody will go look it up. Current scientologists would not dare go to his blog, everyone else has dismissed him as either broken, bought off or nuts so they won't bother either. But, as a public service, I pulled up a few of Marty's old posts from a bygone era when he seemed more sane: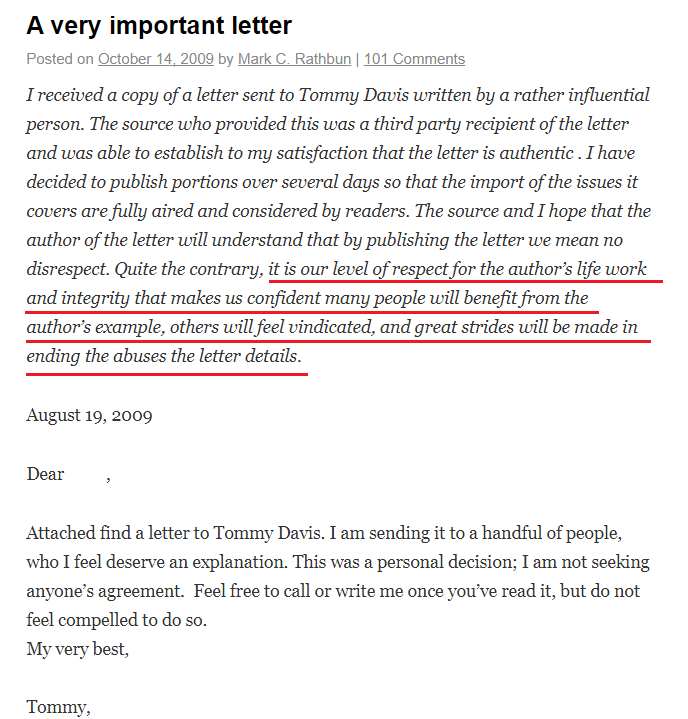 That was the first day of publishing Paul's letter. He pretended it was from a different source than Paul himself. This is the "big lie" HE told about which has now become "the big lie that proves everything in the letter is false."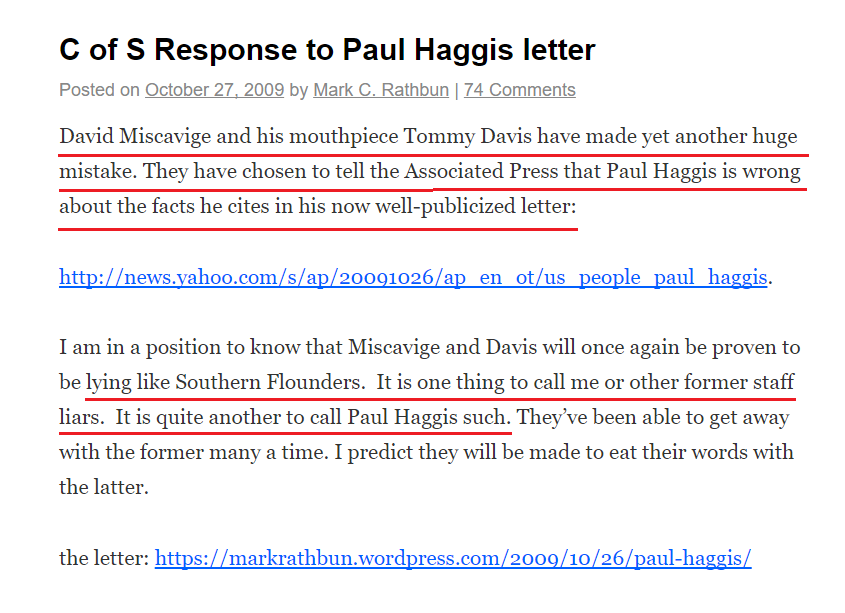 A "huge mistake" to claim the facts in his letter are wrong… Well Marty, what are you doing now?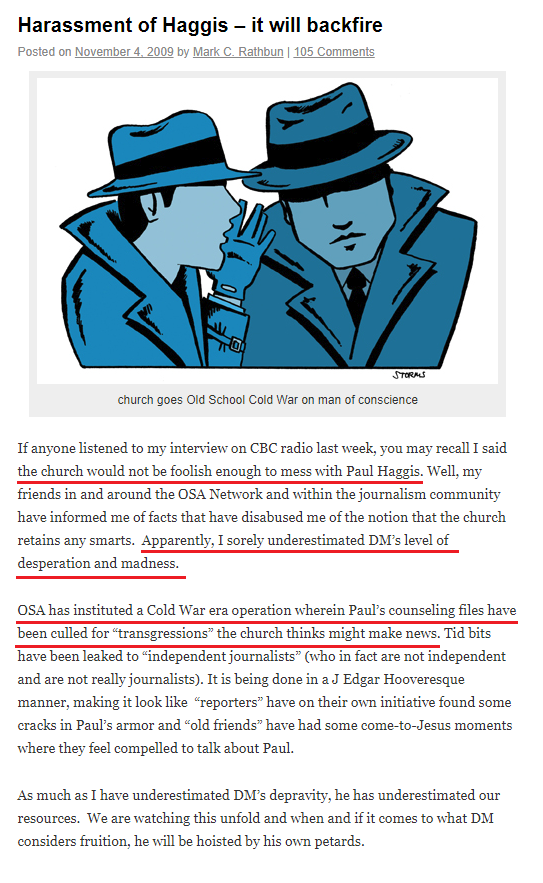 I guess we sorely underestimated Marty's level of desperation and madness (depravity even) as he is now doing exactly what he accused Miscavige of being so stupid to do….
Scientology then heads down a bizarre rabbit hole in their desperation to tag Paul with anything. They claim that Paul has not resigned from his "other" religion, Catholicism which does take a stance against same sex marriage. Then they quote his sister saying "Paul was no more a scientologist than he was a Catholic"?? So now he is not a Catholic after all? But as I have said a few times now, the problem with scientology is that it is two-faced. They will NOT stand by their ACTUAL beliefs — they want to pretend to the world that these are NOT their beliefs. It's really a struggle for them to keep things straight — these people are seriously confused.
And their response to Paul investigating the abuses for himself, including talking to many people personally is "In reality, he quickly surfed the bowels of the internet" — clearly just a made up assertion that does not even respond to what he said (or what actually happened). And what exactly ARE the "bowels" of the internet?
Their final putdown? "Paul Haggis will play any part for Leah Remini as long as there is something in it for him." 
And just exactly WHAT do they claim is in it for him? The glorious website and promoted tweets about what a rotten person he is? He certainly was not paid to appear. So what's in it for him?
I guess it might be a leg up in the entertainment industry these days to be an EX-scientologist, but he is already known for that (see New Yorker article, Going Clear and the hundreds of media stories mentioning him). Hollywood doesn't appear to be taking kindly to scientologists: Tom Cruise is mum. So too John Travolta. Even Kirstie Alley. Meanwhile Lizzie Moss is saying "it hasn't hurt my career, but please stop asking me about it in public" and Jada Smith is stamping her feet and shouting "I am NOT a scientologist" in an effort to protect her image.
So I suppose one could argue that it is helpful at this point to be an EX-scientologist, publicly exposing he abuses of scientology. If that is what you are referring to, then I guess Paul is guilty as charged.
Otherwise, you and your ad hominem yellow journalism have once again shown to the world what utterly despicable, hateful and heartless people you really are.
For new readers, here is an article that lays out scientology "scripture" on how to deal with "attackers." Dealing with Critics of Scientology — The L. Ron Hubbard Playbook