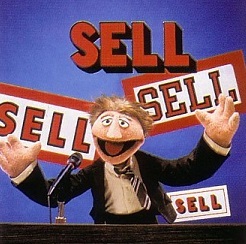 Predictably, the heavy sales demand is rolling out now on the Warehouse VIII.
The middle of the night calls… 
The regges banging on your door….
The endless emails…
Every staff member in every org "selling"…
Wonder how long it will be before someone comes up with a "donations" campaign so they can sell more than 2 to the whales?  
But there is good news — if your org sells 100 meters (15,000 divided by 150 orgs — 5,000 for initial sales at FSO and SO Orgs) before the end of the year, you get a box of goodies to SHARE amongst all the staff AND it is wrapped in silver paper! Bridge's profit on 100 meters would be in the region of $200,000, maybe more, on 10,000 would be $20,000,000 — but who is counting….
Just illustrates once again the astonishing gap between the "haves" and the "have-nots" in Scientology.  They actually think they are making a magnificent gesture of holiday generosity to the staff by offering a vague "gift basket" for making them millions in profit.  
But even more interesting is what this tells us about the size of the church of Scientology. All S0lo auditors must have 2 Warehouses. Org auditors and field auditors (if there are any left at all anywhere) and mission auditors have got to have 2 and those in training have to have 1. So, to meet their 20,000 target they need maybe 15,000 customers. For sure, this target of 20,000 is completely unreal — no target set is ever close to real, especially when it is a target related to trying to "make COB right."  It is probably double or triple what is realistic (being VERY conservative — it could be 10 times what is realistic and it would not surprise me).  But let's take it as only double. That means 7500 people internationally. And remember, everyone is expected to get their Warehouse NOW NOW NOW…. They sat for 9 years, but now, it would be utter CI to Command Intention not to get it AT ONCE.
And thus, we can conclude that the church isnt thinking they have more than 7500 internationally that are going to get a Warehouse. While they continue to promote how close they are "10,000 on or through Solo NOTs".