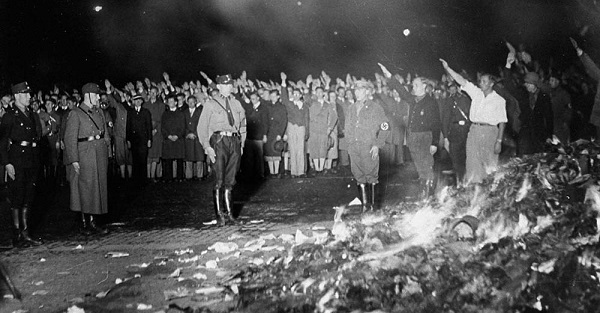 I am well aware of Godwin's Law* but I just could not think of any better visualization of the message of this email.
Everything that has been decreed "unacceptable" in today's fundamentalist scientology is to be collected up and disposed of. Books, materials and e-meters.
And just why is this no longer "acceptable"?
Because the Dear Leader has declared it to be so. It was all perfectly OK until he stood on stage last November and announced that as of now it is no longer acceptable reading material. Hell, they were trying to unload these VERY meters by offering discounts on them up until days before the big announcement and release of the long-awaited Warehouse VIII. So, that $3000 (or whatever you spent) for a Mark Ultra Super VII on 1 November has been decreed worthless today. Thank you for your donation. Sucker.
Dear xxxx,   

Target 5 of I HELP INT ED 128, GOLDEN AGE OF TECH PHASE II, I HELP MASTER IMPLEMENTATION PROGRAM, says: "Get all pre-Golden Age of Tech Phase II materials (including Mark Super VII Quantum E-Meters and accessories) collected up and sent to the BSO of your nearest org for disposal. A list of these is attached to this issue."

We have not yet gotten any evidence from you that this target is complete. Yet this is a vital target to get done as only this way can we clean out any non-standard materials and make sure that all that is being used is pure LRH.

Please take the above mentioned list of items that is attached to I HELP INT ED 128 and do the following:

1) With the list go through all of your materials. Make an exact inventory of what you find. Also mark how many of each item.
2) Pack it all up and bring it to the BSO of your org.
3) Have the BSO verify that all you marked on the list is in his hands now and have him attest this.
4) Send your inventory with the attestation of the BSO to us.

This is to get done xxx April 2014, with evidences arrived to I HELP EU. Do not delay it further. This has to get done now. It's an important step of Keep Scientology Working!

Best regards,
Tobias Kindlimann
Membership Activation Off
I HELP Europe
*Godwin's law is an Internet adage asserting that "As an online discussion grows longer, the probability of a comparison involving Nazis or Hitler approaches 1" that is, if an online discussion (regardless of topic or scope) goes on long enough, sooner or later someone will compare someone or something to Hitler or Nazism.