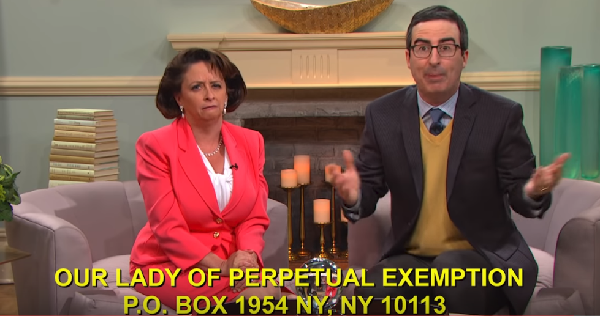 Mary Kahn reminded me yesterday in a comment about John Oliver of the brilliant piece he did on Religious Tax Exemption.
This is satire at its finest — exposing truths through humor. It is cringe-inducing funny.
If you have never seen this, or if you haven't watched it for a few years, it is VERY instructive. I recommend it highly as it lays out a LOT of information and gives insight into scientology and its ongoing tax exempt status.

This is, in part, why the IRS has been perfectly content to allow scientology to be tax exempt all these years. There is also the fact that scientology intimidated the IRS into granting exemption in 1993 and they do not want to relive the nightmare.
It also answers a question a lot of people have about how Miscavige is able to jet around the world on Tom Cruise's Gulfstream jet  — or live "lavishly." In fact, he is not in the same league as these so-called Christian pastors who BUY their own jets with cash and live in $6.3 million dollar mansions that are designated "parsonages."
It also explains the lack of oversight by the IRS on any organization that is designated a religiously exempt activity.
It gives you some idea of the influence churches have had on IRS regulations, using the First Amendment as a weapon and a shield against government oversight of religious activities.
Though these money-making schemes of Christian televangelists are pretty disgusting (and the vast majority of people they convince to send them money to buy their jets are elderly), what sets scientology apart is the fact that the IRS regulations state that an organization cannot engage in illegal activities or things that are in violation of public policy (watch the Aftermath show tomorrow night for more on this — though not nearly as much as I would have liked to include as it doesn't make for good TV unless you have talent like John Oliver and a comedy show).  Convincing people to send/give you money — no matter how bizarre the pitch may be — is NOT illegal.
But these christian churches do NOT have policies and practices to:
a) Hire Private Investigators and lawyers to intimidate and harass
b) Threaten those who leave with financial ruin, smears and breaking up their families
c) Defrauding people by promising their money will be returned in order to get it, but then refusing to do so once you ask for it back
d) Child labor law violations
e) Obstructing justice with false testimony, destruction of evidence and vanished witnesses
Perhaps some of these other churches DO engage in some of these activities — but if they do, they can have their exemption revoked.  Jim Jones feared the IRS were going to revoke the exempt status of the People's Temple before he headed to Guyana.