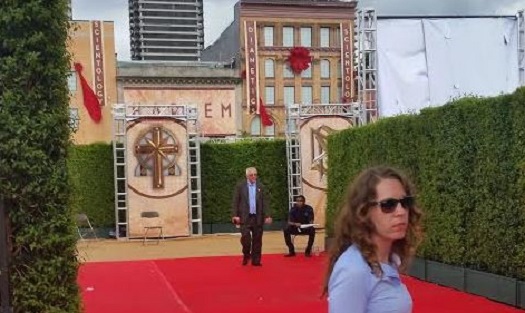 Tony Ortega provided a pretty good summary of what happened at Sunday's Harlem org ribbon yanking at his blog.
My thoughts focus on what was NOT there.
Nobody Important Showed Up
The B team speakers were notable for being nobodies. Back in the day, Charlie Rangel and other prominent people spoke at the NY Org ideal ribbon yanking. Why wasn't Charlie Rangel at the Harlem church? It would have been more appropriate for him as a champion of the African American community of NY.  The people they DID manage to persuade to speak were unknows with the exception of a NY State Assemblyman who sounded like he had been injected with sherman DNA (no doubt his speech was written for him by the sherminator): "I am particularly grateful that of all the places across New York City and the world you chose this community. And we have some fertile ground here. When Harlem moves, the whole world shakes…"
Shelly Miscavige Is Still Missing
This greatest accomplishment in the scientology world – as with everything else over the last 5 years — went down without Dear Leader's wife and assistant.
At least he pretends she is still his wife, never appearing without a wedding ring on his finger.
Why isn't she present when the ever present Lou never leaves his side? Don't dare ask. That is an excommunicable offense in the Kingdom of Miscavige.
No International Executives of scientology
Though these ribbon yankings are, according to the PR of the church, the most important and epic milestones in scientology, there is never a single "international executive" present. No Executive Director International. No President CSI. No Senior C/S International. Nobody. Nada. What, they don't care?  It's not important enough for them to show up but people from all over North America are expected to attend to demonstrate their support?
The "Int Execs" are well and truly disappeared and fade ever further into the rewritten history of the Miscavige Golden Era of showers.
No celebrities
Unless you count Chili B or Dougie Fresh. Errm not really. Chili is just a full time FSM for the IAS. Dougie hasn't been heard from for a decade.
There aren't any other African American or Latino celebrities. So no go there.  But that shouldn't have barred the big shots from attending, it didnt stop everyone else from showing up.
Open to the Public? Not.
While they proclaim they are wide open to the public and "everyone is welcome" – their definition of everyone is "those we find acceptable."
They talk a big game about human rights and dignity for all, they crow about how they stand up for freedom of speech and religious tolerance. But if you are not one of them, or worse, they suspect you are not in agreement with them, you are persona non grata big time. And they don't open their doors to the media, or even allow them to attend a ribbon yanking ceremony — they are all liars and cheats.
Wonder how many people one would find in their Community Center and Org if you dropped by today or tomorrow — now that the video circus has left town? A few staff members who have been imported from other cities and that is about it.
No humility
Don't really expect much (or any) of this from a sociopath. But even for him his arrogant pronouncements have degenerated into parody.
"There is nowhere else like Harlem," said David Miscavige, Chairman of the Board Religious Technology Center, and ecclesiastical leader of the Church. "Your renaissance poets, your playwrights, your painters, your authors and musicians—even a mere recitation of the names is humbling: Duke Ellington, Cab Calloway, Billie Holiday, Claude McKay and Louis Armstrong. What else need one say except: 'Excise Harlem from American history and everything turns lukewarm.'"
What a strange thought… Excising Harlem from American history would not occur to any normal person.
"We are here to celebrate the heartbeat of Harlem, which is also the heartbeat of humanity," said Mr. Miscavige in his inauguration address. "And all you have to do is press your ear to the ground, and hear it reverberating, over and over: Harlem. Harlem. Harlem. Whereupon, should anyone ask 'what just happened?' You can truthfully say: Harlem has been reborn."
Even stranger. Is he trying to take credit for something here? The "heartbeat of humanity" is a little much even for you Dave. You really do sound like a carpetbagger.
Not much truth
More drivel:
Stemming from Mr. Miscavige's leadership, the Church of Scientology has opened the doors to more than 50 Ideal Churches—from Los Angeles to Tampa, London to Milan, Johannesburg to Tokyo and Budapest to Kaohsiung. Over the past decade, those openings have driven worldwide expansion for the religion to a rate surpassing the previous 50 years combined.
In their desperation to make Miscavige look good, they continue to ply the bold lie that worldwide expansion "for the religion" has happened at a "rate" surpassing the previous 50 years combined.
When you tell a lie like this, you apparently just keep doubling down on it and eventually people believe you. This seems to be the same strategy every sociopath employs. Make grandiose, unprovable statements about your accomplishments, usually in vague terms, and just keep repeating them no matter how much they are disproven. Eventually your loyal followers will start repeating them as "truth" and convince themselves that anyone pointing out the lies is just trying to "tear down this great man" and is an enemy of the church/state/country/freedom of thought/Constitution/Man's freedom or whatever.
Missing Ethnicities
Every shot of the crowds in attendance shows they were imported from all over the country. Overwhelmingly caucasian, wide angle lenses and photoshop couldn't do the trick. So, instead, in each photo they put an insert of head shots of one or two African Americans to try and create the image there were actually local public of the org in attendance. After all, if you are trying to sell the fact that you had to open this new org because of the incredible demand for scientology in this community – you have to have some people there that look like they might be demanding that service. There weren't any, so they used head shots, one after the other. It's all smoke and mirrors in the world of scientology.
Just look at these shots (and it's not all of them) you will find on the scientology website – this crowd is the White Sea: