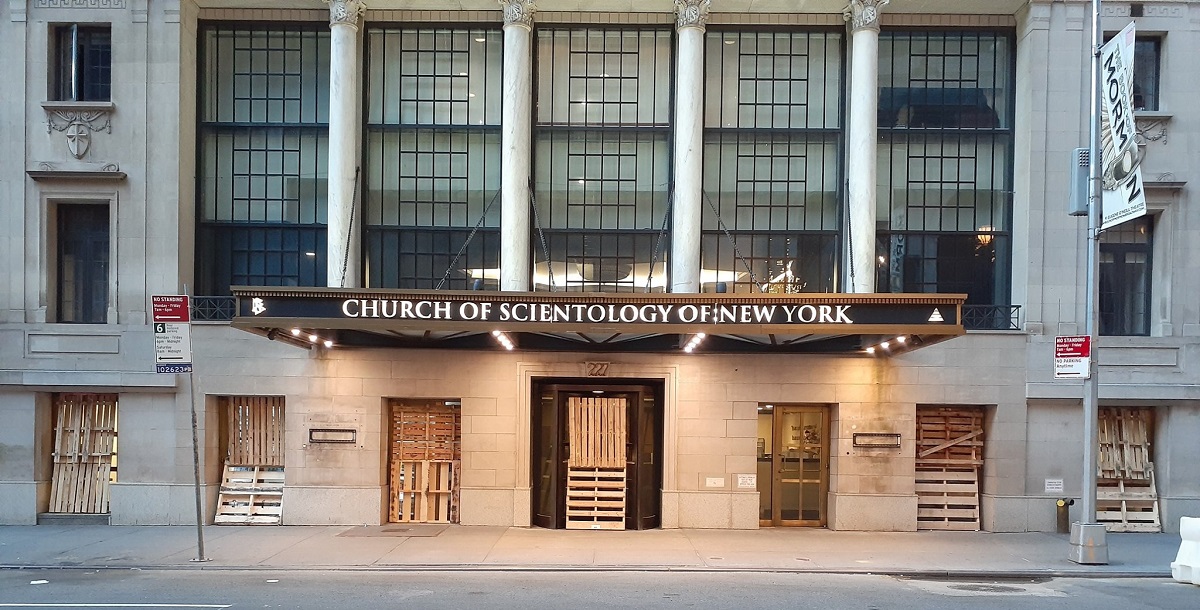 This is a photo taken last night of the New York "ideal org."
While it is understandable in light of the nightly rioting in many US cities, including New York, it highlights a point that I often make here.
Scientology routinely makes grandiose claims of their accomplishments that are disproven by the reality of the world around them. In this case, it's their own front door.
They say Way to Happiness is bringing peace and calm to neighborhoods, societies and nations. You just need to get it into the hands of the people and they suddenly realize the errors of their ways and peace is restored. This is what they claim. Over and over. They've done it "everywhere" from Venezuela to Israel and South Central LA to Mexico.
So, instead putting pallets (which by the way, would seem to be an invitation to grab ready-made weapons and firewood for an inflamed mob), why are they not standing in front of their building handing out copies of the WTH? They don't have faith in their solution? This is exactly the sort of situation they so often crow about "solving."
And they also claim they are "creating a new civilization" and "clearing the planet." Repeatedly.  This is an "Ideal Org" and there is another one in Harlem. Where's the new civilization? There's also an ideal org in Minneapolis (actually St. Paul) too that has been "changing civilization." There are half dozen in the LA area. And Atlanta. And so on.
Of course, they will change their tune right now — instead of boasting about how they are bringing peace and a new civilization, the unrest will be used for money-grubbing. "Look at the state of civilization the psychiatrists have created, we need money to fight them."
These two things go hand in hand in scientology and nobody blinks an eye.
We are solving all the problems of the world — and doing it everywhere all the time.
The world is spiraling out of control due to the psychs and we need your money to stop it.